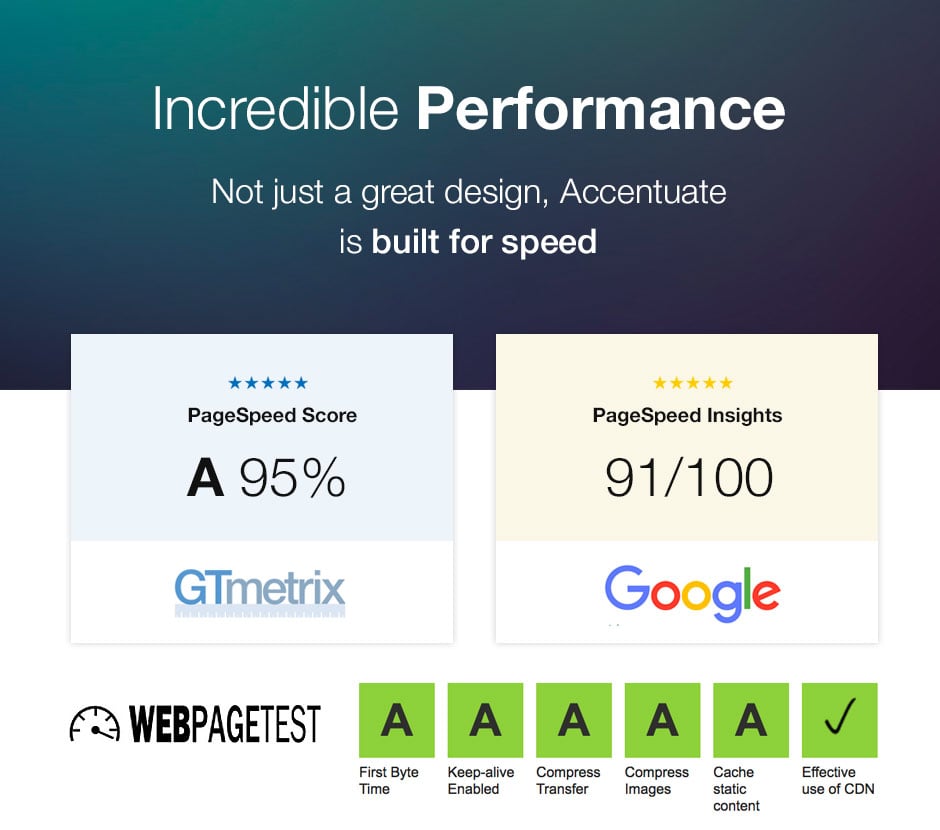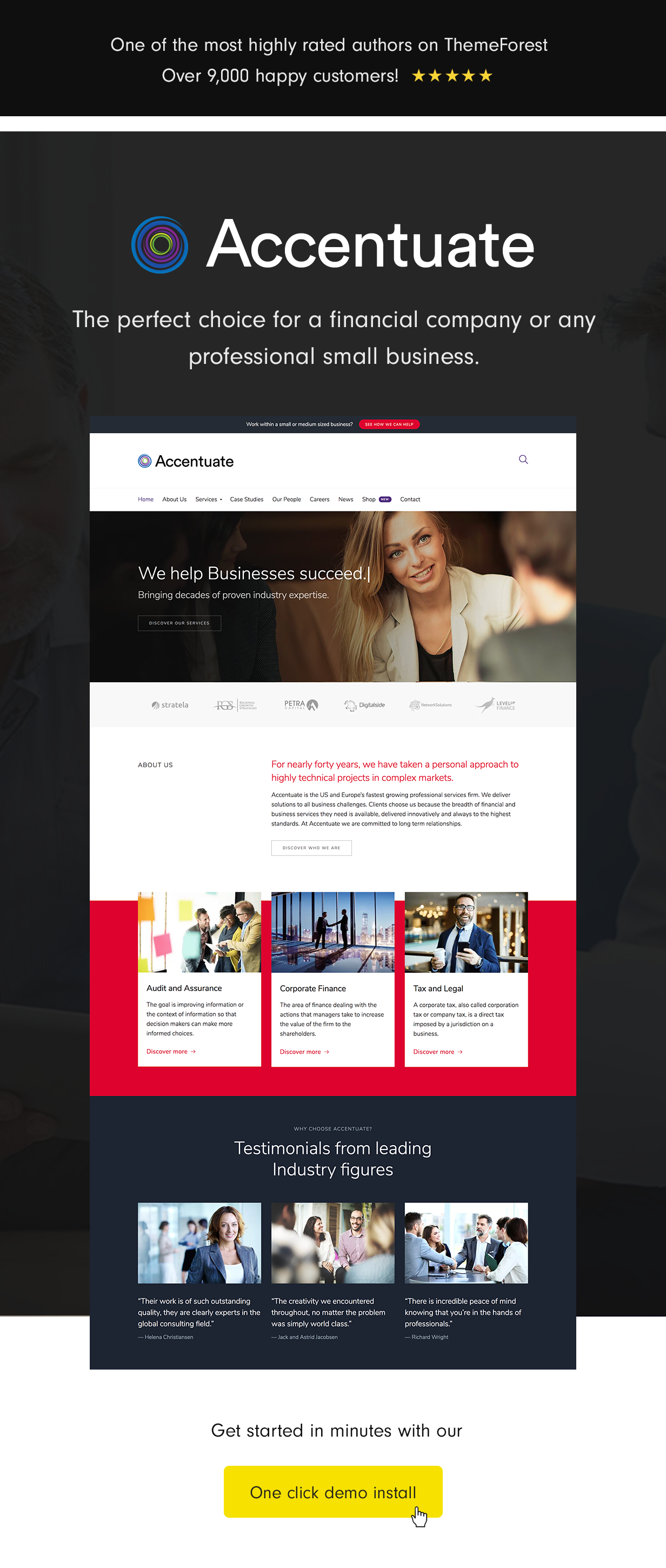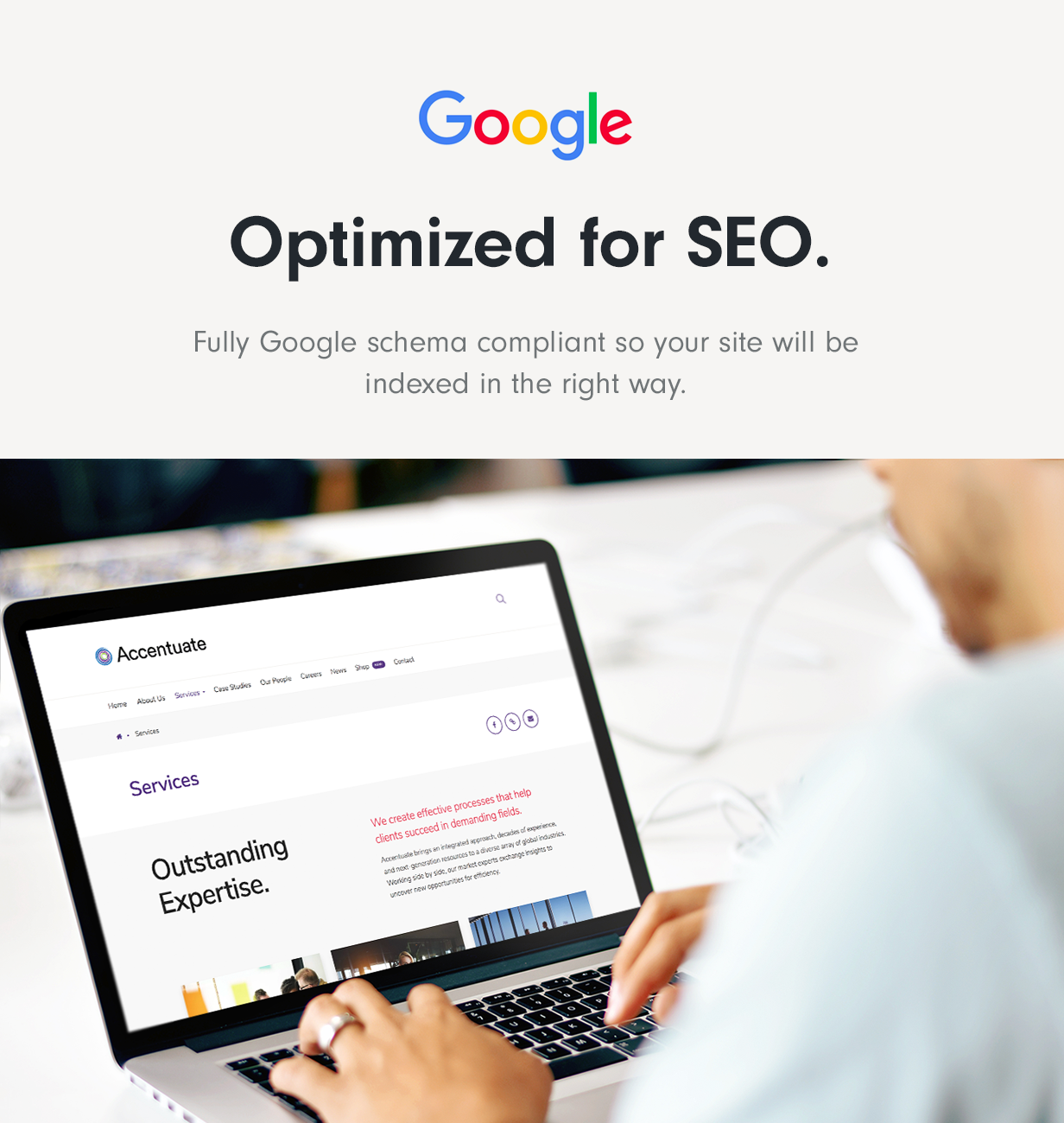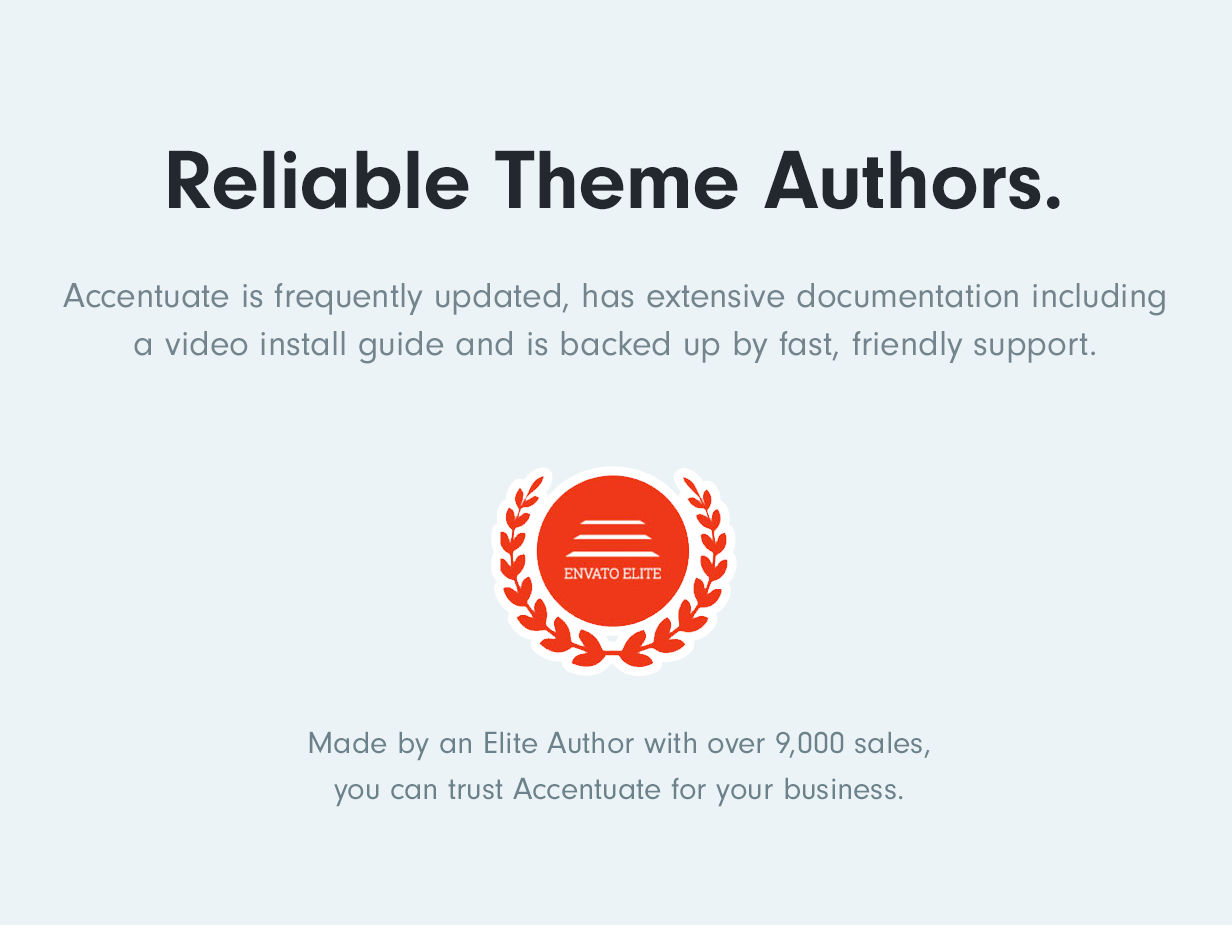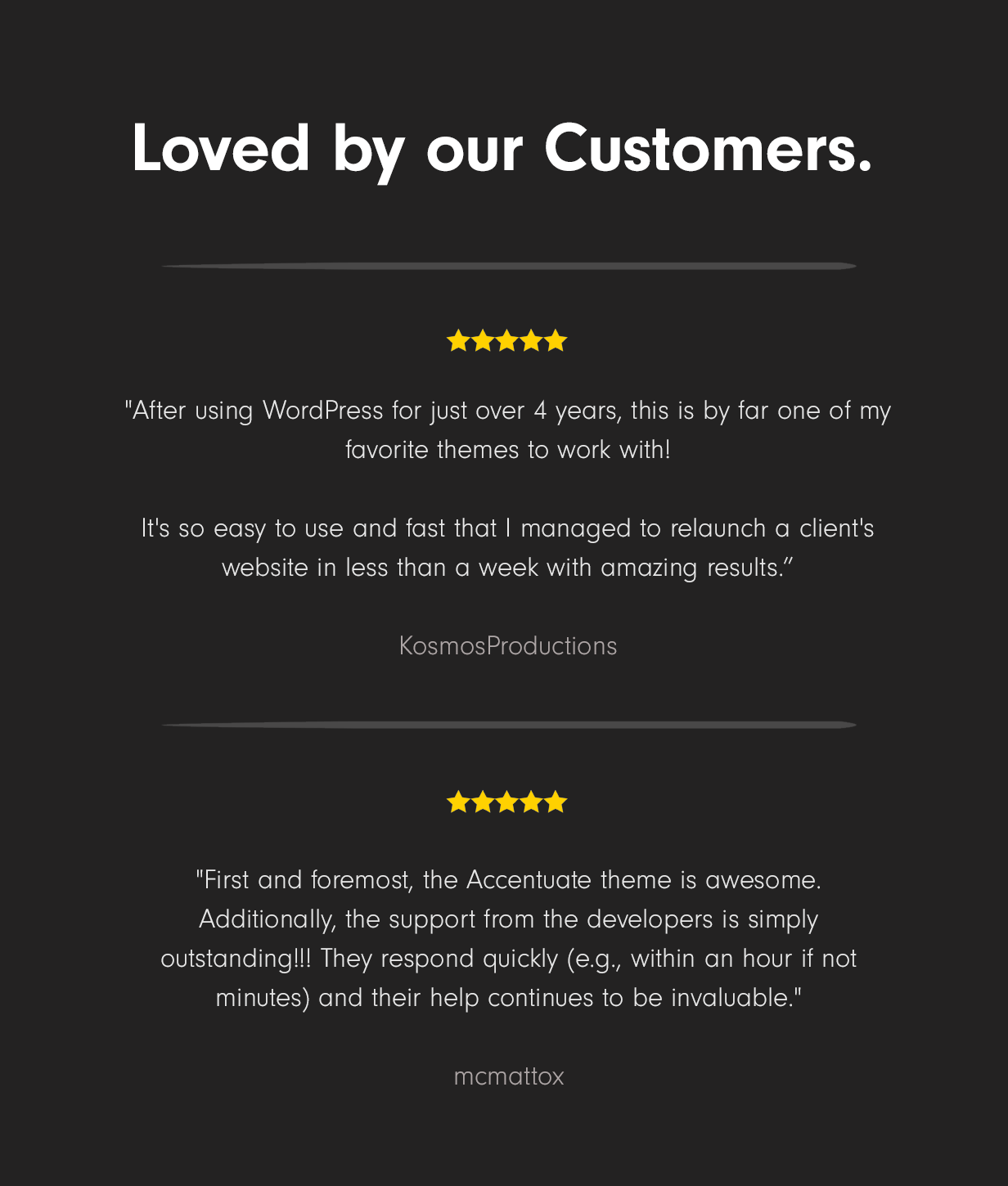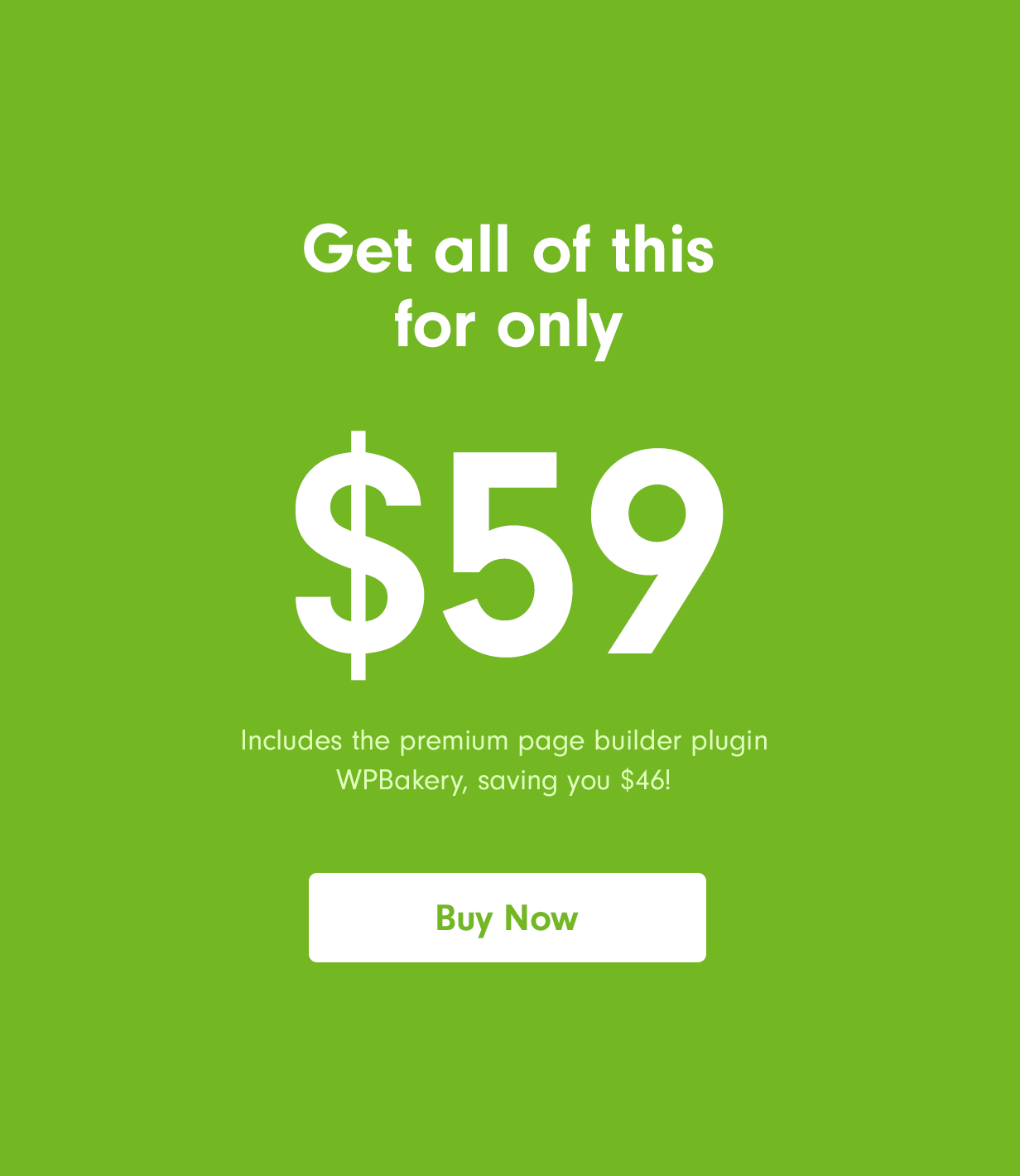 Can I see the online documentation?
You can view all of the theme's documentation, including the install guide right here.

Do I get the images used on the demo site?
No, these were sourced from shutterstock.com and cannot be distributed within the theme. It's intended you use your own to put your own stamp on the design. For free images, check out the excellent unsplash.com

Does Accentuate come with a page builder?
Yes, it comes with WPBakery, the most popular drag-and-drop page builder plugin for WordPress that comes free with the theme. It allows you to build fully custom pages by mixing and matching the existing elements.

Can I use the theme on multiple sites with a single purchase?
Nothing will stop you, but note that each license can be activated on one WordPress site at a time. You will get updates and support for the one you activate.
Get a Highly Professional Business Consulting WordPress website in minutes with Accentuate
Accentuate is an ultra-fast loading, Business Consulting WordPress theme designed to give you the best platform for modern consulting and professional services business websites.
FEATURES
Whether you're an up and coming, rapidly growing consultancy with aspirations of joining the Fortune 500 or a small niche business professional, Accentuate is the perfect WordPress theme to drive your business growth.
Best of all, everything is mobile-ready right from the start.
WPBakery Page Builder. Build pages with the included site builder – change images, text and layout – no coding needed!
Complete control over the Design. Personalize fonts, colors, and layouts to create the look you want all within the customizer. With the included site builder and utilizing the full power of the WordPress customizer, see your changes happen instantly. There is no programming knowledge required – create stunning and beautiful pages. Choose from hundreds of Google fonts!
100% Responsive – Have a beautiful website – on every device. Get beautifully formatted content on phones, tablets, and desktops. Your visitors can expect great looking content whether they're at the office or on the go. Add a Retina-ready logo so your brand stays sharp, no matter the resolution.
SEO Optimized. Search engines love our WordPress themes. They include fast loading, 100% valid HTML, CSS and Javascript AND 100% valid structured data which Google LOVES.
World class WooCommerce support. Start selling right away with WooCommerce integration. With over 10 million downloads WooCommerce powers 30% of online stores. It's the fastest growing platform in the world and the perfect solution to start selling. As WooCommerce experts we've taken great care to ensure Accentuate has better WooCommerce support than your average WordPress theme.
Tons of pre-defined content, page templates and widgets for WordPress content heavy websites. Our pre-defined content templates mean you can setup fully completed corporate websites in just minutes! No more starting with a blank slate spending hours trying to figure out how to create content. Sample pre-defined content pages include:
Unlimited homepage design possibilities
Product pages
Full width page template
Support for Mailchimp widgets
Tons of shortcodes via WPBakery
Social media icons. Social is at the heart of the modern web. Accentuate lets you quickly add your own social properties to key touchpoints across your website.
Translation Ready and full WPML Support. Accentuate is fully compatible with the excellent WPML plugin meaning it's easier than ever to create fully multilingual WordPress websites with Accentuate and WPML.
–
WHAT YOU GET
Accentuate Theme. Lightweight zip file makes it easy to install on just about any WordPress host (WordPress.com not included obviously!).
One Click Install Demo Data Get a turnkey website in seconds that closely matches the Accentuate Demo website. (Copyrighted images not included in the demo data – grey placeholders are used in place).
Comprehensive Documentation and Video Tutorials. Our mission is to make creating business websites in WordPress as easy as possible.
World class support We pride ourselves in providing the best WordPress Theme support in the business.
QUESTIONS?
Have questions before you purchase? Just message us and we'll be happy to help.
THEME SUPPORT Need help with Accentuate? Check out our Help Centre https://commercegurus.freshdesk.com/solution/categories/12000002184
If you can't find what you're looking for you can send us a support ticket and we'll reply ASAP! https://commercegurus.freshdesk.com/support/tickets/new
Updating the theme
See the theme update guide here. Be sure and follow each step.
Changelog
30 March 2020 – V1.1.6 Changelog
- WPBakery 6.1 compatibility

17 Nov 2019 – V1.1.5 Changelog
- WPBakery 6.0.5 compatibility

22 May 2019 – V1.1.4 Changelog
- WPBakery 6.0.2 compatibility

10 May 2019 – V1.1.3 Changelog
- Loading bug caused by Clipboard.js fixed

3 March 2019 – V1.1.2 Changelog
- WPBakery 5.7 compatibility

9 November 2018 – V1.1 Changelog
- WooCommerce 3.5 compatibility

21 May 2018 – V1.0.3 Changelog
- Minor style tweaks

File list

 functions.php | 8 ++++----
 style.css     | 2 +-
 2 files changed, 5 insertions(+), 5 deletions(-)

12 January 2018 – V1.0.2 Changelog
- Customizer tweaks
- Responsive tweaks

File changes
 css/responsive.css                 |  4 ----
 functions.php                      |  4 ++--
 inc/customizer/fields/mainmenu.php | 12 +++++-----
 js/main.js                         |  9 ++++++++
 style.css                          | 26 +++++++--------------
 wpml-config.xml                    | 46 --------------------------------------
 6 files changed, 25 insertions(+), 76 deletions(-)

17 September 2017 – V1.0.1 Changelog
- improved customiser defaults
- improved Help section
- increased logo max height
- css fixes

File changes
 functions.php                     |   1 -
 images/icons/down-arrow.png       | Bin 1008 -> 137 bytes
 inc/customizer/defaults.php       |   8 +-
 inc/customizer/fields/general.php |   2 +-
 inc/setup/help.css                | 382 ++++++++++++++++++++++++++++++++++----
 inc/setup/help.php                |   7 +-
 inc/setup/sections/changelog.php  |  27 ---
 inc/setup/sections/intro.php      |  56 ++++--
 readme.txt                        |   2 +-
 style.css                         |  19 +-
 10 files changed, 409 insertions(+), 95 deletions(-)