Hoskia is a Multipurpose Hosting with WHMCS and Technology Business WordPress Theme. It's designed for All kinds of Hosting, Domain, Voip, Cloud Service and Technology Business. Fully Compatible with WHMCS Bridge Also included a custom WHMCS template based on WHMCS v7.9.x to use separately. Hoskia is a theme for technology and software businesses as well as for VOIP and web hosting companies based on Visual Composer. The theme has all the required functionality for a hosting services company, including domain search and registration functionality with WHMCS. Fancy pricing tables let you display hosting prices for different server configurations and hosting packages. If you need to create a website for a hosting company, a technology blog or a software review blog, Hosting Business Technology WP Theme is a great choice.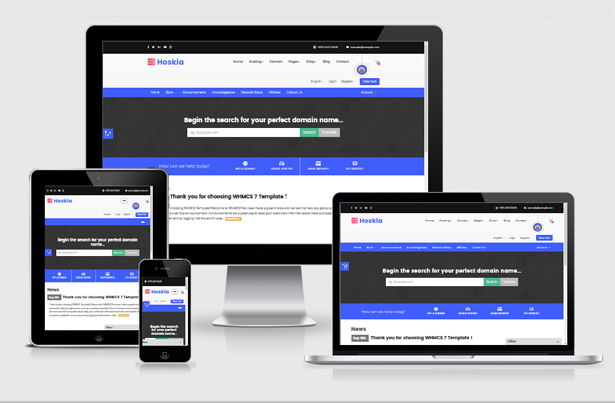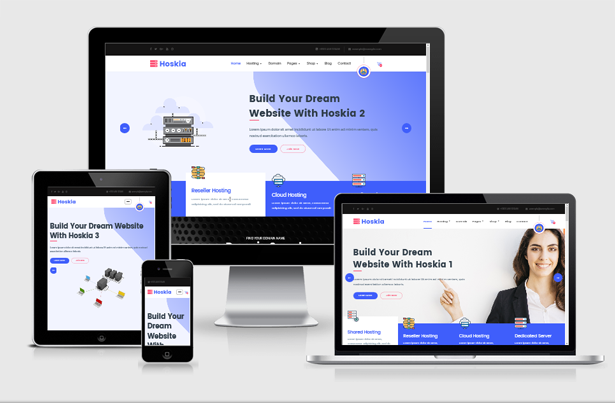 Main Features of Hoskia:
Latest WordPress v5.3.x Ready
Custom meta box cmb2
WPBakery Page Builder Included
WHMCS Template Included for WHMCS v7.9.x
Full screen Image Background
Mail-chimp Ajax Integrated
Fully Compatible with Whmcs Bridge
Error free code
Strong focus on usability
True One-Click Demo Installation
Completely Styled Forms with included Contact-Form-7 Plugin
Advanced Theme Options Panel ( Redux framework! )
Blog page Layout Style ( Fullwidth, Left Sidebar, Right Sidebar)
Page Layout Style ( Fullwidth, Left Sidebar, Right Sidebar)
WooCommerce Ready
WooCommerce Layout Style ( Fullwidth, Left Sidebar, Right Sidebar)
Child Theme compatible (example child theme is already included)
3 WordPress Custom Post Types ( Slider, Gallery, service )
Modern Cross Browser Compatibility: FireFox, Safari, Chrome, Edge, IE9, IE10, IE11
Ready for translation ( .pot files included )
Unlimited Color Version
Strong Page Meta Option Like (Enable Page Loader, Page Breadcrumb Disable, Page Menu Selector, Homepage section image/color selector, Page Layout Selector, Header Selector, Header Logo Uploader)
Unlimited Google Fonts
Clean Code
100% Fully Responsive WordPress Theme
Modern Cross Browser Support
W3C Validated Code
Free Updates
Well Documented
You May Also Like Some of Our Related Items
Karton | Multipurpose WooCommerce Theme
Exopress | Multipurpose Personal Blog WordPress Theme
Ideabuz | Multipurpose Business WordPress Theme
Eoxpress | Marketing Agency WordPress Theme
Voifone | Multipurpose VOIP WordPress Theme
Bizdrone | Multipurpose WordPress Theme
Bluishost – Responsive Web Hosting with WHMCS Themes
Kripdom – Responsive Web Hosting and WHMCS Themes
Singara – Multipurpose Hosting with WHMCS WordPress Themes
Hoskia | Multipurpose Hosting with WHMCS Theme
CoSolu | Multipurpose Servicing and Repairing WordPress Theme
ColorHost | Responsive Web Hosting and WHMCS WordPress Theme
VirtuSky | Responsive Web Hosting and WHMCS WordPress Theme
BizWalls | Responsive VOIP & Virtual Phone Business WordPress Theme
CVIT | Multipurpose Personal Portfolio / vCard / CV / Resume WordPress Theme
HostWHMCS | Responsive Hosting and WHMCS WordPress Theme
EcoHosting | Responsive Hosting and WHMCS WordPress Theme
OrDomain | Responsive WHMCS Hosting WordPress Theme
SOURCE AND CREADITS
Photos:
All 'images' used on the demo site is for demonstration purposes only and are not included in the main download file.
Fonts Used:
Frameworks / Libraries:
Plugins Used:
UPDATES & CHANGE LOGS
26 January, 2020 – Version 2.7
// # List of updates
// ------------------------------

*. WHMCS template updated to be compatible with latest "WHMCS Version 7.9.1" 

=========================================================
Changelog included in "documentation/changelog" (folder).
=========================================================


01 January, 2020 – Version 2.6
// # List of updates
// ------------------------------

[*] Fixed footer date issue
[+] Ajax Nonce added
[*] WooCommerce file updated
[*] WPBakery Page Builder updated

***You need to remove and reinstall the "hoskia" Theme, "hoskia-core" and "WPBakery Page Builder" Plugins to get the above update***

=========================================================
Changelog included in "documentation/changelog" (folder).
=========================================================


18 November 2019 – Version 2.5
// # List of updates
// ------------------------------

[*] Fixed CMB2 Installation Issue

***You need to remove and reinstall the "hoskia" Theme v2.5 to get the above update***

=========================================================
Changelog included in "documentation/changelog" (folder).
=========================================================


01 October, 2019 – Version 2.4
// # List of updates
// ------------------------------

*. WHMCS template updated to be compatible with latest "WHMCS Version 7.8.3" 

=========================================================
Changelog included in "documentation/changelog" (folder).
=========================================================


18 September 2019 – Version 2.3
// # List of updates
// ------------------------------

[*] Updated Theme Options
[*] Updated Page Meta Options
[*] Updated WPBackery Plugin
[*] Fixed Some CSS issues

***You need to remove and reinstall the "hoskia" Theme v2.3 and "Updated WPBackery" Plugin to get the above update***

=========================================================
Changelog included in "documentation/changelog" (folder).
=========================================================


07 April, 2019 – Version 2.2
// # List of updates
// ------------------------------

[*] Updated New WordPress Requirements for Envato Market
[*] Fixed Demo Import Image Size Fixed
[*] Updated WPBakery Page Builder
[*] Made Compatible The Page Meta With Gutenberg
[*] Fixed Slider CSS Issue

***You need to remove and reinstall the "hoskia" Theme v2.2, "hoskia-core" Plugin v1.2 and WPBakery Page Builder Plugin to get the update.***

=========================================================
Changelog included in "documentation/changelog" (folder).
=========================================================


04 February, 2019 – Version 2.1
// # List of updates
// ------------------------------

[*] WHMCS template updated to be compatible with the latest "WHMCS Version 7.7.0" 

=========================================================
Changelog included in "documentation/changelog" (folder).
=========================================================


08 December, 2018 – Version 2.0
// # List of updates
// ------------------------------

[*] Fixed Some CSS Issues
[+] Visual Composer Plugin Updated
[+] WooCommerce Files Updated
[+] WP GDPR Compliance Plugin Included

***You need to remove and reinstall the "hoskia" Theme, "hoskia-core" and "Visual Composer" Plugin to get the update.***

=========================================================
Changelog included in "documentation/changelog" (folder).
=========================================================


08 November, 2018 – Version 1.9
// # List of updates
// ------------------------------

[*] Fixed Some CSS Issues
[*] Fixed Some Responsive Issues
[*] Fixed Footer Top Responsive Issues
[*] Fixed Pricing Column Issues

***You need to remove and reinstall the "hoskia" Theme and "hoskia-core" Plugin to get the update.***

=========================================================
Changelog included in "documentation/changelog" (folder).
=========================================================


07 November, 2018 – Version 1.8
// # List of updates
// ------------------------------

[*] Updated Woocommerce Files
[*] Fixed Header Logo and Slider Issues
[*] Fixed Some CSS Issues
[*] Fixed Some Responsive Issues
[*] Fixed Header Logo and Slider Issues

***You need to remove and reinstall the "hoskia" Theme and "hoskia-core" Plugin to get the update.***

=========================================================
Changelog included in "documentation/changelog" (folder).
=========================================================


21 October, 2018 – Version 1.7
// # List of updates
// ------------------------------

[*] Updated Woocommerce Files
[*] Updated WP Bakery Plugin
[*] Updated Subscribe/Newsletter Functionality
[*] Fixed Header Social Icon Issue
[*] Fixed Some Other Minor Issues

***You need to remove and reinstall the "hoskia" Theme and "hoskia-core" Plugin to get the update.***

=========================================================
Changelog included in "documentation/changelog" (folder).
=========================================================


06 August, 2018 – Version 1.6
// # List of updates
// ------------------------------

[*] WHMCS template updated to be compatible with latest "WHMCS Version 7.6.0" 

=========================================================
Changelog included in "documentation/changelog" (folder).
=========================================================


23 July, 2018 – Version 1.5
// # List of updates
// ------------------------------

[*] Implemented ThemeForest New Requirements
[*] Fixed Some Other Minor Issues

***You need to remove and reinstall the "hoskia" Theme and "hoskia-core" Plugin to get the update.***


25 June, 2018 – Version 1.4
// # List of updates
// ------------------------------

[*] Fixed Page Header Hide Issue
[*] Fixed Page Header Global and Page Settings Option Issue
[*] Fixed Some Other Minor Issues

***You need to remove and reinstall the "hoskia" Theme and "hoskia-core" Plugin to get the update.***


23 May, 2018 – Version 1.3
// # List of updates
// ------------------------------

[+] Added Theme Secondary Color Option In Theme Options
[*] Fixed Some Minot CSS Issue

***You need to remove and reinstall the "hoskia" Theme to get the update.***


20 May, 2018 – Version 1.2
// # List of updates
// ------------------------------

[*] Minor Responsive Issues Fixed

***You need to remove and reinstall the "hoskia" Theme to get the update.***


19 May, 2018 – Version 1.1
// # List of updates
// ------------------------------

[*] Minor CSS Issues Fixed

***You need to remove and reinstall the "hoskia" Theme to get the update.***