Madara is the first and only Manga solution on WordPress
Madara is the first and complete solution for building a Manga site on WordPress. It is fast, robust and extensible. Data is stored on the cloud, which you can choose from Amazon S3, BlogSpot or Imgur. Of course, you can store data on your site as well. It has modern design and features such as Responsive, Lazy Loading, Infinite Pagination, SEO-optimized and RTL support.
With the Manga core plugin, you can change the skin by switching the theme, or add more features by browsing our marketplace for Manga.
Madara 1.6.1
New Manga Grid shortcode – check out new home page layout New Home
New layout for Manga Listing shortcode
Many bug fixes and improvements
Madara 1.5.2 – improvement for UX on mobile
Madara 1.5.1 – improvement for Video Chapter (Drama)
Multi-servers selection for Video content
Light on/off for Video
Upload chapters via direct URL
Madara 1.5 – improve performance & SEO
– New layout:
https://demo.mangabooth.com/home-big-thumbnail/
Madara 1.4 – bigger and better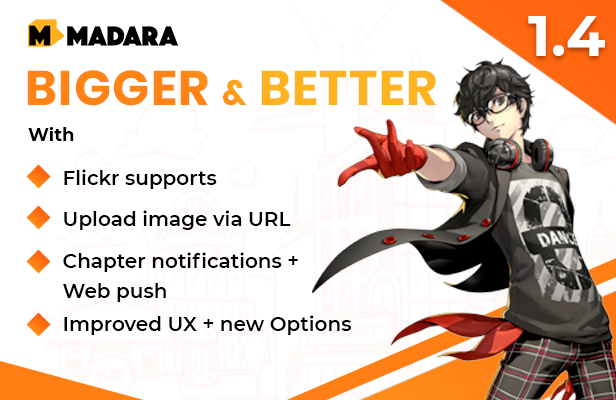 Madara 1.3 now supports WooCommerce
Demo:
https://demo.mangabooth.com/shop/
Madara 1.1 now supports Text and Video chapter
Text chapter for Novel sites:
Demo
Video chapter for Anime and video sites:
Demo
Admin tutorial: https://youtu.be/d-FYLmfGMhc
Features
—————
—
Buy 1, Get 2: The core MANGA plugin and MADARA theme
Store Manga on different servers: Amazon S3; BlogSpot; Imgur
Unlimited Chapters and Volumes
Pre-defined and custom Advertisement location
Various Shortcodes and Widgets
Views Count, Star Rating, Bookmark Manga, Reading History
Advanced Manga Search & Filter
User Settings
Front-end login and register
Manga info: author, genre, tags, rank, artist
Manga Comment
Social Share
Ajax Load images, Read 1 page or multi-pages mode
Blog
Responsive
RTL support
SEO optimized
Translation-ready
Sample Data + One Click Install
Add-on Market for other Themes, Import Tools, Advanced Features plugins
Scrapper Tool is available
Customer Showcase
Free Storage limitation
Although Imgur and Google Photos provide unlimited storage, it has limitation in uploading.
For Imgur, you cannot upload more than 50 images per hour per IP.
For Google Photos, the quota limit for requests to the Library API is 10,000 requests per project per day.
Please keep that in mind when using cloud storage.
Release Logs
———————
–
Version 1.6.4 – 2020.06.02


#Add: option to show Manga Author instead of post author in Manga meta tags (Theme Options > Manga Detail Page > Manga Single – Meta Tags for Authors)
#Add: option to manage maximum numbers of bookmarked items to prevent out of memory issue (WP Manga Settings > Single Manga Settings > Maximum Bookmark Items)
#Update: able to multi-select chapters in admin and delete selected chapters
#Update: support Ajax Search in the Search Results page for manga
#Update: support PHP 7.4.6
#Fix: bookmark icons are hidden on mobile in Video Chapter
#Fix: invalid Rating data tag if a manga does not have rating
#Update: add some hooks & filters in admin to further support add-ons

Version 1.6.3.2 – 2020.04.26


#Fix: latest few chapters are deleted if a novel is permanently removed
#Fix: some minor CSS issues

Version 1.6.3.1 – 2020.04.17


#Add: option to turn off lazy-load Chapters List (Theme Options > Manga Detail Page)
#Fix: button Chapters Sort does not work in lazy-load Chapters List
#Fix: some minor CSS issues

Version 1.6.3 – 2020.04.09


#Update: support .gif thumbnail for Manga Thumbnail
#Update: add "Upcoming" status for Manga
#Update: add "Amazon CDN URL" option
#Update: lazy-load Chapters List, greatly improve loading speed
#Fix: Google Snippet validation
#Fix: Chapter & Server selectbox of Video Chapters are hidden on mobile
#Fix: search new term in second results page goes wrong
#Fix: 18+ popup does not show if visitors go to chapter directly
#Fix: remove Chapter Content in database if a text chapter is deleted

Version 1.6.2.2 – 2020.01.08


#Fix: AMP validation issues
#Fix: missing chapter navigation in Video Chapter on mobile
#Improve: load Reading Histories via ajax to prevent caching

Version 1.6.2.1 – 2019.12.22


#Fix: bug with existing manga histories
#Update: language files

Version 1.6.2 – 2019.12.12


#Add: option to store Guest reading history
#Add: support AMP. Enable in Theme Options > AMP
Update: reduce DB calls to import performance
#Update: add Index when uploading new single chapter
#Update: able to use same .zip file structure with multiple-chapters upload when upload single chapter
#Update: update some outdated external libraries
#Fix: improve some minor CSS and layout issues

Version 1.6.1.3 – 2019.10.21


#Update: Amazon S3 library (use of REST API)
#Fix: some WP Manga Settings do not work (error in saving settings)
#Fix: CSS issues
#Fix: some minor bugs
#Fix: cannot choose Volume when uploading multiple chapters

Version 1.6.1.2 – 2019.09.30


#Improve: Manga Listing shortcode to filter by Manga Type, Manga Status and Following (bookmarked by current user)
#Improve: require to update Option Tree 2.7.3 for security fix
#Improve: Next/Prev volume for Novel (Text) chapters
#Improve: specify Chapter Extend Name when uploading multiple chapters (use "—" separator)
#Improve: Manga Listing shortcode (Chapter mode) to support Chapter Thumbnail plugin
#Fix: cannot add shortcodes in Classic Editor
#Fix: comment pagination links are incorrect
#Fix: some minor bugs
#Add: option to order chapter reversely in Manga Detail page (Theme Options > Manga Detail)
#Fix: Manga Badge overlap with Adult badge
#Fix: cannot use keyboard navigation in List reading mode

Version 1.6.1.1 – 2019.08.22


#Fix: missing Manga Genres in detail page
#Fix: users cannot change from List Reading style to Paged Reading style
#Fix: Sticky navigation is overlapped
#Fix: Manga Comments Count is incorrect in detail page
#Add: option to turn on Sticky Navigation on mobile (in Theme Options > Manga Reading Layout

Version 1.6.1 – 2019.08.20


#Add: able to sort chapters in front-end in Manga Detail page
#Add: option to exclude Genres, Tags or Authors from Manga Advance Search results (in Theme Options > Search)
#Add: option to move Manga Badge to before Thumbnail (in Theme Options > Manga Archives Layout)
#Add: shortcode [manga_grid]
#Add: option to toggle "Image Gaps" for each Manga
#Add: option to disable "Click To Scroll" while reading (in Manga > WP Manga Settings
#Add: option to filter manga by Status in Front-Page template
#Improve: Manga Advance Search to filter by Adult Content, and choose Genres condition between OR and AND
#Improve: new "item_layout" option (and new layout value: "Chapters") for [manga_listing] shortcodes
#Improve: update Heading (H1—> H6) structure for better SEO
#Improve: limit Manga Views Ranking cache to 100 top viewed mangas to improve performance
#Improve: update Manga Single template file structure (for developer)
#Improve: show chosen image file name when upload user avatar
#Improve: sticky header for minimal reading layout
#Fix: ajax-search does not work
#Fix: cannot open Chapter Navigation selectbox on mobile

Version 1.6.0.1 – 2019.07.19


#Fix: error in navigation paged chapter
#Fix: the "Back to Manga Info" button only works in paged chapter. Now it works for both Manga (paged- and list-type chapter) and Text/Video
#Fix: search by Status doesn't work
#Fix: format the All Time Views value to human-friendly
#Fix: Sort by Rating (and Number of Votes) only work for front-page template. Now it works for Archives Manga page
#Fix: cannot upload multiple Text/Video Chapters to specific volume
#Improve: (Madara Shortcodes) get current Manga ID for [manga_chapters] and [manga_info] shortcode if it is not passed in

Version 1.6 – 2019.07.15


#Add: Minimal Reading Layout for Chapter Reading page (in Theme Options > WP Manga Reading Layout)
#Add: Reading Toolbar for Novel type (in front-end)
#Add: option to change displaying Monthly Views by All Time Views in Manga Info page
#Add: Random Order in WP Manga Posts widget
#Add: option to turn off Reading Settings tab in User Settings page
#Add: (WP Manga Shortcodes) shortcode [manga_info]. See: Doc
#Add: option to show/hide Chapter Heading (in Theme Options > WP Manga Reading Layout)
#Add: option to filter Mangas by Genres and Tags for Front-Page template
#Add: option to add link back to Manga Info page if users are reading the last page of the last chapter
#Add: option to disable User Avatar Upload feature
#Improve: (WP Manga Shortcodes) shortcode [manga_chapters]. See Doc
#Improve: click to scroll when reading novel
#Improve: remove old avatar when users upload new ones
#Improve: sort by Rating now counts for Number of Votes
#Improve: open Sign In/Sign Up popup if users are not logged in to comment
#Improve: add Chapter URL in comment notification email content
#Improve: count Views by ajax so it works with Cache plugins
#Improve: visited chapter links have grey color
#Improve: small issues
#Fix: WP Manga Slider widget – filter by tag does not work
#Fix: cannot open mobile navigation bar when reading chapter after prev/next chapter

Version 1.5.5.3 – 2019.05.29


#Add: option to hide Page Title and Page Meta for Front-Page template
#Improve: use default setting for Chapter Link in WP SEO Sitemap (previously use "List" style
#Improve: do not need "page/1" suffix in chapter link
#Improve: failure message when upload to cloud storage
#Improve: support filter custom badges for Manga
#Fix: month views is reset
#Fix: order by week views is incorrect
#Fix: cannot zip to download if chapter is in cloud storage
#Fix: cannot set default background for Manga detail page
#Fix: average star rating is rounded incorrectly
#Fix: saving reading history is not proper
#Fix: saving user settings is not proper

Version 1.5.5.1 – 2019.04.19


#Fix: unable to upload to cloud

Version 1.5.5 – 2019.04.17


#Add: drag & drop Volume Order in admin
#Add: mark Chapter Status completed/uploading
#Add: upload more images to chapter without overriding or delete
#Add: option to turn on/off User Rating and User Bookmark feature
#Improve: use Short number format for counting
#Improve: option to hide Volume information in Widget
#Improve: show Manga badge in slider
#Improve: support .webp
#Improve: update some third-party CSS and JS libraries
#Improve: RTL css
#Improve: show chapter number for comments in admin
#Fix: filter Mangas by first character '0'
#Fix: admin chapter download
#Fix: Disqus compatibility

Version 1.5.4.7 – 2019.03.21


#Add: option to change Login/Register Popup background
#Fix: CSS bugs
#Remove Blogspot support
#Improve: support External Storage (FTP add-on)

Version 1.5.4.6 – 2019.03.18


#Fix: CSS bugs regarding ionicons, Posts Slider shortcode

Version 1.5.4.5 – 2019.03.12


#Add: option to hide Read First/Read Last/Continue buttons in Manga detail page
#Improve: recognize duplicated chapter name when importing chapters from cloud
#Improve: update JS & PHP libs (lazysizes 4.1.6, slick 1.9.0, jscolor 2.05, ClassLoader 3.3.0 (x) Bootstrap 4.3.1, Ionicons v4.4.4, Shuffle
#Improve: when input/textarea is focus, disable next/prev chapters by keyboards
#Improve: center Search & Burger icons on header on mobile
#Improve: responsive Manga Genres widget
#Fix: CSS bugs
#Fix: incorrect next/prev link in Novel (Text Chapter)
#Fix: update Madara-Shortcodes plugin

Version 1.5.4.4 – 2019.03.07

Version 1.5.4.3 – 2019.03.06


#Add: option to show different icons for different Manga Type (webtoon/comic, novel, video)
#Fix: CSS bugs
#Improve: update FontAwesome, Normalize, Select2, GuzzleHttp to latest version
#Improve: remove SQL_CACHE requirement. Many servers do not enable this feature by default as it shows no effect on multi-cores system. To enable support for SQL_CACHE in Madara, add "define('WP_MANGA_QUERY_CACHE', 1);" in wp-config.php
#Improve: fix some errors with slider, and now only slide 1 by 1
#Fix: reverse order of Prev/Next button for chapters
#Fix: minor issues

Version 1.5.4.2 – 2019.02.25


#Improve: add / (forward splash) to chapter link
#Improve: add Autoplay option to widget Hero Slider and Popular Mangas
#Fix: CSS bugs in RTL, Dark theme mode and on mobile
#Fix: when Images Per Page value is greater than 1, images order are incorrect
#Fix: first image and last image are not displayed in Paged Reading mode
#Fix: chapter order in the dropdown is incorrect
#Fix: Front-Page template cannot filter by Chapter Type
#Fix: setting for Reading mode does not work in Genres page
#Fix: chapter link in sitemap has /p/1/ parameter
#Fix: upload images to Google Photos
#Fix: comment count for Disqus

Version 1.5.4.1 – 2019.01.25


#Fix: images are not loaded when lazy loaded

Version 1.5.4 – 2019.01.24


#Add: support Google Photos storage. (will replace Google Picasa on March 15.2019)
#Improve: lazy loading in reading list style
#Improve: mark current reading chapter so users can continue reading
#Fix: various bugs
#Fix: dark mode setting & css. Remove independent setting for Reading Page

Version 1.5.3.3 – 2019.01.17


#Add: option for chapter SEO description and chapter warning text
#Improve: option to remove a chapter storage
#Fix: Google Picasa (Blogspot) API does not work. Support until 15.03.2019
#Fix: Front-Page template settings do not show up in classic editor
#Fix: dark mode setting & css. Remove independent setting for Reading Page

Version 1.5.3.2 – 2019.01.12


#Add: allow to upload banner/wide image for manga to be used in slider
#Improve: CSS (including Dark Mode schema)
#Fix: Widget registration in theme
#Fix: YOAST site-map chapter links error
#Fix: chapter paged link starts at 1
#Fix: default chapter image server setting does not affect front-end reading page
#Fix: pagination for Front Page
#Fix: remove /p/1/ for non-manga chapters
#Fix: hide "relevance" filter in archive (not search results) page

Version 1.5.3.1 – 2019.01.08


#Fix: search results missing CSS
#Fix: bug in navigating chapter page

Version 1.5.3 – 2019.01.05


#Improve: add Relevance search results
#Improve: pretty URL for reading paged chapter
#Improve: save cookie for Adult viewer
#Improve: support Jetpack Photon API
#Improve: add custom class, allowing to change Custom Badge color via custom css
#Fix: incorrect default reading style in notification link
#Fix: unsubscribe manga

Version 1.5.2.1 – 2018.12.20


#Fix: page scrolls when clicking on Video Player chapter
#Fix: duplicate servers for chapter doesn't work
#Fix: default theme schema is dark for new users
#Improve: support chapter folder name with "." (dot) character

Version 1.5.2 on 2018.12.20


#Add: My Uploaded Mangas page in User Settings panel
#Add: option to hide Reading Style selection (in WP Manga Settings page)
#Add: option to turn on Full Width (No Padding) reading mode on mobile (in Theme Options > Manga Reading Layout
#Add: option for users to configure Theme Mode in User Settings panel
#Add: new widget to show all Authors
#Add: new shortcode to display "My Bookmarked Mangas" (ex: [wp-manga-my-bookmarks column="1|2|3|4|6" style="1|2"])
#Add: option to change font-size for Text Chapter
#Add: option to set default video server for Video Chapter
#Add: option to hide Comments Form for Single Post (Blog) (in Theme Options > Single Post)
#Improve: support WP 5.0 and add shortcodes to Gutenberg editor
#Improve: UX on mobile chapter reading. Easier to navigate and read
#Improve: redirect to 404 if chapter URL does not exist
#Improve: click to scroll when reading Chapter in listing (all images) mode
#Improve: shortcode Manga Listing to list Mangas by Author
#Add: link to read First Chapter | Last Chapter for quick access
#Fix: minor CSS issues
#Fix: cannot change notification message template
#Fix: notice warning on Option Tree plugin
#Fix: Front Page template does not order manga by Modified Time if choosing Manga Type different than "All"

Version 1.5.1.5 – 2018.11.08


#Fix: add Option Tree plugin to the package(due to removal of plugin on WordPress.org
#Fix: duplicate servers feature

Version 1.5.1.4 – 2018.11.08


#Add: option to order Chapters by Custom Index
#Fix: order Chapters by Name (poor performance)
#Fix: duplicate servers feature

Version 1.5.1.3 – 2018.11.07


#Add: option to turn on Filter by First Characters in title, to build All Manga (A-Z) page
#Improve: auto scroll to top of image when reading chapter in Paginated style
#Improve: add conditional tag for checking single Manga and single Chapter
#Improve: save dark/light reading mode in Single Chapter page for later access
#Fix: some CSS issues
#Fix: minor bugs
#Fix: Related Manga section doesn't work correctly
#Fix: widget Manga Posts doesn't work with Time Range setting for Trending posts
#Fix: improve RTL CSS
#Fix: when saving chapter, images may be deleted (local storage)

Version 1.5.1 – 2018.10.01


#Add: option to upload chapters via direct URL
#Add: Footer sidebar
#Add: option to change Author, Artist, Release Year, Manga Tag slug
#Add: option to move Single Reading sidebar to side column for Text Chapter
#Add: Light on/off button for video chapter
#Add: support multi-servers for Video Chapter
#Improve: show Play icon on thumbnail of Video Manga, and link directly to latest chapter
#Fix: some minor issues
#Fix: some CSS issues

Version 1.5.0.5 – 2018.09.26


#Improve: update Bootstrap 4.+, improve responsiveness of Big Thumbnail layout
#Improve: support Add-ons WP Manga Custom Fields & WP Manga Chapter Permissions

Version 1.5.0.4 – 2018.09.20


#Add: option to hide Genre link in breadcrumbs
#Improve: cache query "Calculate View Rank" for faster loading
#Improve: responsiveness of Big Thumbnail layout
#Fix: bookmark issue
#Fix: Text Chapter's content is missing line breaks in Edit mode
#Fix: download chapter does not work
#Fix: disable User Login/Register if "Anyone Can Register" option is turned off

Version 1.5.0.3 – 2018.09.01


#Improve: improvements for faster database query
#Fix: some minor bugs
#Fix: invalid MACOSX zip file when uploading single chapter
#Improve: CSS
#Add: show Genre description
#Add: option to insert URL for Manga Badge
#Add: new Manga Archives layout – Simple List for Front Page
#Add: new Item Layout property for Manga Listing shortcode

Version 1.5.0.2 – 2018.08.10


#Improve: great improvement in performance

Version 1.5.0.1 – 2018.08.06


#Fix: bug with YOAST Chapters sitemap
#Fix: warning error in chapter reading page

Version 1.5 – 2018.08.03


#Add: option to turn off Hosting Sever select box from front-end, and use anonymous name for server
#Add: option to hide word "Manga" (link to All Mangas page) from breadcrumbs
#Add: option to change mobile header color (in Theme Options > Custom Colors)
#Add: option for Big Thumbnail layout item
#Add: RSS Feed link for Chapter
#Add: option to change "manga-paged" variable when reading chapter
#Add: option to view larger image when reading chapter
#Add: option to switch Dark/Light mode for users when reading chapter
#Add: option to list specific Manga Type (Comic, Novel, Drama) in Front-Page template, shortcode and widgets
#Improve: support chapter sitemap by YOAST
#Improve: support manga and chapter meta tags by YOAST. Use " summary " placeholder for Novel description
#Improve: breadcrumbs and Manga Archives slug setting
#Improve: showing number of people who have bookmarked manga
#Improve: language translation
#Improve: disable indexing duplicated chapter paged
#Improve: convert external data file to database, improve site performance
#Fix: custom color for half-star and active menu item
#Fix: minor bugs

Version 1.0 – First release