A multi purpose magazine WordPress theme for online newspaper, news, blog and editorial ventures.
NewsPlus is an excellent choice for e magazine, online newspaper, travel blog, food recipe blog, fashion magazine, personal blog or editorial and review websites. It comes with built in style support for plugins like BuddyPress, bbPress forum, WooCommerce, TablePress, WPML and many more.
NewsPlus encompasses clean and modern design, backed with best SEO practices, fast pagespeed scores, schema microdata and well optimized code. This all purpose magazine WordPress theme supports advertisement spots in best locations of page and posts which helps you make good revenue from Google AdSense and similar services.
Choose your demo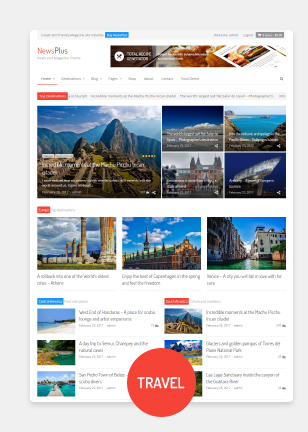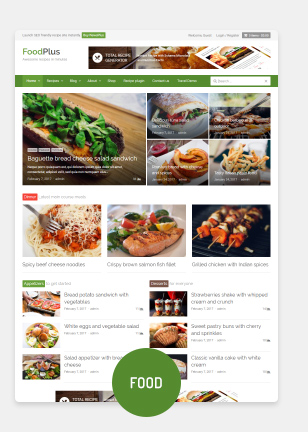 Full feature list of NewsPlus magazine WordPress theme
Design
Fully responsive, optimized for retina display
WordPress 5.3+ ready
Boxed / Stretched layout
Dynamic layout width (choose between 800px to 1600px)
WordPress customizer integration for theme colors and accents
Global sidebar placement as left or right
Unlimted Google Fonts for headings, site body and navigation menu
Customizable colors for post shortcode headings, text and links
Pages
Drag and drop page builder by King Composer page builder plugin
20 prebuilt Home page layouts included for page builder in XML format
Custom page options panel per page
Sidebar placement as left, right or none per page (using page templates)
Two sidebars layout option
Exclusive widget areas for header and sidebar per page
Header
4 header layout styles (default, three col, full width and slim menu)
Sticky navbar for main menu and top menu (Sticky option can be disabled from theme options)
Custom site title and logo image (show logo as text or image)
Collapsible responsive menu
Simple and easy-to-use megamenu using class names (Supports up to 6 columns)
jQuery powered multi-level wordpress menu
jQuery News Ticker (Can be added via theme options or shortcode)
Archives
5 global archive styles (gird, list, classic, full post and Material card)
3 grid style archive templates
4 page templates for blog
Image resize on-the-fly using BFI Thumb via theme options
Image quality can be set from theme options(useful for serving scaled images at optimized quality)
Post Modules
Powerful and easy to use post shortcodes
All post shortcodes shipped as King Composer Addon
Insert posts in 10+ different styles. (Featured grid, 1 columnar, 2 columnar, 3 columnar, 4 columnar, vertical big list, small list, tiled grid, material card, etc.)
Show posts as jQuery slideshow or carousel
Query posts from category, tags, selective page or post IDs, custom post types, custom taxonomy, etc.
Enable/disable post meta or post excerpt per shortcode
Control excerpt length by characters or words
Order posts by date, random, title, author, most commented, etc.
Use any where within pages or text widgets
Supports showing posts from multi site blog
Image resize per shrotcode instance
Built in style support for Post Views Counter and WP Review
RTL and Multi lingual
Translation ready with .pot template file and sample .po and .mo files included
Supports languages with rtl orientation
Fully compatible with WPML, WCML and qTranslate-x
Single Posts
Sidebar enabled or full width posts
Full width header title – New
Automated featured images per post (can be disabled from theme options)
Video and gallery post formats
Social sharing counters per post (Twitter, Facebook, LinkedIn, Google+, Pinterest, vKontakte, yandex, reddit)
Inline advertisement areas per post (before and after main content)
Related posts based on category or tags (can be disabled per post)
Author bio with avatar and description
Multi level nested comments with gravatar support
Advertisement Posts – NEW
Set any post as "Sponsored" advertisement post
Custom advertisement label per post
Global advertisement label for all ad posts in archives
Custom content background per post or page
Widget Areas
1 top widget area
2 fixed/floating widget areas in left and right side
1 header widget area (for logo + banner style layout)
3 header widget areas (for three columnar header layout)
2 global widget areas before and after main content
1 sidebar widget area
Up to 6 secondary widget columns before footer (Number of columns can be set from theme options)
6 custom widgets (flickr, social icons, recent posts, popular posts, custom categories and mini folio)
SEO support
Optimized for SEO and schema microdata
Semantic and heirarchical markup
Dynamic heading tags for site title/logo
Internal links on single posts via related posts
Supports Yoast SEO plugin
Miscellaneous features
Recipe Generator Addon worth $16 included with the theme
ajax/php contact page template with form validation
Built in style support for contact form 7 plugin
Flexslider and carousel for posts and HTML content
prettyPhoto lightbox
Fontawesome 4.7 icon library included
Easy addition of Google fonts via theme options
Social icons widget with built in brand color styles for 25+ icons
WordPress Custom background supported
WordPress site icon (favicon) supported
Valid HTML5 markup on theme generated data
Supported on all modern browsers, IE 9 and above
Pre configured Child theme included in main download
Step by step documentation guide and help manual for theme installation and setup
Filter and action hooks applied wherever possible and required
Sample site data included in XML format
Performs well in pagespeed tests. Performance can be further improved by serving resized images
Theme developed on WordPress 4.5+, php 5.5.12 to 7.0 and MySQL 5.6.17
Update log
=Jan 16, 2020 - v3.8.1 =
* Added dummy data folder in the main download
=Jan 06, 2020 - v3.8.0 =
* Added option for disabling Fontawesome CSS file
    - See Theme Options > General > FontAwesome CSS
* Added option for including retina logo
    - See Theme Options > Header > Retina logo URL
    - Adds srcset attribute with 1x and 2x image URLs for retina devices
* Fixed: Breadcrumbs schema error for category archive pages
= Nov 28, 2019 - v3.7.0 =
* Added option for excluding overlay page title on selected pages
    - See Theme Options > General > Overlay Page Title Exclude
* Added option to specify a date after which auto featured images shall be shown on single posts
    - See Theme Options > Single Post > Show images after date
    - Useful when old posts have images inside content, and needs to disable auto featured image insertion
= Nov 23, 2019 - v3.6.1 =
* Fixed: php notice in breadcrumbs markup
= Nov 22, 2019 - v3.6.0 =
* Added full width header style for pages
    - See Appearance > Theme Options > General > Page Title Header
    - Supports inline, full width classic, full width overlay
* Fixed: Schema markup in breadcrumbs
= Oct 04, 2019 - v3.5.0 =
* Added author bio and avatar in author archives page
* Added HTML support inside post titles
    - Supports bold, italic, span and basic HTML tags
* Fixed: Author URL not working in single post meta
= April 20, 2019 - v3.4.3 =
* Fixed: Undefined function newsplus_short_by_word() when using word length in archives
= March 29, 2019 - v3.4.2 =
* Updated CSS styling for gallery shortcode when used with Classic Editor plugin
= Feb 21, 2019 - v3.4.1 =
* Fixed: php error for newsplus_share_btns() on single post
* Fixed: Show share buttons container only if some buttons are selected in theme options
= Feb 06, 2019 - v3.4.0 =
* NewsPlus Shortcodes Plugin update
    - Converted all standalone functions to class based static methods
* Removed visual shortcode buttons for TinyMCE editor
= Jan 01, 2019 - v3.3.1 =
* Added new title header style for single posts
    - Show post title with featured image as background
    - See Theme Options > Single Post > Post Title Header > Full Width Overlay
* Tweaked post update date and time for single posts
    - Show publish time along with the date
    - Inherit date and time format as set inside Settings > General
    - Show only updated time if the post was updated on same day
    - Show only publish date if the post was never updated
    - Show both publish date/time and updated date/time if the post was updated next day or later
    - Added labels "Published" and "Updated" for single posts date meta
* Fixed: Removed rel nofollow from ad posts
= Nov 21, 2018 - v3.3.0 =
* Added full width post title option for single posts
    - See Theme Options > Single > Post Title Header
* Added "Updated date" post meta on single posts
* Added support and CSS styles for Media Gallery Widget
* Added rel nofollow and target _blank for advertisement post links in archives
* Added new color scheme "Charcoal" 
    - See Theme Options > General > Color Scheme
* Typography and style improvements
* Fixed: Advertisement post label margin and full width on single post
* Fixed: WP Color Picker JS file missing in Theme Options
= Oct 20, 2018 - v3.2.4 =
* Fixed: z-index of search form in main navigation bar to show above menu items
* Fixed: Undefined index 'handler' in page options
* Fixed: Empty Google Fonts API call when no font was specified in theme options
* Added: Filter for overriding Google fonts list in child theme
    - See FAQ of documentation file for more details
= Oct 08, 2018 - v3.2.3 =
* Removed pre built templates as php package from King Composer
    - This is because of a bug in King Compser "The section does not exist or has been removed" 
      (https://wordpress.org/support/topic/error-the-section-does-not-exist-or-has-been-removed/)
    - Due to lack of response from King Composer authors, this functionality needed to be removed
    - The pages can now be loaded using direct XML import of WordPress
= July 24, 2018 - v3.2.2 =
* Updated dummy data export files to latest ones. (See dummy_data folder of main download)
* Removed "Food" package from pre built templates option of King Composer. (Use XML import via WordPress importer in Tools > Import)
    - The recent versions of King Composer are unable to handle multiple packages in prebuilt templates option. So one of them is removed.
* Fixed checkbox styling for comment form after GDPR update of WordPress
* Ensured compliance with EU GDPR rules
    - No personal data is stored or sent via theme except built in contact form
    - The built in contact form sends user email and comment to your email address which can be deleted upon user request
    - The theme doesn't use cookies or session storage. (You may need to show cookies notice if used by third party plugins)
    - If you find any compliance issue, please report it to me via comments section so that I can fix it.
= April 22, 2018 - v3.2.1 =
* Changed "ad" name prefix so that Ad Blocker doesn't block advertisement posts
* Added color picker option for changing colors of ad label and background (See Theme Options > Archives)
= April 09, 2018 - v3.2.0 =
* Added advertisement posts concept
    - Set any post as advertisement post (See Post Options > Set this post as advertisement post)
    - Provide custom advertisement label for single post (See Post Options)
    - Provide custom content background per advertisement post or page (See Post Options)
    - Add global advertisement label for ad posts in archives (See Theme Options > Archives )
    - Advertisement posts supported in all archives and post shortcodes
* Added JavaScript popup for social sharing buttons in single posts
* Updated Reference Daily Intake values for Nutrition Table as per 2018 data
* Fixed category listing in King Composer for WPML
= March 03, 2018 - v3.1.7 =
* Added option for opening links in new tab in "NewsPlus Social Links" Widget
* Added option for changing gutter width for main content and sidebar. (Appearance > Theme Options > General > Gutter width)
* Improved related posts display style with smaller heading size and less gutter
* Updated theme compatibility with WooCommerce 3.3.x
    - Supports WooCommerce 3.3 Product column, image resize, products per row, etc.
    - All customizer settings supported inside Appearance > Customize > WooCommerce
= Dec 01, 2017 - v3.1.6 =
* Change the modified date format to ISO 8601 format in NewsPlus Shortcodes
= Nov 29, 2017 - v3.1.5 =
* Fixed: Backward compatibility on some functions for php versions less than 5.5
= Nov 21, 2017 - v3.1.4 =
* Fixed: php error in recipe template file
* Fixed: Recipe method heading not changing when text changed in King Composer UI
= Nov 14, 2017 - v3.1.3 =
* Fixed: Replaced hard coded http protocol with SSL checked protocol
= Nov 07, 2017 - v3.1.2 =
* Changed dateModified Schema value to ISO 8601 format
* Fixed: php notice in single post sharing buttons when no sharing buttons selected
= Oct 23, 2017 - v3.1.1 =
* Fixed: Empty customizer.css call when customizer is chosen for color scheme
* Fixed: https protocol for schema
* Fixed: Deprecated WooCommerce cart functions updated with latest ones
July 27, 2017 - v3.1.0 =
* Added Google fonts select menu for site body, headings and main menu (See Theme Options > Custom Fonts)
* Added Social Sharing per post in archives (See Theme Options > Archives > Social Sharing )
* Added new Title element with different styles like Flag, bar, button, etc. (See "NewsPlus Title" element inside King Composer elements library)
* Added Google fonts and font styling options for post modules (See "Styling" tab in post module elements)
* Added color options for post headings, category links, excerpt and meta. (See "Styling" tab in post module elements)
* Added 'overlay' display style for main post module element (See "Display" tab's "Display Style" field in post module element)
* Fixed: Added number restriction 999 in get_terms to prevent memory limit issues
* Fixed: Whatsapp sharing button shows 404 error
Apr 07, 2017 - v3.0.2 =
* Added compatibility for WooCommerce 3.0+
* Added single product gallery slider, swipe and zoom features
Full changelog and credits can be found here.
Theme Support
Thank you for stopping by and browsing my theme. If you have any queries related to the theme, feel free to ask me on the comments section, or send me a mail from my ThemeForest profile message box. I'd be glad to respond to your queries. Thanks once again.