DOWNLOAD: https://1.envato.market/R3DRN
autoRoyal The Ultimate Niche WordPress Theme for the Automotive Sector
With hours of research put into finding out the right balance between the Automotive Business needs and clean and minimal design to capture leads and gave users great experience.
Either you want to use it as a Dealership website, Rent A Car portal, or as a Automotive Marketplace, autoRoyal is the right solution.
Auto Dealership Website
autoRoyal is the right solution for a Automotive Business. With top-notch templates included and extensive listing inventory autoRoyal is the last automotive theme you will ever purchase. Capture leads with UNLIMITED saved searches, email alerts and saved listings.
Automotive Marketplace
autoRoyal has built in monetization solution. You can charge one time fee for listing submission. Also you can have daily charges for featured listings and promoted listings. Featured listings will appear first on archive page and on search results page, also there is a shortcode for featured listings that can be placed on homepage or on another page. Promoted listings appear right after featured listings on archive pages and on search results page. We use account funds to extract money for featured and/or promoted listings. Payments to top-up account funds are made using woocommerce gateways.
Rent a Car
autoRoyal is the ultimate WordPress theme for rent a car website.
Vehicles Inventory
autoRoyal comes with and advanced and user-oriented front-end vehicles inventory. On My Listings page you can edit, mark them featured, promote listings, publish/un-publish and delete.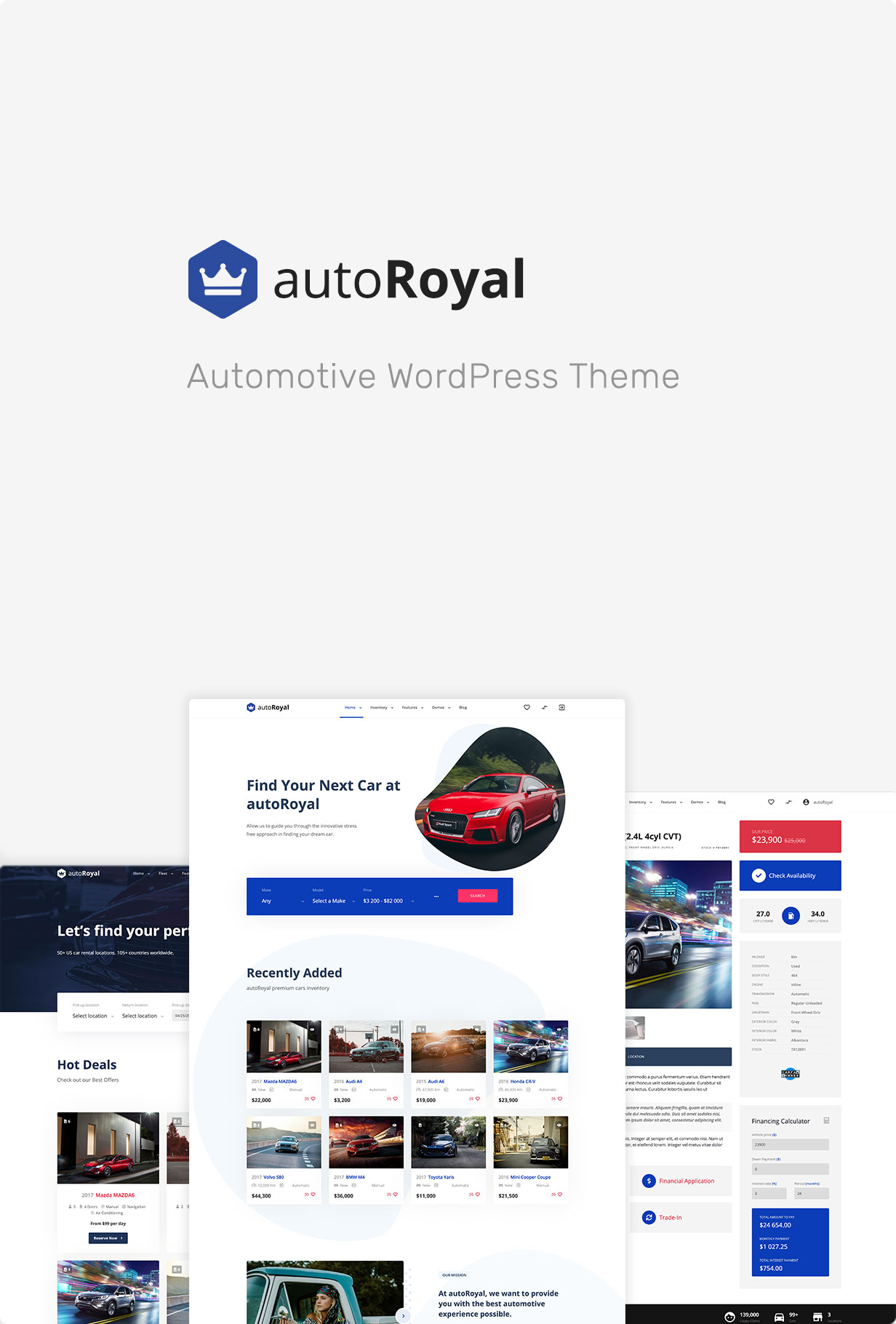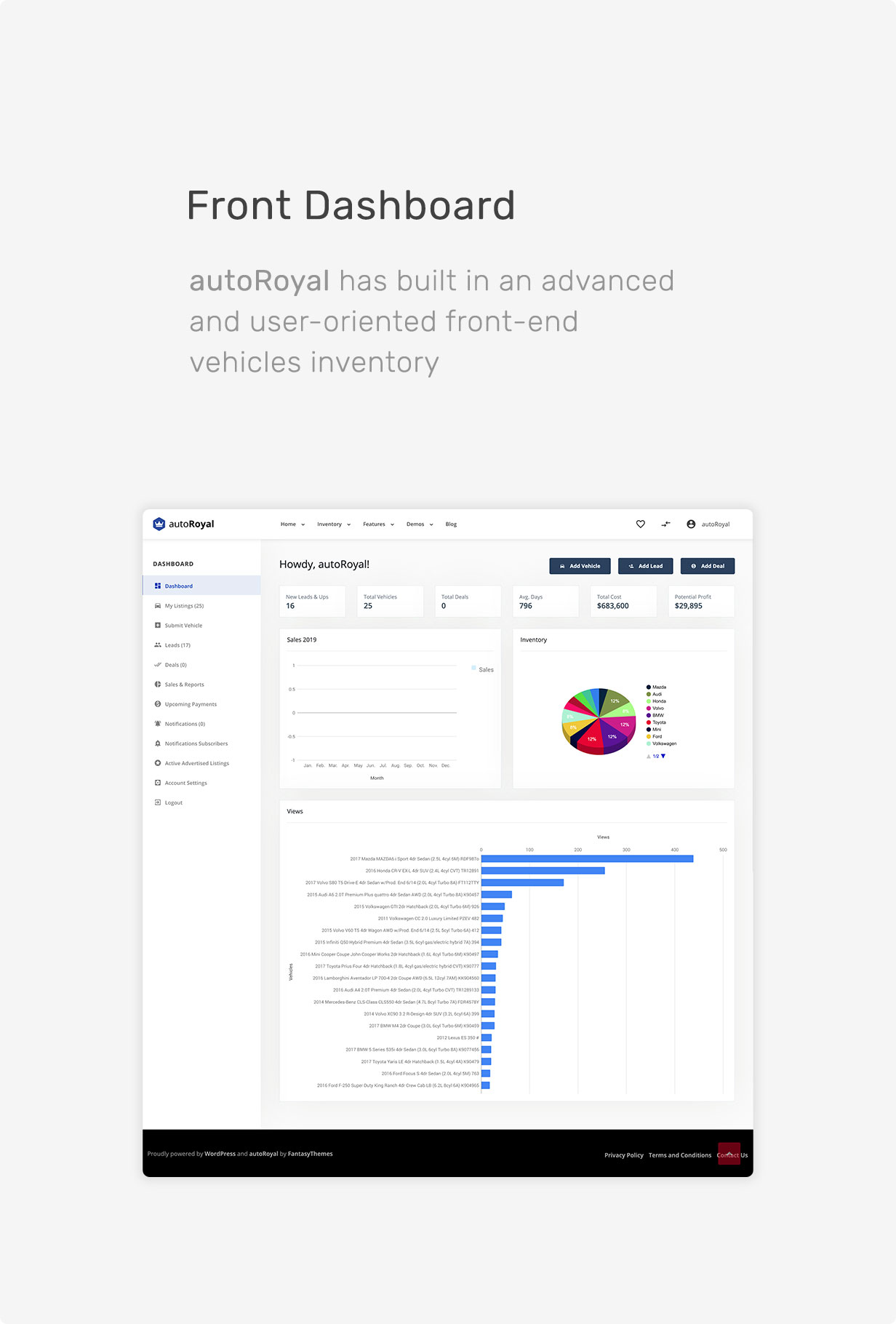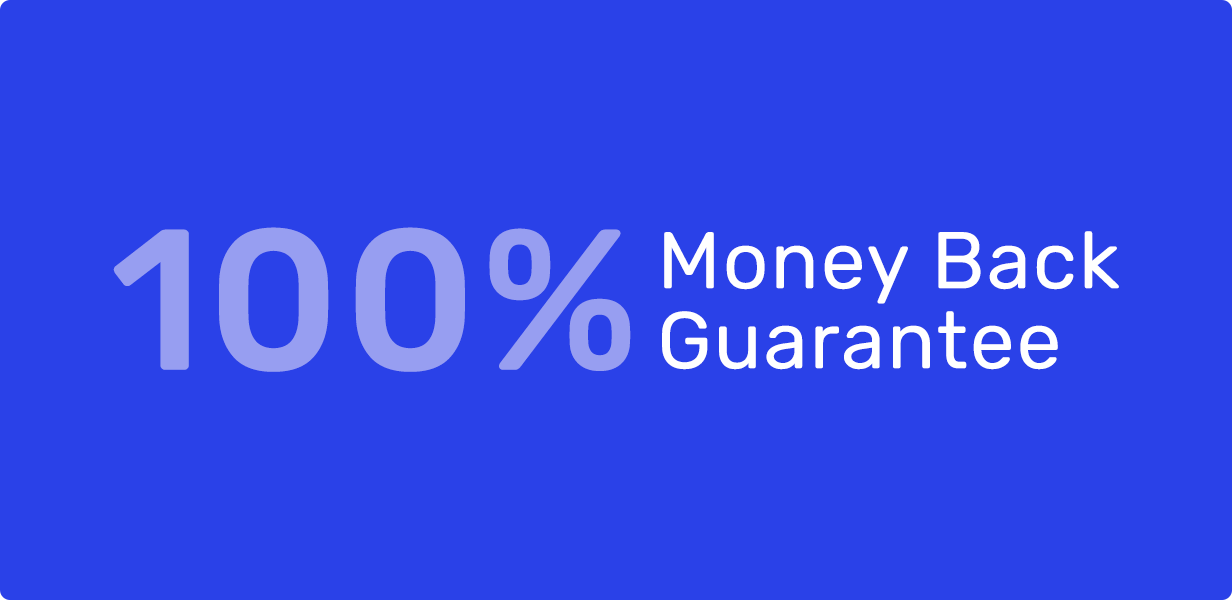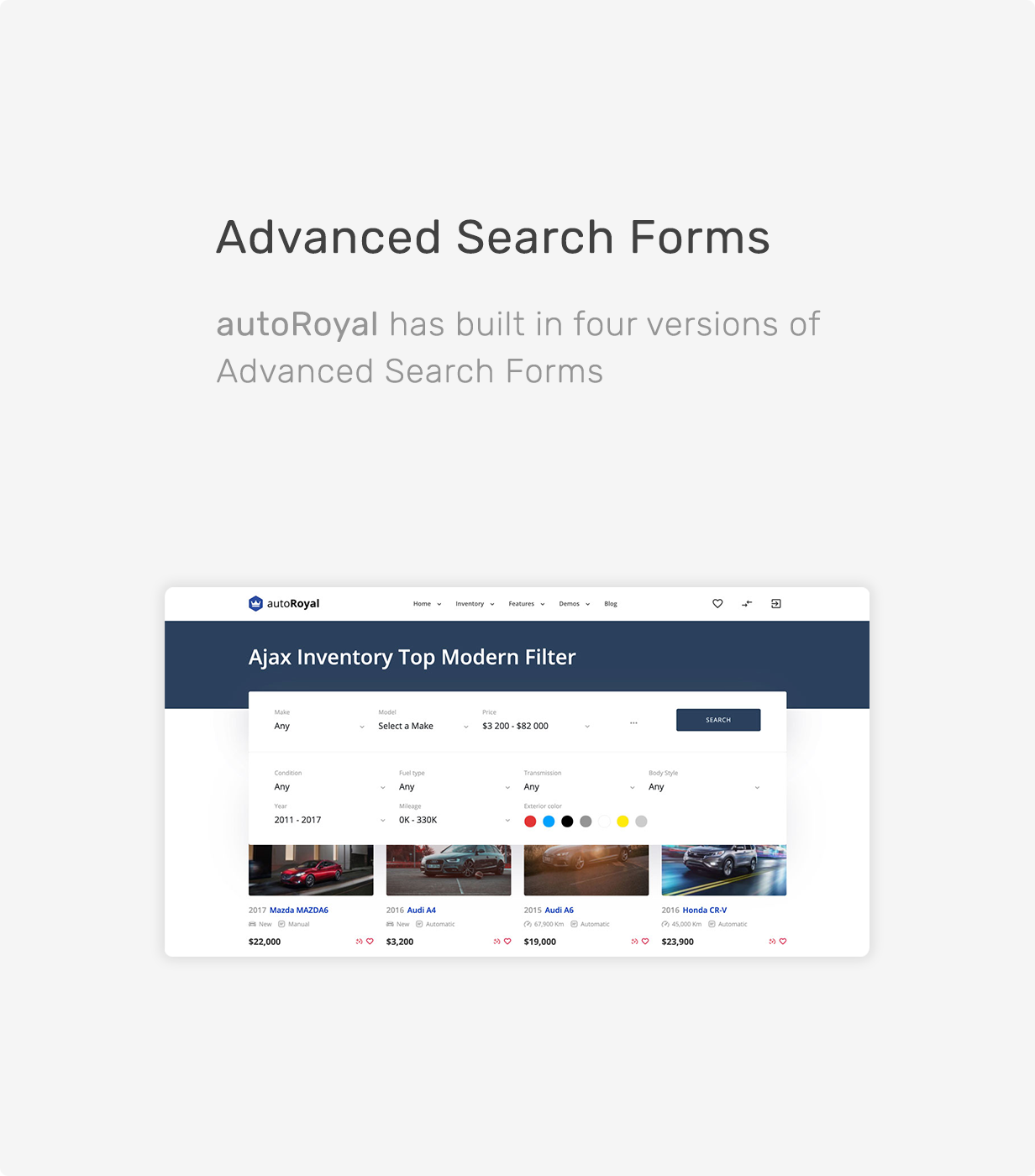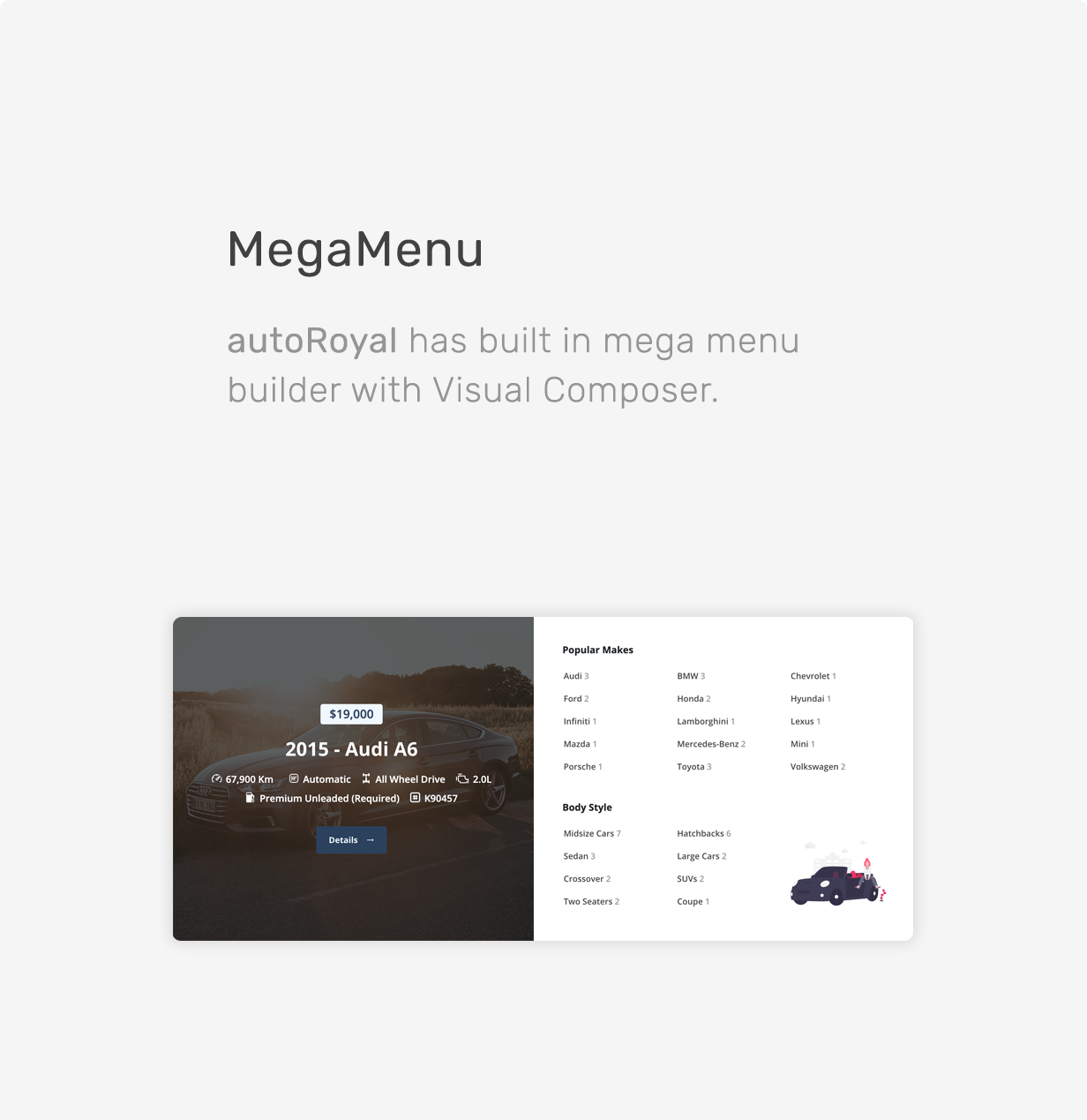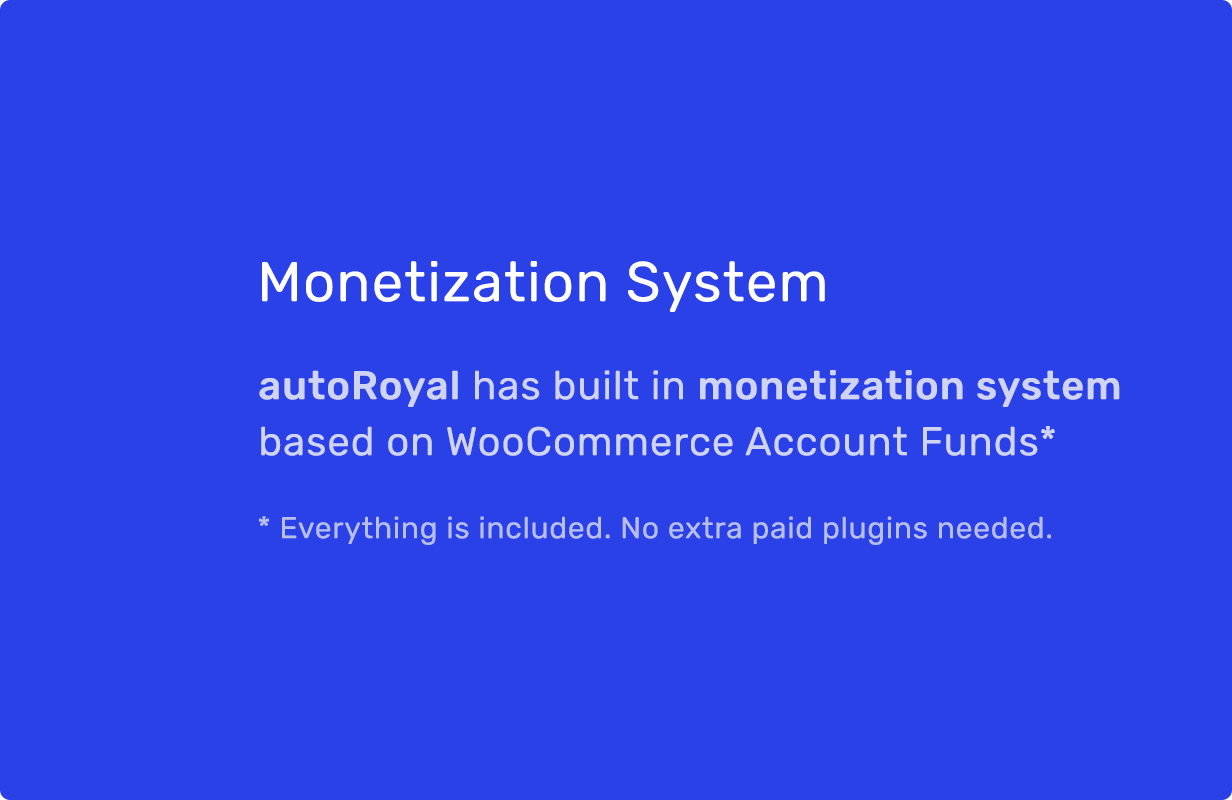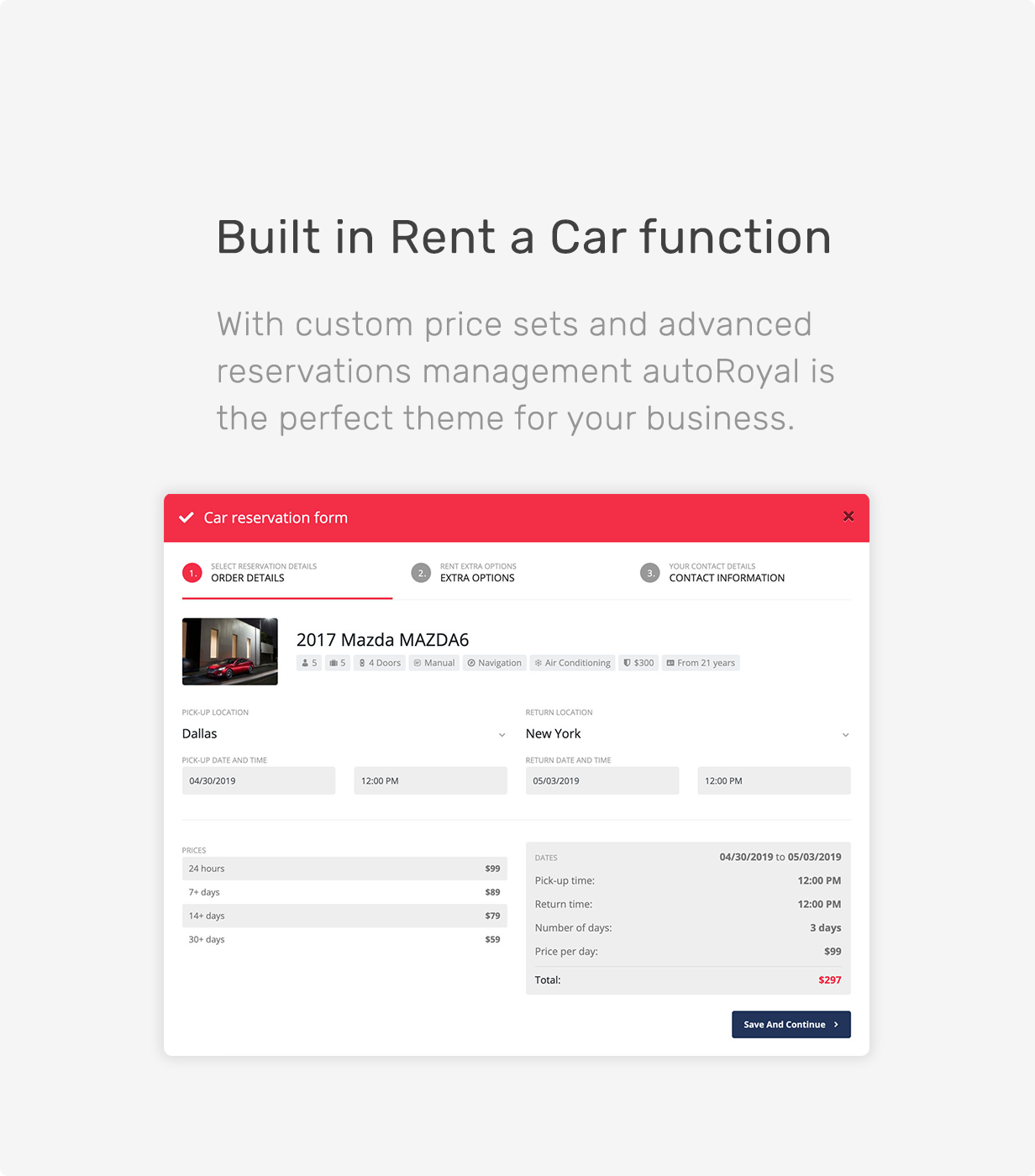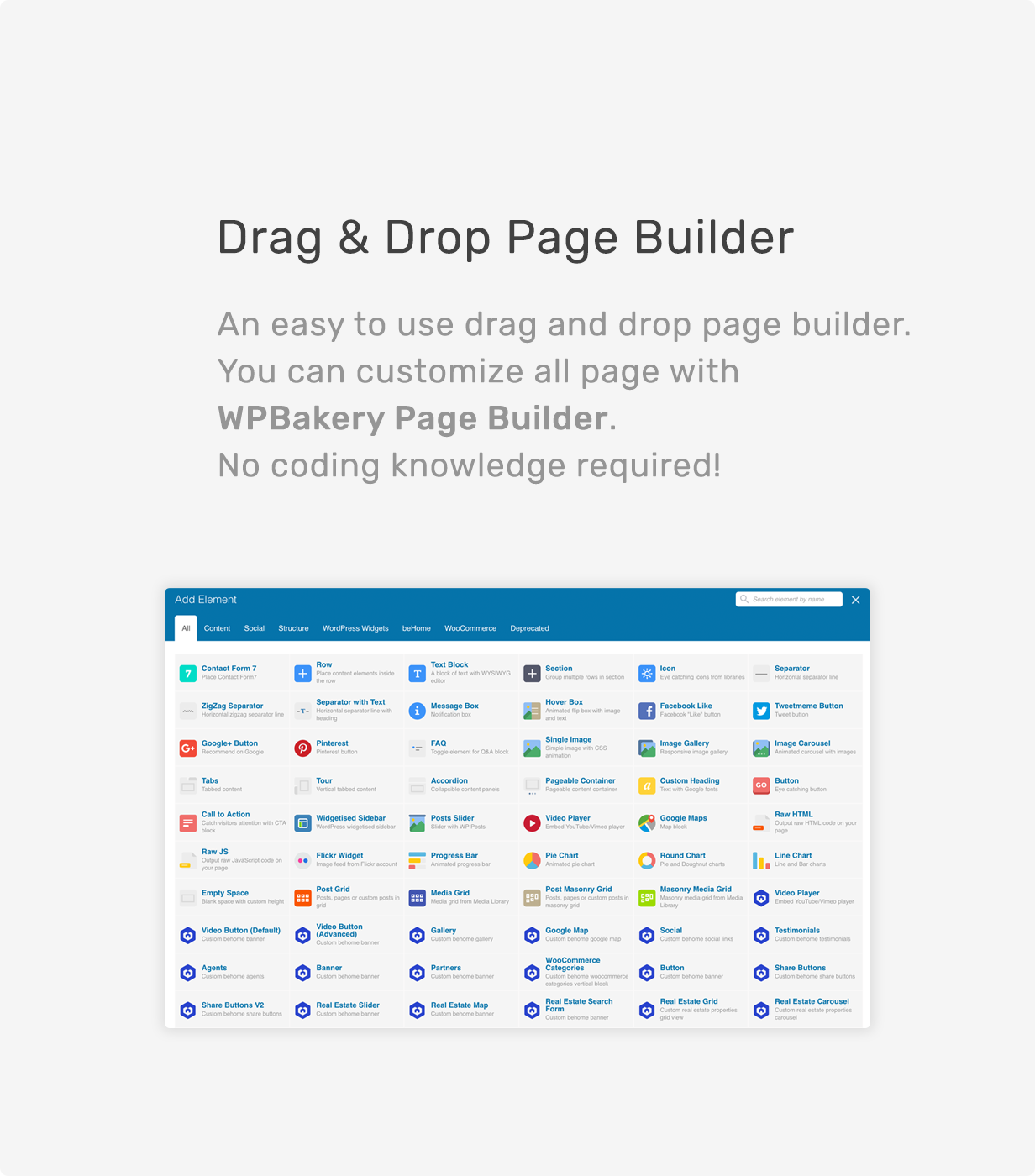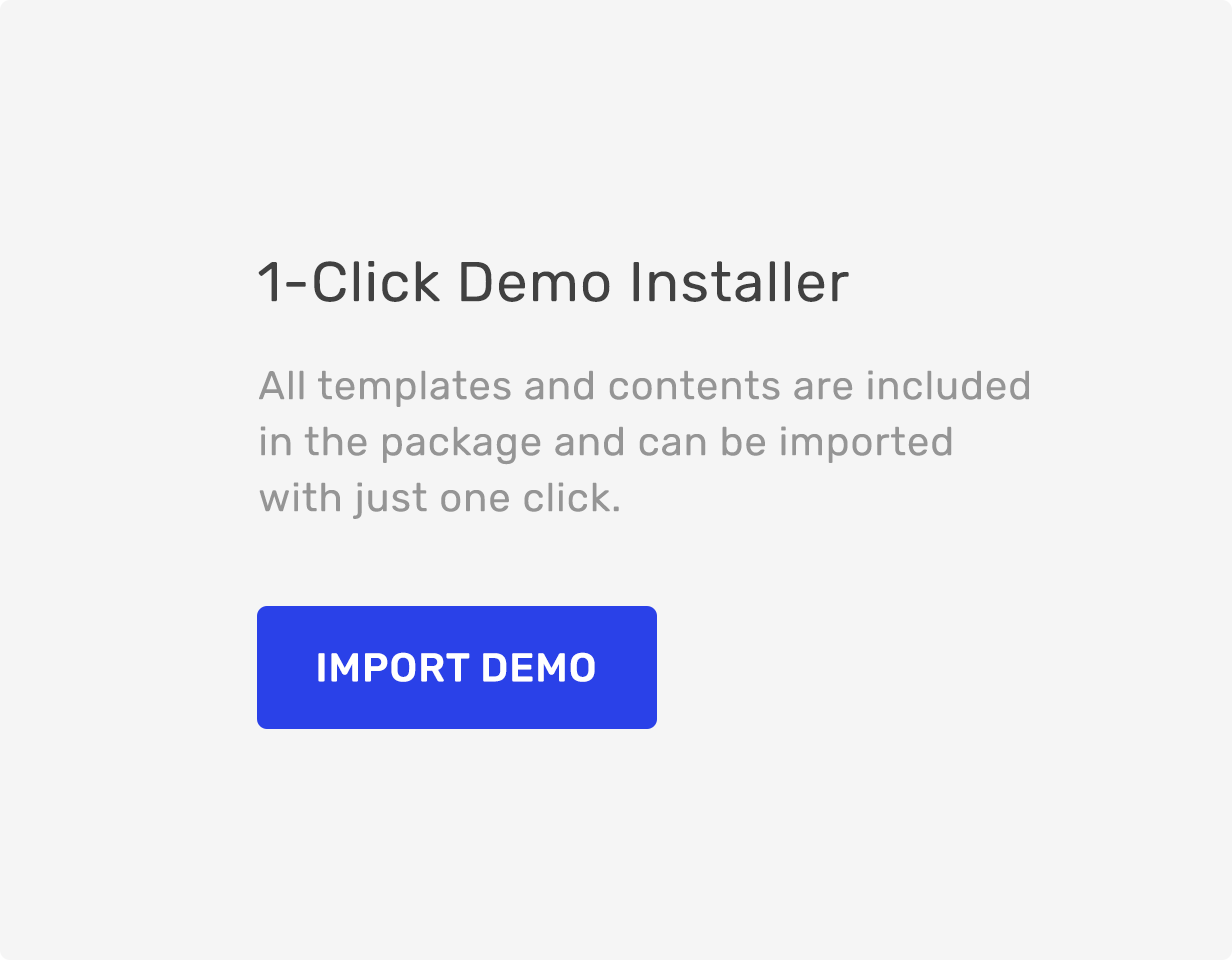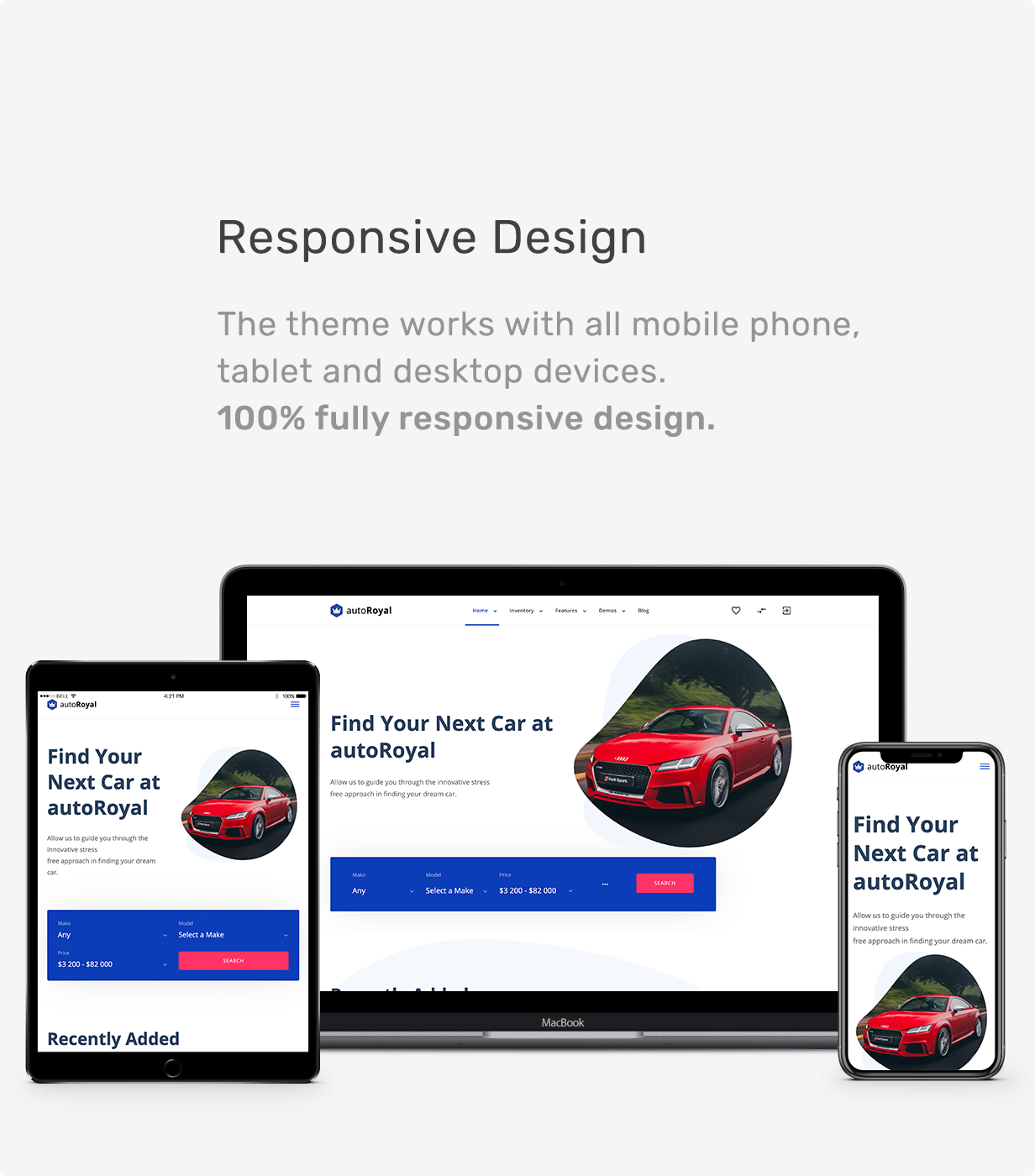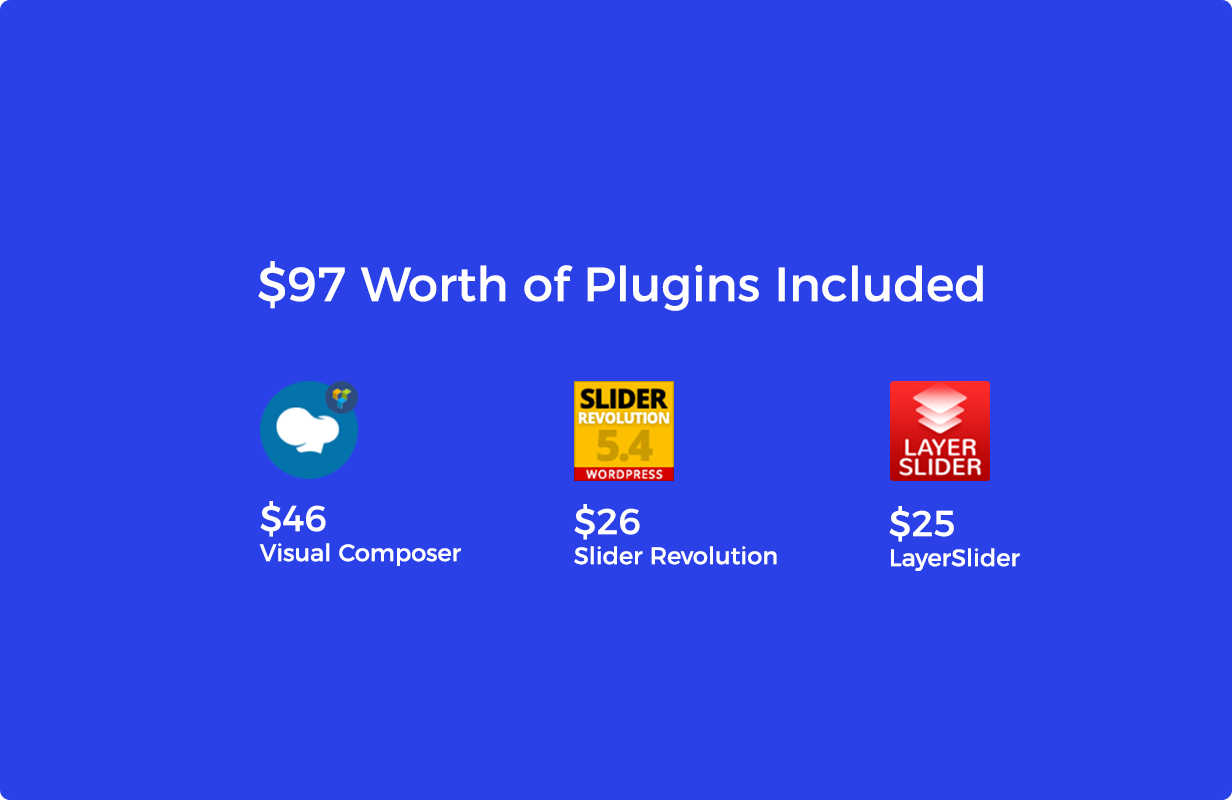 Main Features
Vehicles Marketplace functionality / scenario
Car Dealer functionality / scenario
Car Rental functionality / scenario
Monetization features built in
Monetization using WooCommerce
Top-Up user account funds
Advanced Inventory page
Leads Custom Post Type
Leads engaged from online contact forms.
Deals Custom Post Type
Loan calculator
Amortization schedule table
Sells reports
Upcoming payments (extracted from Amortization schedule tables).
Filter subscriptions.
Notifications on new vehicles added meeting your search criteria.
Notifications for registered users with extensive notifications page.
Notifications by email for unregistered users.
Filter subscriptions page for admins.
Account funds compatible with WooCommerce.
Top-Up account funds using woocommerce.
Front-End Settings page for users.
My Favorites function.
My Favorites works with registered users and unregistered users.
Pre-qualify form.
Test Drive form.
Financial Application.
Trade In Form.
Verify SSL Certification option.
25 Shortcodes
Featured Vehicles block
Recent Vehicles block
Submit vehicle fee – One time fee.
Featured vehicle daily subscription (paid).
Promoted vehicle daily subscription (paid).
Vehicle Lot reports.
Responsive & mobile ready. Based on Bootstrap.
Well thought & designed details
Covers a lot of scenarios and usecases
User interface elements kit included
Custom SVG icons
Clean & commented HTML/CSS code
Form elements in different styles
Pages and content sections elements
Credits
Fonts – Google Fonts Directory – Montserrat and Nunito font families
Images – unsplash.com
Icons – Font Awesome and ET Line icons