AYON is the Premium Prestashop theme, which have ready to use kit for perfect shop with advanced options, modules and easy to use admin interface. Attractive design, mobile adapted, multi-purpose.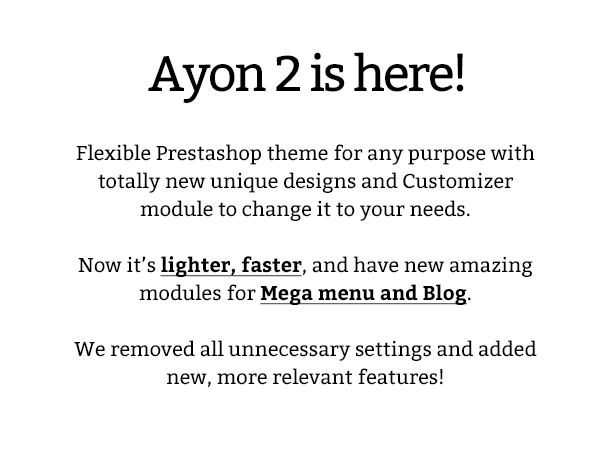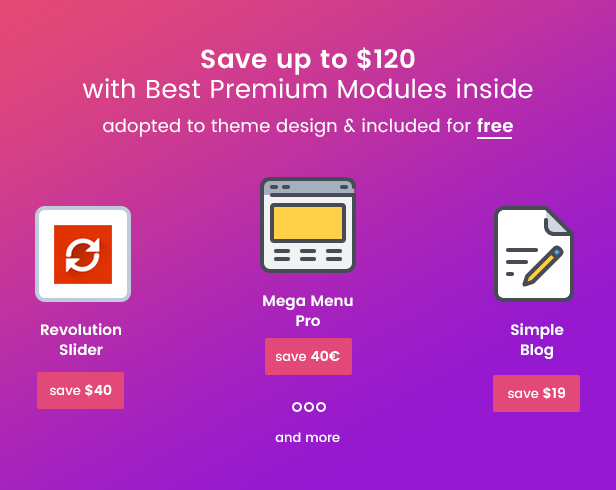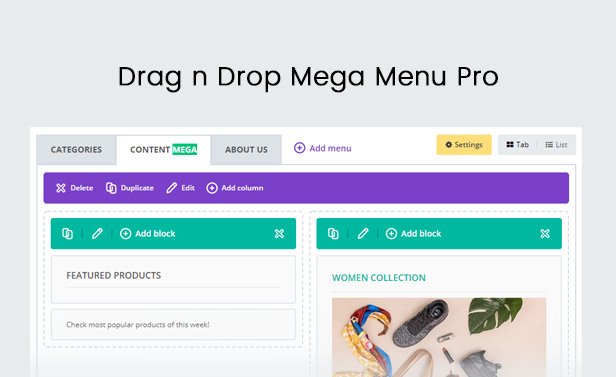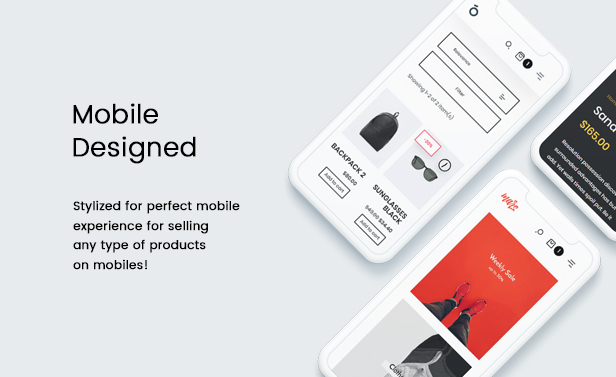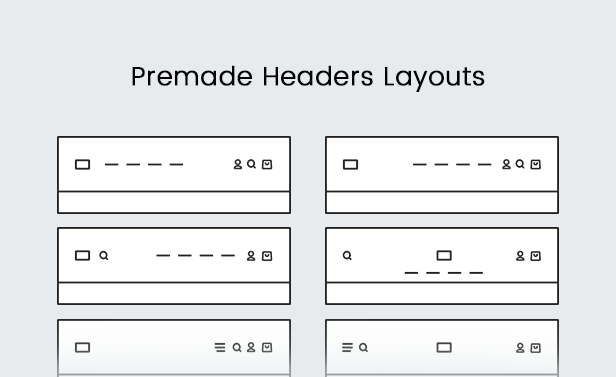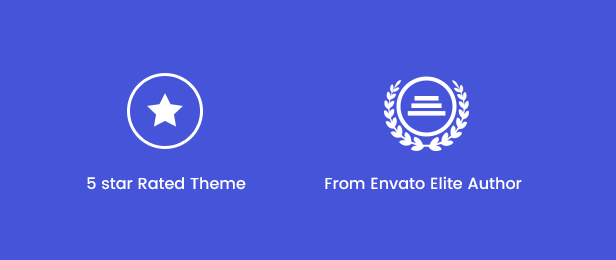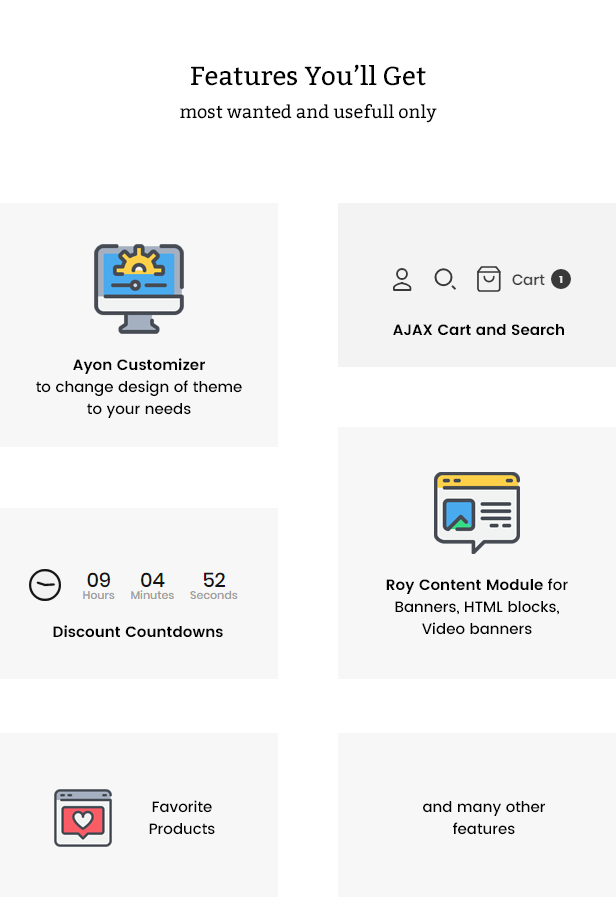 AYON theme features:
9 demos included in one purchase
Combine features from different demos
Great Fast Guest Checkout
Responsive design
Unlimited Colors, premade Color Schemes, your own custom color schemes
Advanced Customizer module allows you to switch options in one click
Fast Mega menu module
Fullscreen responsive videos on product page
Attractive design, make your website shine
Dynamic banners with optional hover effects
Latest Revolution Slider with amazing Live Visual Editor and Unlimited Animations
Smart Blog that includes latest news on homepage, blog categories and more options
Touch Friendly for all Mobile and Tablet devices
Browser Compatibility (Chrome, Firefox, Safari , Opera, IE10+)
Interactive shop with draggable and touchable Product Sliders
Second Image of product on mouse over
4 Hover effects and 4 product containers
2 / 3 / 4 / 5 products per row
Countdowns for products with discount
SEO Friendly
Levi Box module gives fast access to mail form and top arrow
Ajax Cart with Modern purchase animations
Intuitive OnePage Checkout
Manufacturer name and logo on product page
Price Slider
New, Sale and Sold Out sticker for the convenience of customers
Loader
Ajax Live Search With Images of Products
Free 700+ Google Fonts that you can choose in Customizer module
Extended buttons options with 15 hover animations
Grid / List product view
Google Rich Snippets optimized
PSD files of banners and sliders are included!
9 years experience in webdesign and 2 years of development Ayon theme
Fast Support & Regular Updates
Note: All products in the live preview are DEMO products and have not real names, photos and prices. They are not included in theme archive, and are not available for the real sale.
Updates information
v.2.2 – 02 Aug 2019 – Current
Improvements:
Price slider support for filter module
Prestashop 1.7.6.0 support
Language / Currency selector header position
Language / Currency selector short mode
Cross-selling & Same category products per row
Show controls on mobiles
Product list – image border new option
Styles improvements

Fixes:
Cross-selling products slider on product page
Same category products slider on product page
Filter dropdown fix
Filter clear all button fix
Revolution slider 500 error on PHP7.2+ 

v.2.1 – 07 May 2019
Improvements:
3 New demos for Prestashop 1.7!
Mega menu mobile sublists work
Customizer: Sidebar blocks border ability
Customizer: Controls display options
Customizer: Homepage products no title layout
Customizer: Display of quick view and favorites
Google rich snippets for pp, category and home added
Customizer back office redesign

Fixes:
404 on quick search results fixed
Custom category 2 and 3 500 error fixed
Side Cart translations fixed
Roy Content top panel hook
Search page paddings
Favorite products mobile display
Right column mobile problem fixed
Cart close after cart actions
Checkbox checkout styles fixed
Transparent Second image on hover fixed
Product page thumbnails when 3 quantity fixed
Revolution slider positions
Product page product sliders undertitle
Other small fixes

v.2.0 – 25 February 2019
Ayon 2 for Prestashop 1.7 released!
New version main features:
6 new redesigned demos
New Mega Menu PRO module
New Simple Blog module
New scripts, new UI.

Version for Prestashop 1.6 without changes.

v.1.6 – 25 August 2018
Fixes:
Product sliders controls display fixed
Product page thumbnails controls fixed
Mobile product page with one image fixed
Roy Banners can't delete banner fixed
Bug with not move to top after pagination in Chrome fixed
Product list images load 3 images for second image fixed
Old price double stroke fixed
Switch images of combination when jqzoom enabled fixed
Fancybox wrong images when too much images of product fixed
Order history table colors fixed
Radio buttons and inputs of IOS Safari wrong display fixed
Blog home latest posts wrong slider display fixed
Undefined index of color_list fixed
Levibox module facebook wrong translation fixed
Quick view width on mobile fixed
Thumbnails as color group attributes fixed
Accessories slider on mobiles added
v.1.5 – 30 July 2017
Improvements:
New swipeable product slider on product page on mobiles
New Product page layout
Sticky right column on product page - reworked
New option to set position of Language and Currency choice out of account (by many requests)
New documentation for Mega Menu
Limit on products in cart block to display

Fixes:
Click on Account icon work fixed
Second image hover after filter fixed
Video on blog pages fixed
Color swatches on mobiles fixed
Header height in Microsoft Edge
Product page reviews trasnlations fixed
Little design fixes
v.1.4 – 26 April 2017
Improvements:
- New Guest Checkout for OPC
- 3 layouts of guest checkout
- Show / hide address fields
- Show only Guest checkout opportunity
- Color swatches added to category page.

Fixes:
- Back office icons in Customizer fixed
- Little fixes
v.1.3 – 21 March 2017
Improvements:
- Loading layouts
- Mercury demo redesigned
- Add to cart animation icon changed to current cart icon
- Fully responsive videos for product page
- 404 page design improved

Fixes:
- Ratings display on compare page fixed
- Bug in product list with old price when there is no old price fixed
- Little design fixes
v.1.2 – 23 February 2017
Improvements:
- New modern demo - VENUS
- Product page layouts for images, tabs, right column and quantity
- New footer layout
- New option - force fullscreen for all headers
- Product container layout now must set up for each block separately
- Same with spacing between products
- New option - underline on hover for menu and categories
- New options for category block
- Footer top border added to separate it from bottom section

Fixes:
- Wrong average rating on product page fixed
- Roy Banners doesn't import banners during installation of Uranus - fixed
- Breadcrumb appearance fixed
- Same category and Crossseling modules styles improved
- Little design fixes
v.1.1 – 11 January 2017
Improvements:
- New amazing digital demo - NEPTUNE!
- Product item border color on hover added
- Search screen - added smooth animation and styles improved
- Some new styles for 4, 5 and 6 headers
- 'Library' renamed to 'Documentation'

Fixes:
- Cart and account icons click on iOS - fixed
- Uranus wrong slider format during import - fixed
- Customizer can't disable loader - fixed
- Roy user info block translations fixed
- Full screen banners and mini products paddings fixed
- Banners of free sections on mobile view fixed
- 4, 5 and 6 headers styles fixed
- Home products titles - responsive styles fixed
v.1.0 – 24 November 2016
AYON Theme release!