CityTours is an HTML5 site template suitable for companies/agencies that provide services for tourist: can be used to provide general city attractions information, buy tickets, tours, tour guides, hotels and transfers, travel.
Main features
Valid and clean HTML5/CSS3 code
New Bootstrap 4x stable version: looks nice on all devices
+120 HTML pages
25 Home pages

Home with Owl Carousel Slider
Home with Owl Carousel (Lazy Load) for each item
Home with Search Bar V2
Home with Revolution Slider (Save $14)
Home with Layer Slider (Save $11)
Home with Single image
Home with Video Background
Home with Search Bar
Home with Search Panel
Home with Tabs
Home with Single Hero Image
Home with Map
Home with Cookie Bar (EU Law)
Home with Popup advertising (with autoclose delay)
Home with Text Rotator
Home with Search Bar + Video Background
Home with only Tours

7 Headers Styles
7 Footer Styles
Google API Address Autocomplete
Isotope Masonry Sort Filters
Revolution Slider Visual Editor (Save 49$)
Twitter feed plugin
Bootstrap Notify plugin
Shop section
Sticky sidebar
4 color schemes: easy and fast chance primary color
Parallax effect
Working PHP Booking form with autoresponder
Working AJAX Contact form with antispam protection
Working AJAX Newsletter subscription with antispam protection
Site launch pack: counter plus newsletter subscription
Responsive Tour timeline page
Grid Gallery (Final tiles Grid gallery plugin save $16) New!
Fullscreen map page with navigation
Map listing New!
Fixed sidebar Cart New!
2500 Fantastic Icons Fonts with Retina support
Retina ready
RTL Version
Supported By all major Browsers
Google Map with multiple markers and infobox
Google Web Fonts
Jquery Slider Pro
Magnific Popup
Password check strength in register page New
Show hide password for input password
PSD assets included in this item:Banner, Logo, Map pins, Top main header.
Admin section New!
Pop Up for alerts and advertise (with autoclose delay) New!
Hotels section
Transfers section
Restaurant sectionNew!
14PSD for the main pages (Save 12$) New! View here what you get
Icon set New!
Wishlist page New!
404 Error page New!
Images are not included. Thanks to AmnesiArt for video used in the demo.
Tags:travel, tours, tour guides, hotels, transfers, tourism, holiday
Maybe you are interested in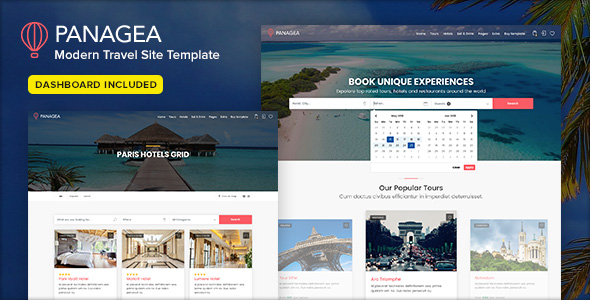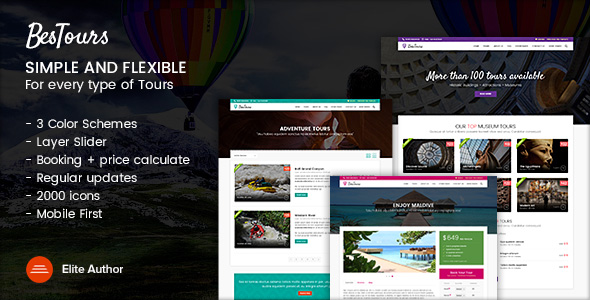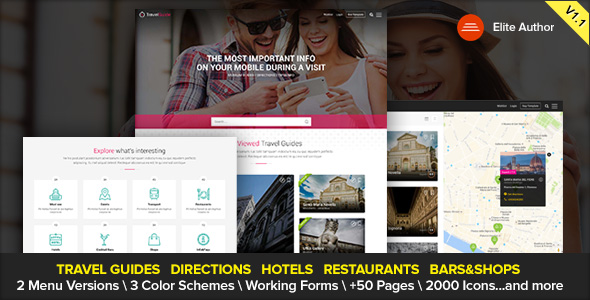 Change log
V5.2 21 February 2020
- Fixed an Issue related the Checkbox and Radio buttons on IOS13 Ipad Only
- Fixed an Issue for Latest Safari Mac OS Owl Carousel arrows

V5.1 10 December 2019
- Fixed a Touch Issue for Owl Carousel (Plugin Version Updated from 2.3 to 2.4)
- Added Isotope Masonry Sort Filters
- Added Address Google API Autocomplete

V5.0 15 October 2019
- Added 3 new home pages
- Added RTL version
- Removed Weather Plugin no longer active
- Updated Bootstrap Library
- Minor Css changes
- Update Notify Panel style

V4.1 14 December 2018
- Removed @import
- Fixed an issue for the Revolution Slider files video versions: index_14.html, index_15.html, index_17.html

V4.0 14 August 2018
- Changed css files structure
- Updated Ionrange input slider plugin
- Updated Owl Carousel plugin
- Updated animate.css
- Added show password for password inputs (example on Sign in modal)
- Updated Bootstrap Library from 3.7 to latest 4.1
- Changed map style
- Add Opacity control for parallax header sections
- Added Sign in Modal
- Added Magnific Popup animation
- Improved scroll to top button
- Some css minor improvements
- RTL version is not longer supported

V3.5 21 November 2017
- Added another Date and time picker
- Fixed a menu mobile panel undesired Shadow
- Faq smooth scroll version 2 fix incorrect position OK
- Updated Parallax plugin
- Fixed an issue related the modal search form for Iphone IOS 11
- Footer Reveal Script disabled on Mobiles
- Fixed and issue related the filters column collapse on mobiles

V3.4 14 October 2017
- Updated documentation

V3.3 29 May 2017
- Updated the following files: js/bootstrap-notify.js + js/bootstrap-notify.min.js (Issue: incorrect html output)

V3.2 10 May 2017
- Added Bootstrap Notify
- Added Revolution Slider Visual Editor
- Added 6 New Revolution Sliders
- Added New Search
- Added transition animation to menu
- Added 2 new icon packs
- Optimize performance for the mobile aside menu
- Added Fixed Reveal Footer
- Added one more header version
- Fixed an issue related to index_11.html (menu) RTL version
- Updated Jquery library
- Updated Bootstrap library
- Updated Parallax js
- Updated Wow js
- Updated Magnific Popup js
- Updated Slide Pro js
- Optmized Google font page load

V3.1 28 Feb 2017
- Fixed an issue related to the Coming soon page

V3.0 6 November 2016
- Added more footer styles
- Added more header styles
- Added Twitter feed plugin
- Added Single hotel page with contact form
- Some improvements for the google map listings
- Added get directions functionality for google map
- Added Ribbon CSS3
- Added Overaly Grid Gallery
- Added Shop section
- Some minor css improvements
- Added switch text on view map button
- Updated RTL version

V2.3 26 July 2016
- Updated documentation on how to apply the Google map Api key if the map does not works 

V2.2 9 June 2016
- Added 3 more pages (Tours map listing, Hotels map listing, Restaurants map listing)
- Cart and search drop down on hover

V2.1 26 May 2016
Added some Seo Improvements: H1 on logo for home pages, removed meta keywords not more necessary on Google, and minor...
V2.0 26 March 2016
The Jquery Weather plugin stop to works. We've Updated the item with another plugin.
V1.9 17 March 2016
- Added Layer Slider home page version
- Added Home page version with tabs
- Improved the fixed sidebar with another script
- Added RTL version
- Updated Bootstrap library to 3.3.6

V1.8 19 Dec 2015
- Added a fixed sidebar version for some pages
- Added another Faq page with smooth scroll and fixed sidebar
- Added a Restaurant section
- Added a new font icon set for Restaurant section
- Added filter category option for the fullscreen map page
- Added 2 grid gallery pages
- Added a map color style
- Added an input slider range for price in filters column
- Updated jquery.sliderPro.js plugin
- Added a calendar datepicker function advanced
V1.6 13 Nov 2015
- Added Admin section 
- Added Jquery Text Rotator
- Added Jquery Cookie Bar (EU law requirement)
- Added Weather Forecast Widget with translation support
- Added Pop Up for alerts and advertise (with autoclose delay)

V1.5 11 June 2015
Fixed an issue regarding the icon fonts added in v.1.2 that affect on Safari browser
V1.4 20 May 2015
- Added index variation with search panel
- Added 3rd level menu support
- Added Footer version with working ajax newsletter subscription
- Bonus content: Responsive Email Template (no support included for bonus content)
- Added Faq page
- Added Fullscreen Map
- Added Gallery 3 columns page
- Added Gallery 4 columns page
- Added Timeline Tour page
- Added pricing/packages tables
- Added "Save/offer" ribbon
- Added Single Hotel page with working php availability request
- Fixed IE9 Issue: submenu disappear when move the cursor to the submenu (only if you did not scroll the page)

V1.3 22 April 2015
- Fixed a small issue for the "plain header" version on page scroll

V1.2 10 April 2015
- New Hotels section
- New Transfer section
- Collapse map behaviour on mobiles (changed position of the button)
- Add Carousel plugin for single hotel page
- Add New Icon set
- Site launch page wrong jquery version
- New map pins

V1.1 26 March 2015
- Fixed Top Login dropdown issue
- Some minor improvements
- Optimized main titles over the top images for mobile
- Added more magnific popup examples in the shortcode page

Tags
accommodations, booking, city restaurants, city tours, hotel, museums, restaurants, tour guide, tour tickets, tourism, tourist, tours, transfers, travel, attractions, travel guide