RGen landing pages are multi-purpose marketing pages come up with 48+ ready to use demo with drag and drop advanced page builder including 360+ design sections.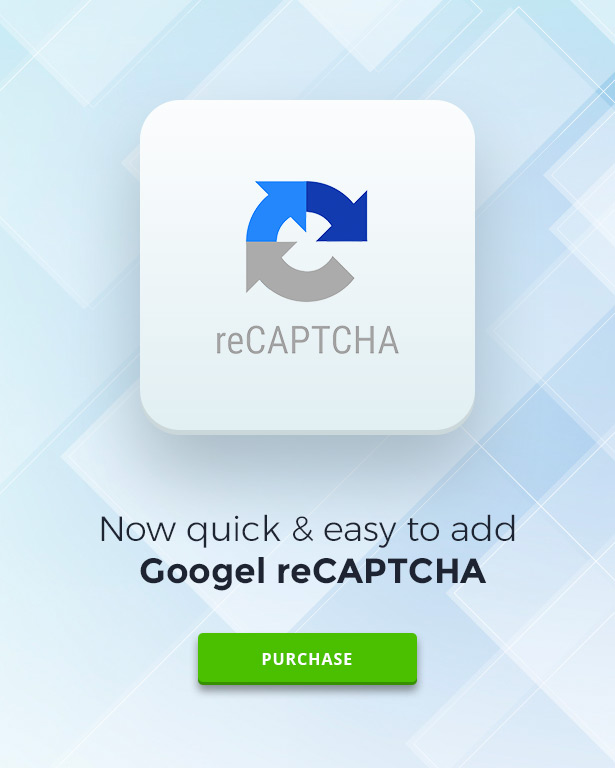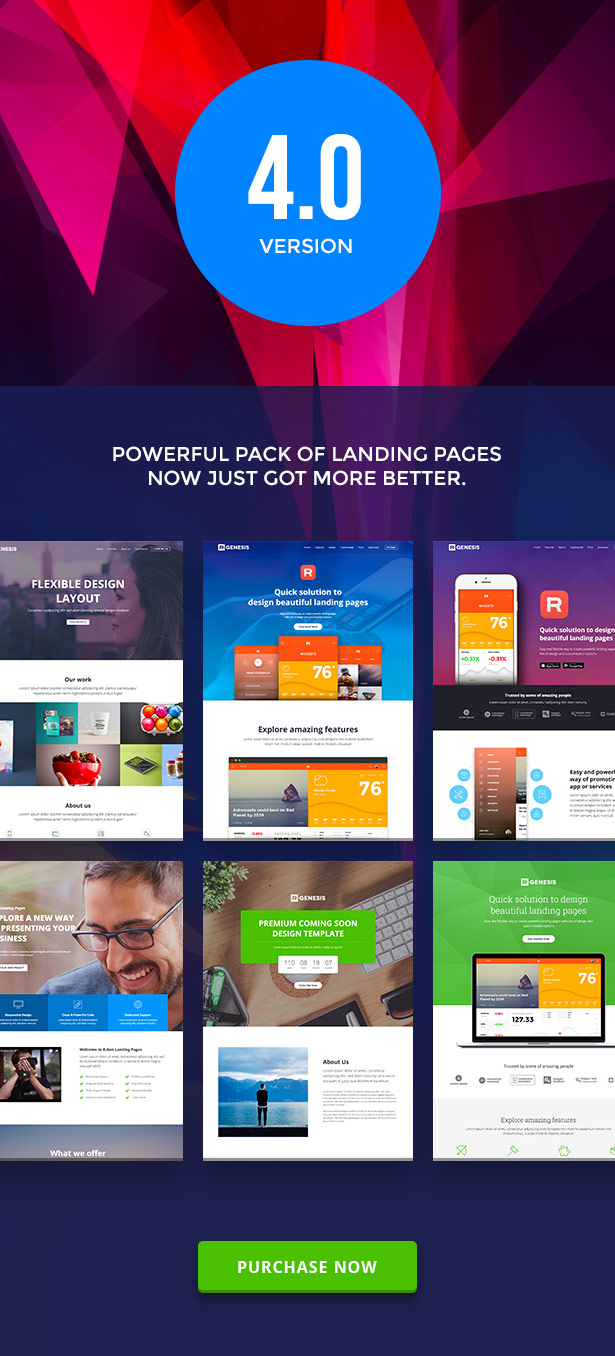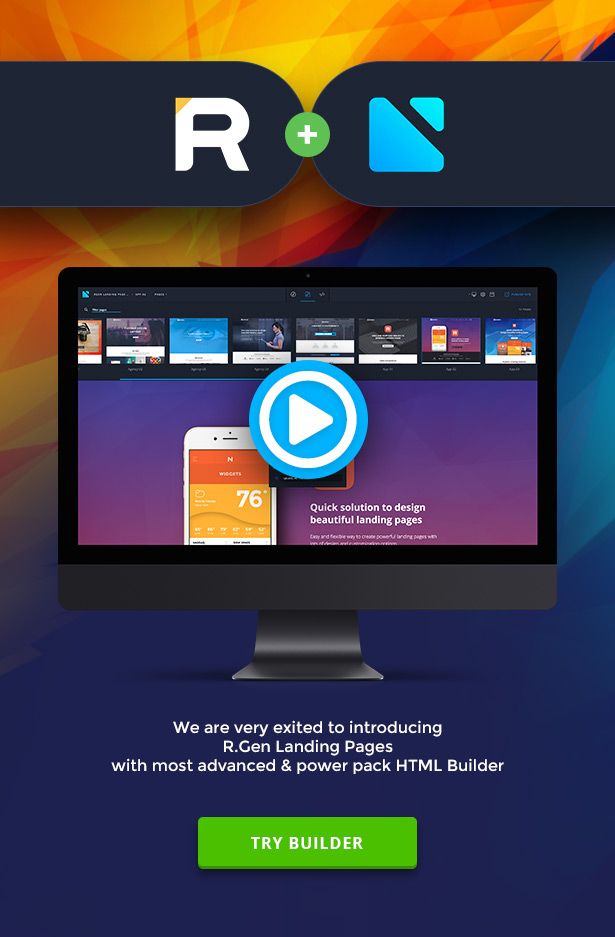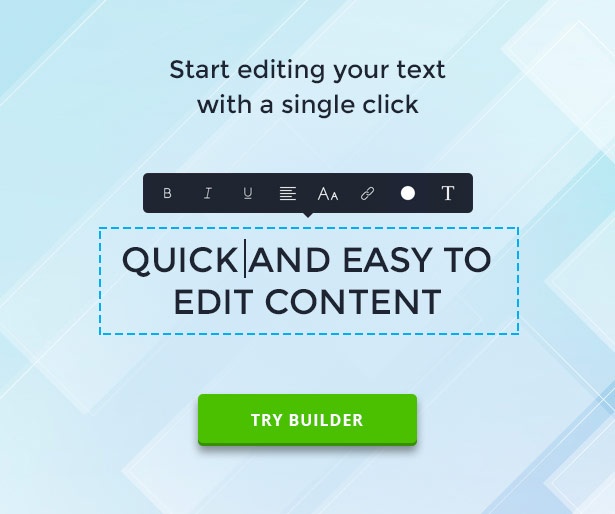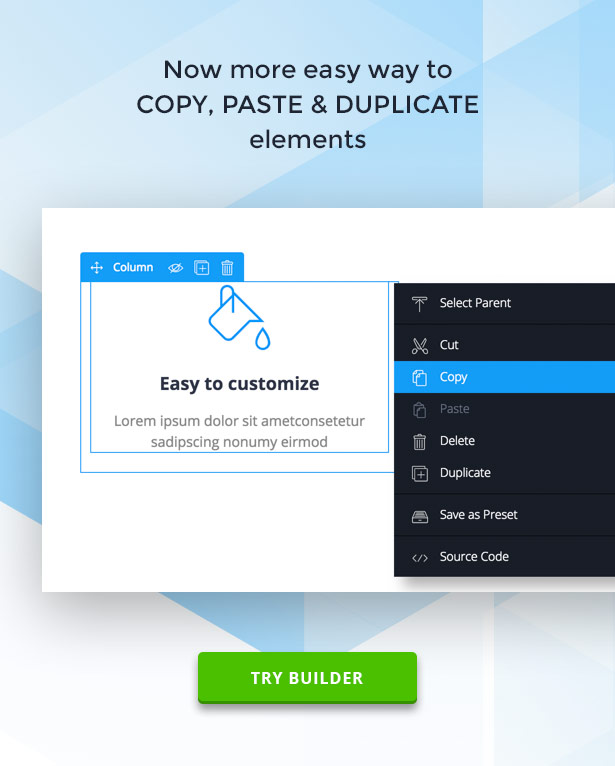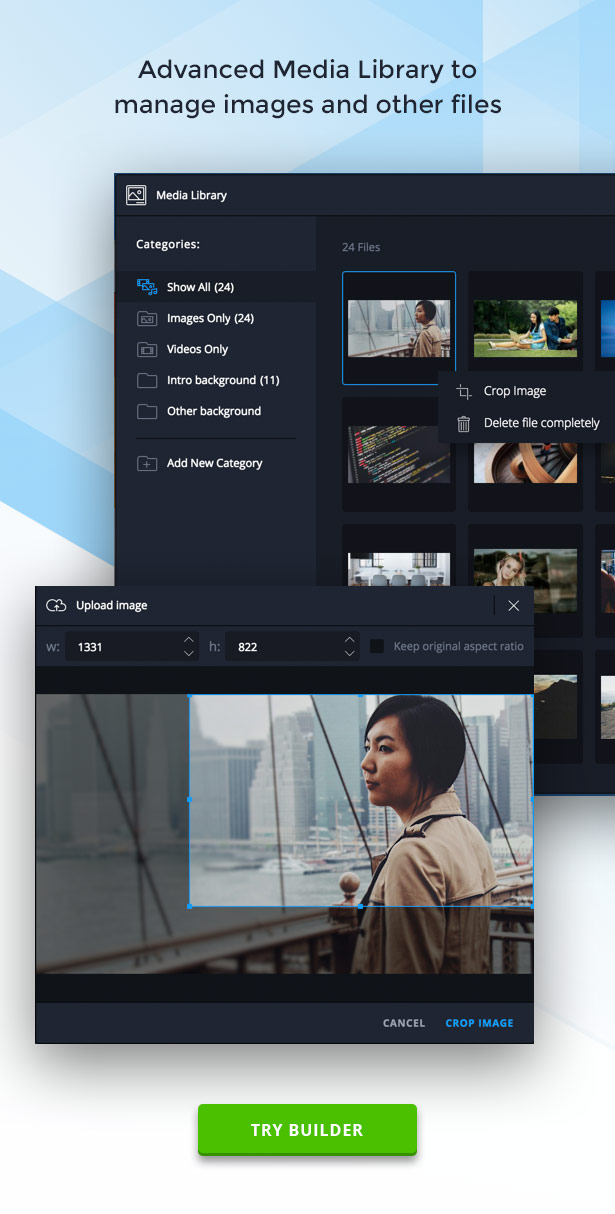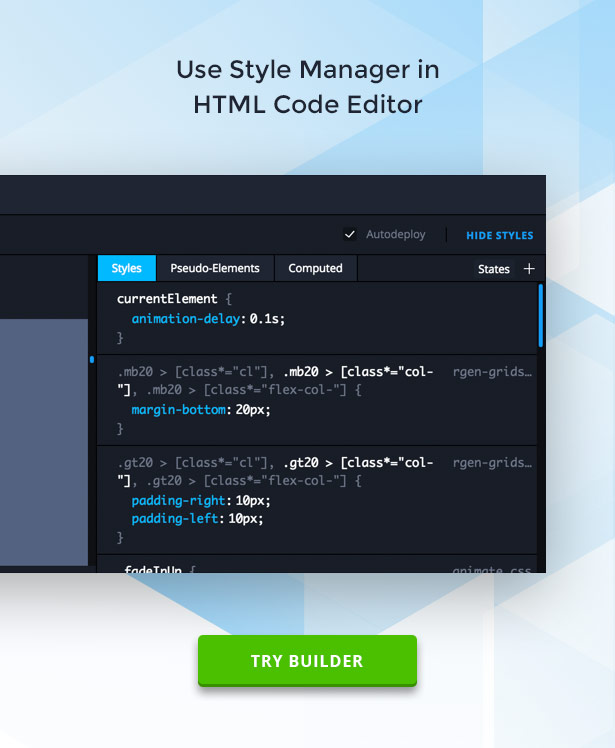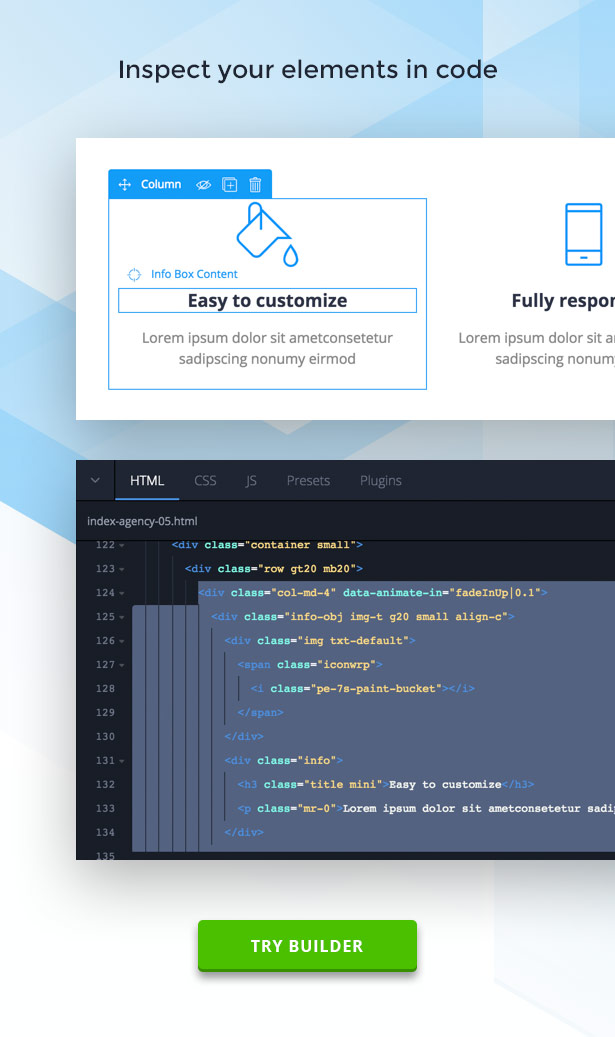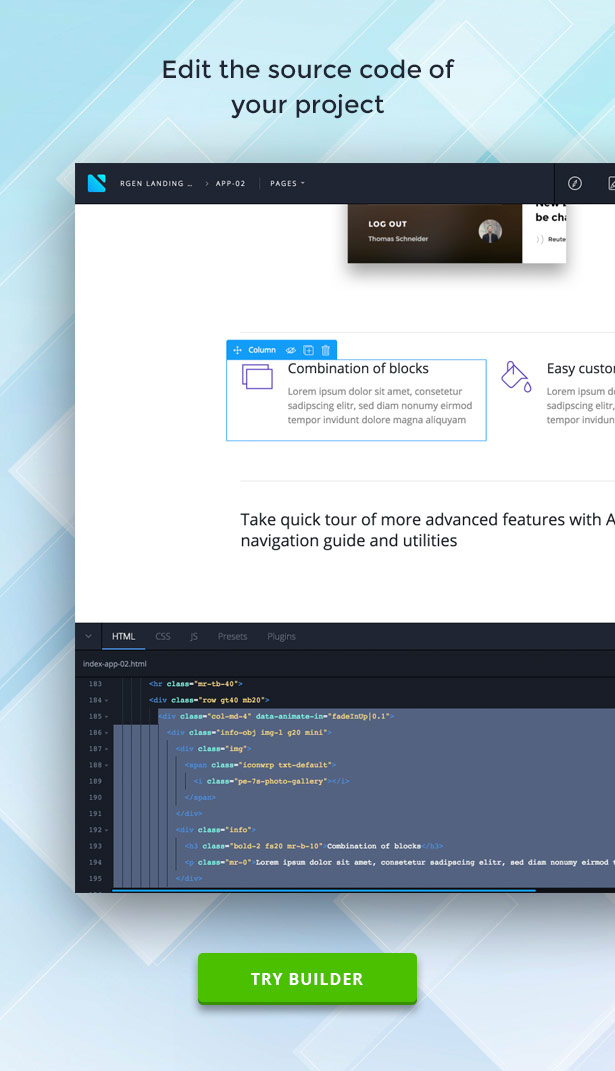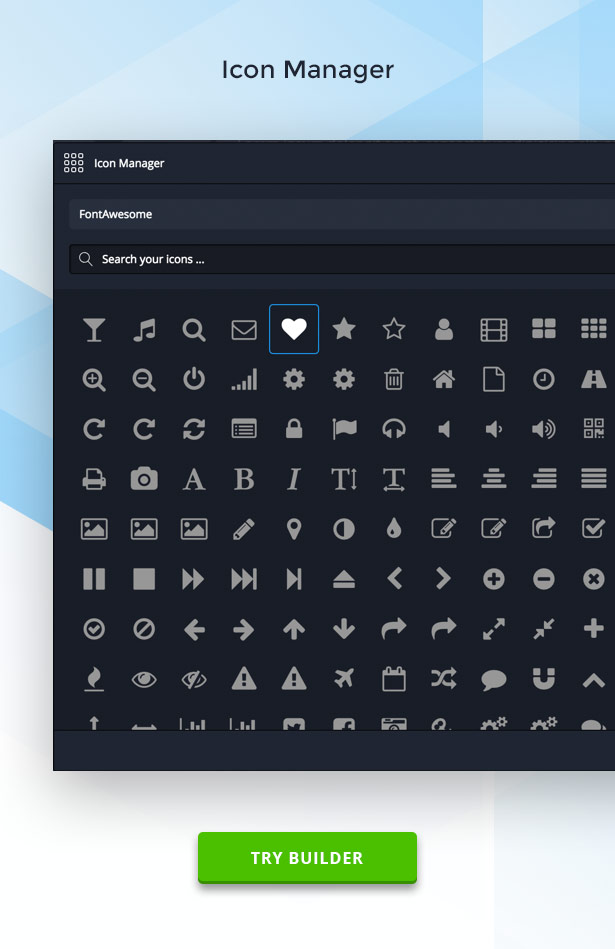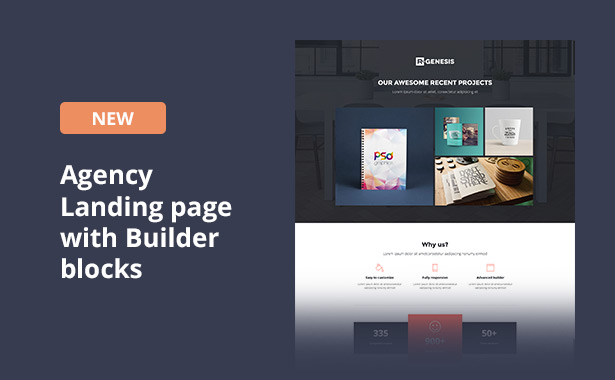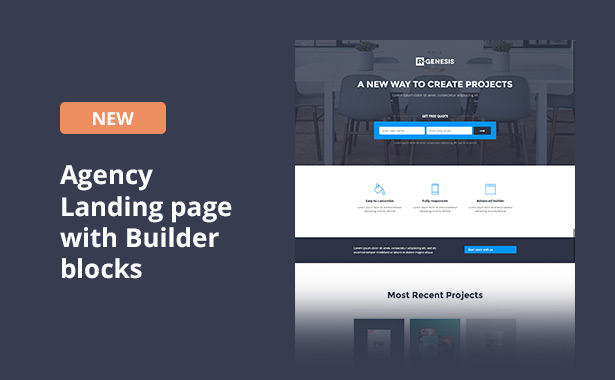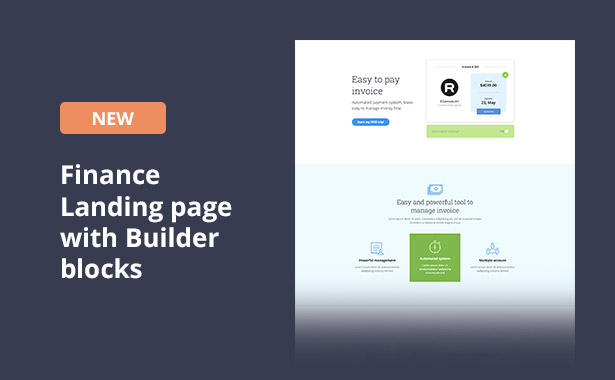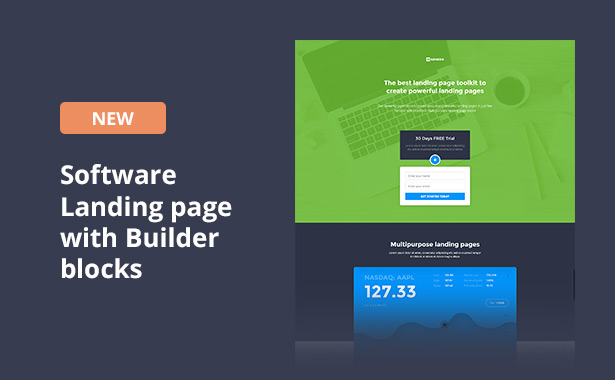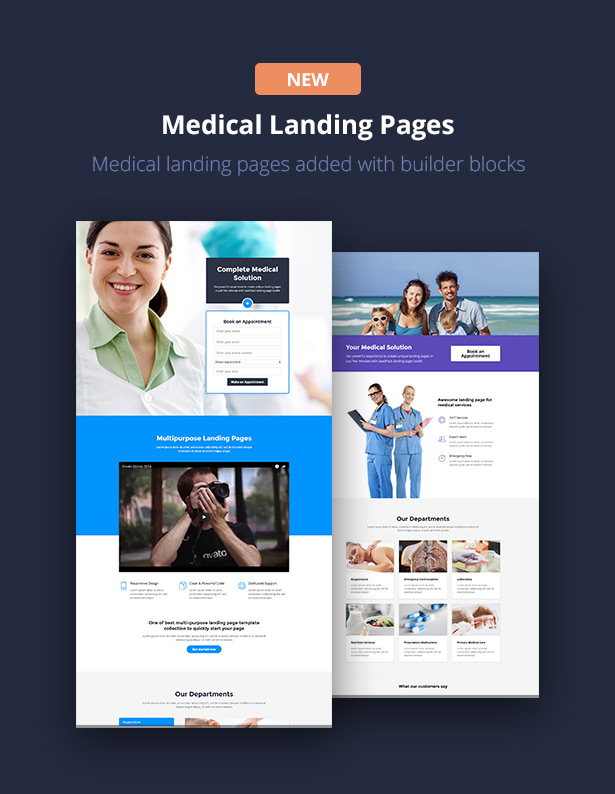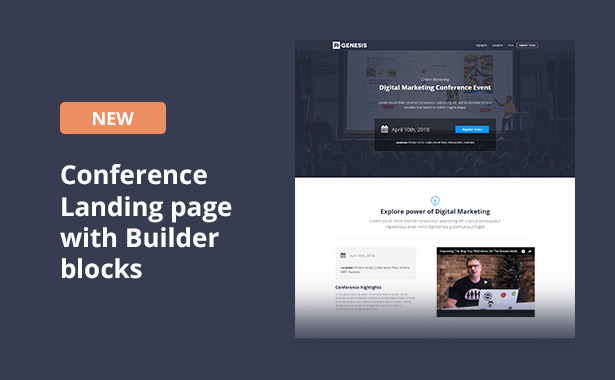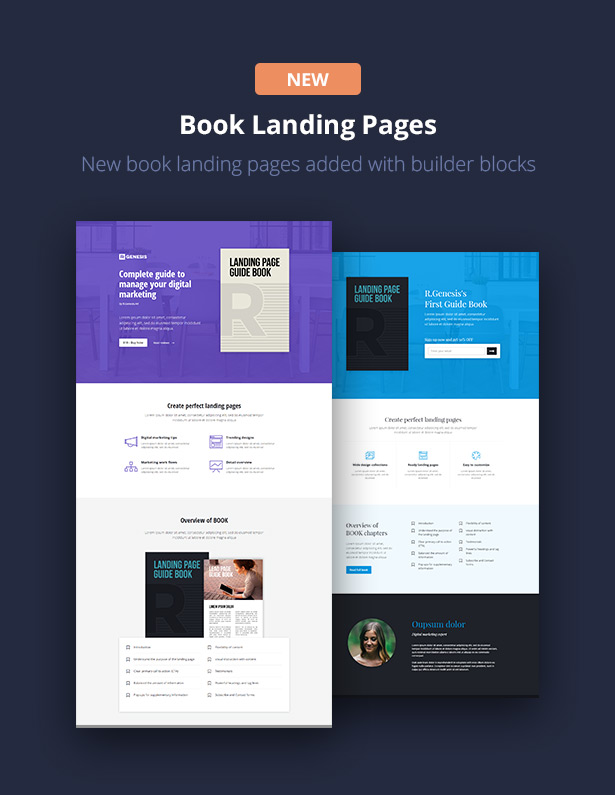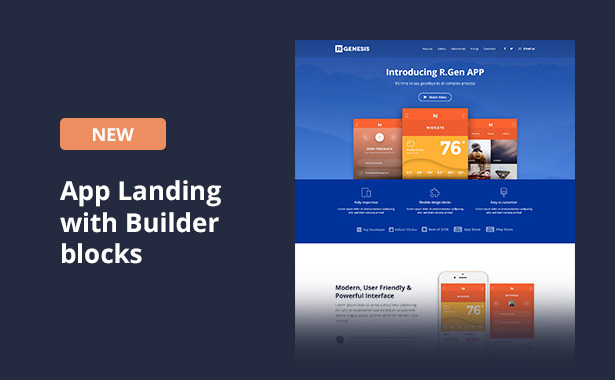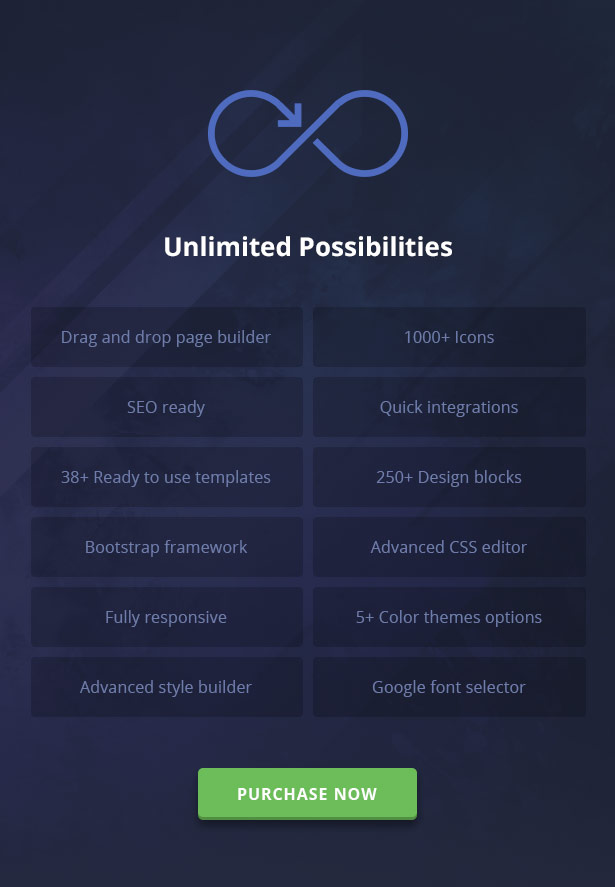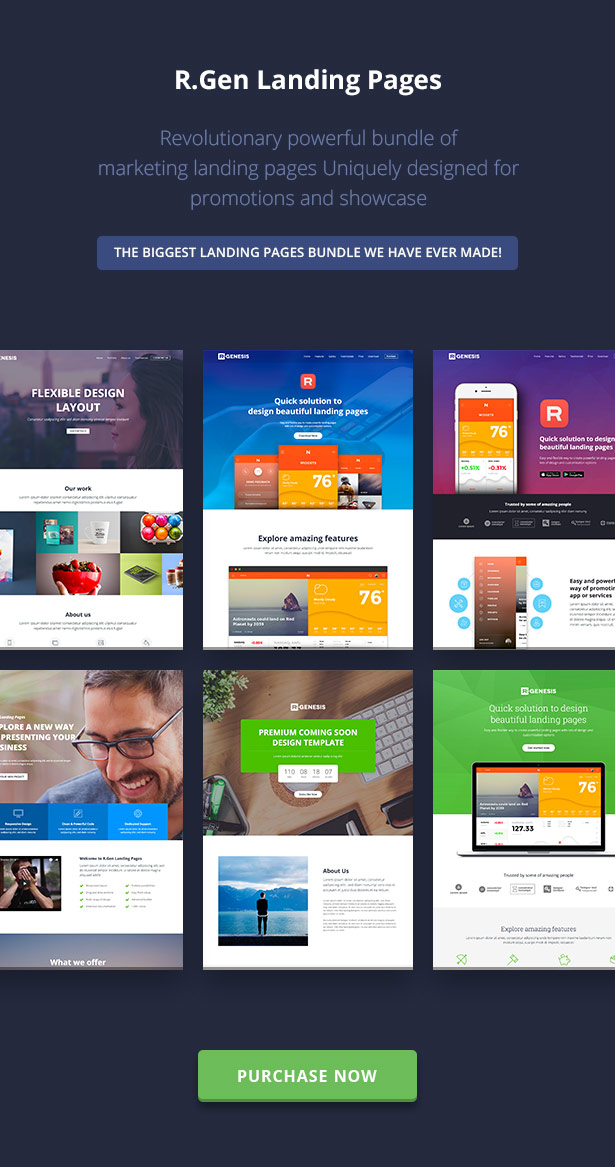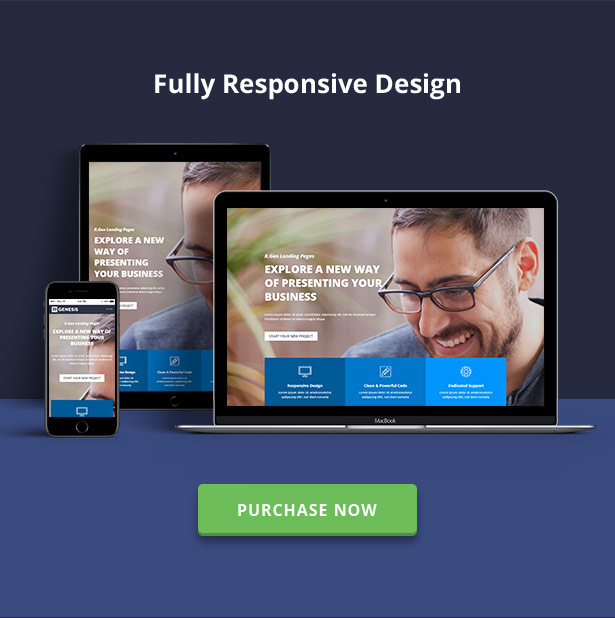 R.Gen landing pages are the best solution for turning landing page clicks into conversions. The R.Gen landing pages are most powerful landing page for marketing.
The R.Gen HTML Builder help you to build powerful landing pages from scratch or from a pre-built demos with limitless design possibilities.
Well organized and clean commented codes make your work more easy to modify. R.Gen landing page is multi-purpose, It is perfect suit for many product or services like App, Business start-up, Business landing page, Portfolio, Agency, Marketing, Corporate, Books or eBook, Construction Business, Real estate, Finance or Investment services, Medical, Restaurant, Gym, Fitness, Yoga, Online services, Web services, Software, E-commerce, Car rental, Party, Event, Product launching, Coming soon page, Quick sign up, Tours, Travel and many other possibilities.
Our features
Drag and drop builder (SAVE $21)
38+ Ready Landing Pages and more coming in future updates.
280+ design section included with builder
Most advanced style editor (SAVE $20)
Powerful page manager with page cloning option
Page specific SEO content editor included with builder (SAVE $10)
Powerful background panel with background video, Background image, Background slider with overlay
Custom CSS code editor (SAVE $10)
Easy to arrange design sections
Theme manager to apply available themes with just click
Google fonts
Image manager
Built-in quick preview page
Advanced icon explorer
Custom form pop ups
1000+ icons with builder
MailChimp Integration
Campaign Monitor Integration
Get response Integration
iContact Integration
Constant Contact Integration
Option to save email addresses in text file
Easy customization option in builder
Unlimited color and customization options
Fully Responsive Design
Parallax background effect
Full screen slider intros
Highly minify JS and CSS for better performance
All working ajax forms
Extensive knowledge base
Easy options to change content
All live demo restore files included to quickly load demos in builder for quick start up of landing page
R.Gen Page Builder Note:
The R.Gen page builder is special ADD-ON tool which included with landing page item package to modify or create landing pages. Users can use builder on localhost to create or modify landing pages. We do not offer any REFUND if you found any bug or issue in builder or compatibility issue with hosting servers. Due to as FREE add-on tool with landing page item. We strongly suggest use builder on localhost machine instead of the live hosting server.
Images credit to unsplash.com, mockupzone.com, picjumbo.com
Some images shown in demo pages is used under license and cannot be redistributed in the download package.
Please Note : This item is static HTML5 Template, It's not a WordPress Theme.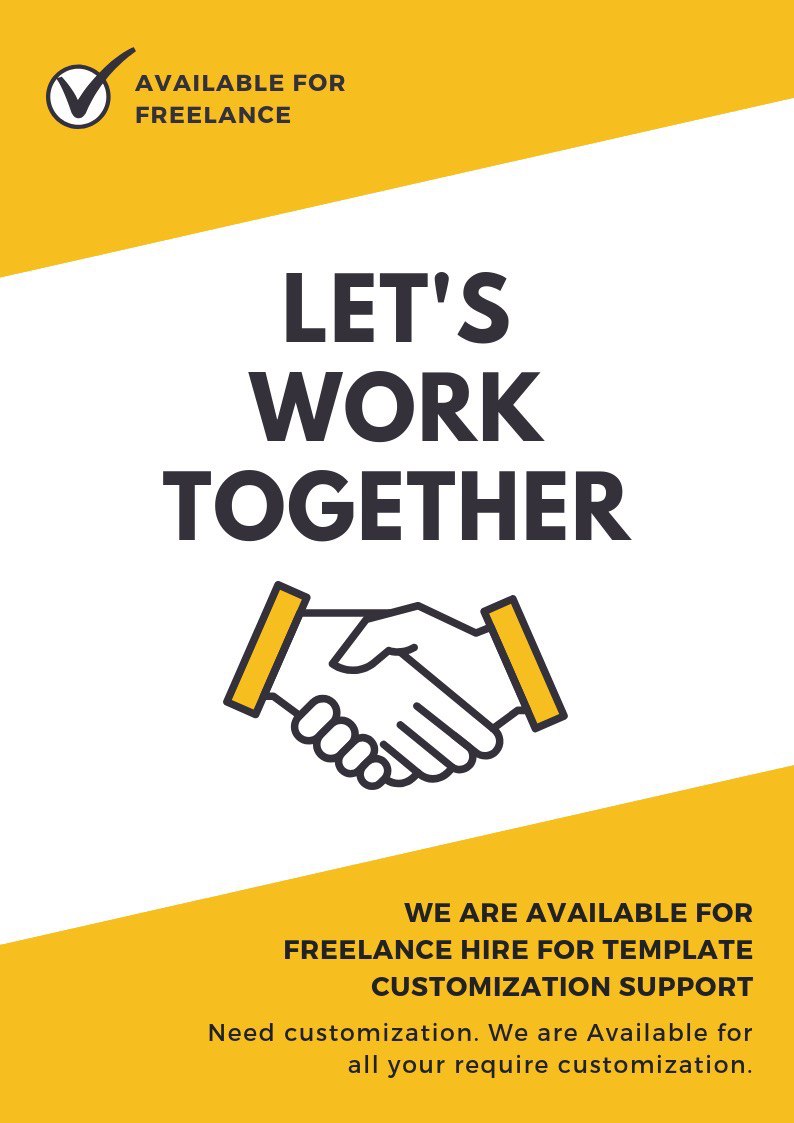 NEW – LeadPack multi-purpose landing page templates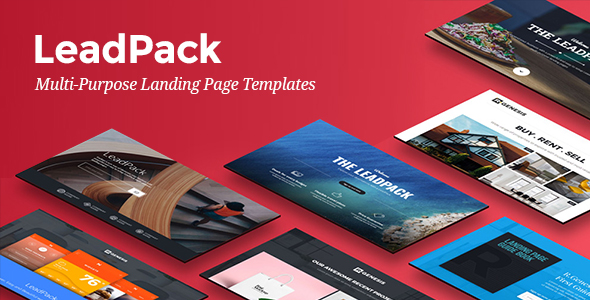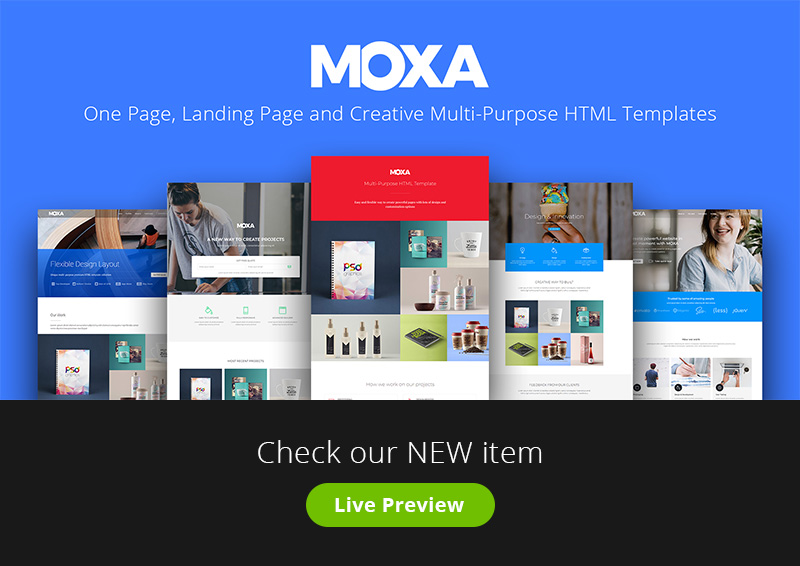 Change log
Version 4.6 – Released – 4 Jun, 2019
- NEW : Introduce 4 new landing pages.
- UPDATE : Novi builder updated with most recent version
- Other bug fixes and improvement in builder code

Version 4.5 – Released – 8 Jan, 2019
- UPDATE : Novi builder updated with most recent version
- Other bug fixes and improvement in builder code

Version 4.4 – Released – 14 July, 2018
- NEW : Landing pages added 
- NEW : Google reCAPTCHA feature added to insert in form
- NEW : Checkbox validation added
- Other bug fixes and improvement in builder code

Version 4.3 – Released – 02 July, 2018
- FIXED : Mobile menu js issues 
- UPDATE : Older version files removed from package

Version 4.2 – Released – 22 June, 2018
- NEW : All remaining pages added to builder
- UPDATE : Builder updated with most new version with better performance

Version 4.1 – Released – 08 June, 2018
- NEW : index-agency-06.html added to builder
- NEW : index-book-01.html added to builder
- NEW : index-book-02.html added to builder
- NEW : index-book-03.html added to builder
- NEW : index-book-04.html added to builder
- NEW : index-business-01.html added to builder

Version 4.0 – Released – 24 May, 2018
- NEW : Agency landing page added

Version 3.13 – Released – 11 May, 2018
- NEW : Agency landing page added

Version 3.12 – Released – 07 May, 2018
- NEW : Agency landing page added

Version 3.11 – Released – 23 Apr, 2018
- NEW : Finance landing page added
- Other bug fixes and improvement in builder code

Version 3.10 – Released -16 Apr, 2018
- NEW : Software landing page added
- Other bug fixes and improvement in builder code

Version 3.09 – Released – 10 Apr, 2018
- NEW : Medical landing pages added
- Other bug fixes and improvement in builder code

Version 3.08 – Released – 23 Mar, 2018
- NEW : Conference landing pages added
- CHANGE : Old version removed from package
- Other bug fixes and improvement in builder code

Version 3.07 – Released – 20 Nov, 2017
- NEW : Book landing pages added
- Other bug fixes and improvement in builder code

Version 3.06 – Released – 10 Oct, 2017
- NEW : App landing page added
- Other bug fixes and improvement in builder code

Version 3.05 – Released – 01 Oct, 2017
- NEW : Pop-blocks added in builder
- Other bug fixes and improvement in builder code

Version 3.04 – Released – 28 Sep, 2017
- NEW : Advanced header builder
- Other bug fixes and improvement in builder code

Version 3.03 – Released – 18 Sep, 2017
- Other bug fixes and improvement in builder code

Version 3.02 – Released – 14 Sep, 2017
- FIXED : Builder login issues
- FIXED : Page loader issues

Version 3.01 – Released – 12 Sep, 2017
- FIXED : Builder login issues

Version 3.00 – Released – 12 Sep, 2017
- NEW : Huge update
- NEW : All landing page code changed
- NEW : Completely new builder

Version 2.07 – Released – 30 Sep, 2016
- Fixed : App 11 landing page design issue in small screen
- Other bug fixes and improvement in code

Version 2.06 – Released – 28 July, 2016
- Fixed : Content replicating issues
- Other bug fixes and improvement in code

Version 2.05 – Released – 21 July, 2016
- Fixed : IE 11 issues
- Other bug fixes and improvement in code

Version 2.04 – Released – 16 June, 2016
- New : App landing page with builder design blocks
- Added : Animation options in builder
- Fixed : Multiple page linking issue
- Removed : Instagram gallery blocks
- Other bug fixes and improvement in code

Version 2.03 – Released – 28 May, 2016
- Added : Image upload option directly from builder style editor
- Fixed : Builder token verification issues
- Other bug fixes and improvement in code

Version 2.02 – Released – 21 April, 2016
- New : Agency landing page added with builder sections 
- Other bug fixes and improvement in code

Version 2.01 – Released – 16 April, 2016
- Added : All demo restore files compatible with new builder 
- Other bug fixes and improvement in code

Version 2.0 – Released – 15 April, 2016
- New : Completely new builder with new features
- Other bug fixes and improvement in code

Version 0.25 – Released – 23 February, 2016
- Fixed : Few social sections loading issue
- Added : Web service page with builder sections
- Other bug fixes and improvement in code

Version 0.24 – Released – 17 February, 2016
- Fixed : Mailchimp first name field issues
- Added : Thank you page redirection option on form success
- New : Extra pages added (About us, 2 FAQs, Login/Register, Thank you page, Contact us) with builder sections  
- New : Instagram gallery sections added in builder
- New : Twitter widget sections added in builder
- Other bug fixes and improvement in code

Version 0.23 – Released – 07 February, 2016
- Fixed : Design issue in few design sections of builder
- Added : Drop down menu support
- Other bug fixes and improvement in code

Version 0.22 – Released – 29 January, 2016
- New : Agency landing page added with builder sections
- Other bug fixes and improvement in code

Version 0.21 – Released – 20 January, 2016
- New : Book landing page added with builder sections
- Other bug fixes and improvement in code

Version 0.20 – Released – 12 January, 2016
- New : Book landing page added with builder sections
- Fixed : IE & other few design issues
- Other bug fixes and improvement in code

Version 0.19 – Released – 06 January, 2016
- New : Campaign Monitor integration
- New : GetResponse integration
- New : AWeber integration
- New : iContact integration
- New : Constant Contact integration
- Other bug fixes and improvement in code

Version 0.18 – Released – 28 December, 2015
- New : Gym landing page with builder sections

Version 0.17 – Released – 17 December, 2015
- New : All demo restore files included to load demos inside builder
- Other bug fixes and improvement in code

Version 0.16 – Released – 12 December, 2015
- New : 7 App landing page with builder sections

Version 0.15 – Released – 08 December, 2015
- New : Construction landing page with builder sections
- Change : Added minify JS and CSS in all landing pages

Version 0.14 – Released – 04 December, 2015
- New : Another business landing page with builder sections

Version 0.13 – Released – 03 December, 2015
- New : Business landing page with builder sections

Version 0.12 – Released – 01 December, 2015
- New : Coming soon page added with builder sections
- Changes : Improvement on Builder export

Version 0.11 – Released – 23 November, 2015
- New : Party event landing page added with builder sections
- New : Christmas celebration event landing page added with builder sections
- Added : Finance 1 intro added to builder
- Fixed : Background apply issue in builder

Version 0.10 – Released – 18 November, 2015
- New : Real estate landing page added with builder sections

Version 0.09 – Released – 16 November, 2015
- New : Real estate landing page added with builder sections
- Fixed : ID applying issue in builder sections
- Added : Auto tab script to easily generate tabs

Version 0.08 – Released – 11 November, 2015
- New : Backup / Restore feature added in builder
- Fixed : Price table content editing issue in builder
- Fixed : Counter image loading issue in builder

Version 0.07 – Released – 5 November, 2015
- New : Car rental landing page added with builder sections
- Change : All form structure change including javascript

Version 0.06 – Released – 4 November, 2015
- New : Another Yoga landing page added with builder sections

Version 0.05 – Released – 3 November, 2015
- New : Yoga landing page added with builder sections

Version 0.04 – Released – 29 October, 2015
- New : Travel landing page added with builder sections

Version 0.03 – Released – 26 October, 2015
- New : E-Commerce landing page added with builder sections

Version 0.02 – Released – 24 October, 2015
- Fixed : Page builder exporting issues with multi pages

Version 0.01 – Released – 21 October, 2015
- R.Gen landing page release