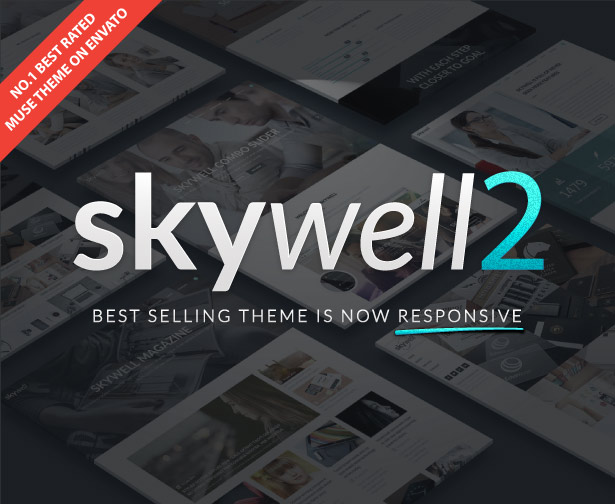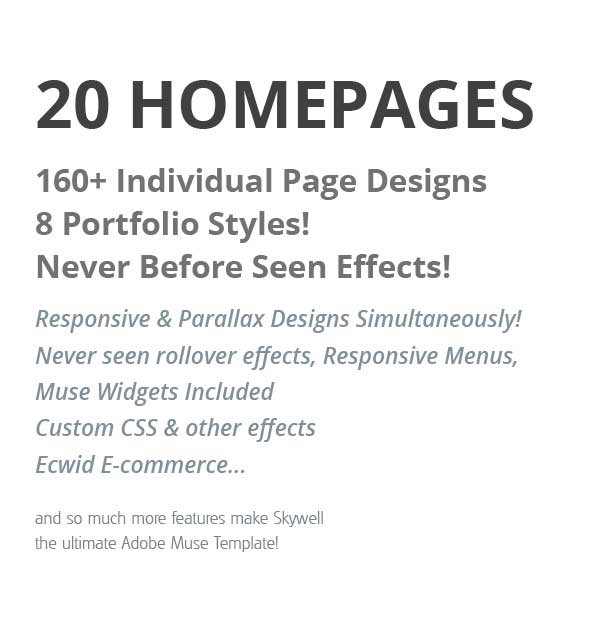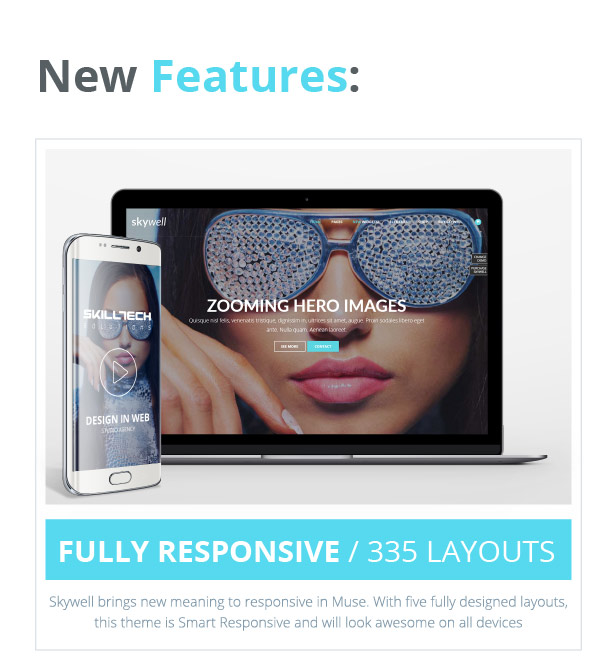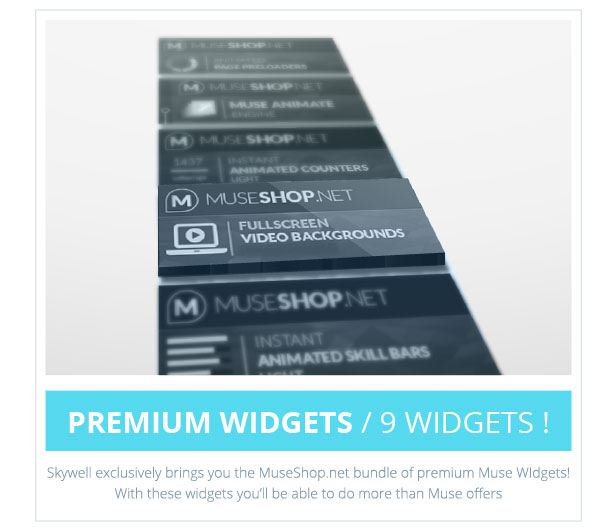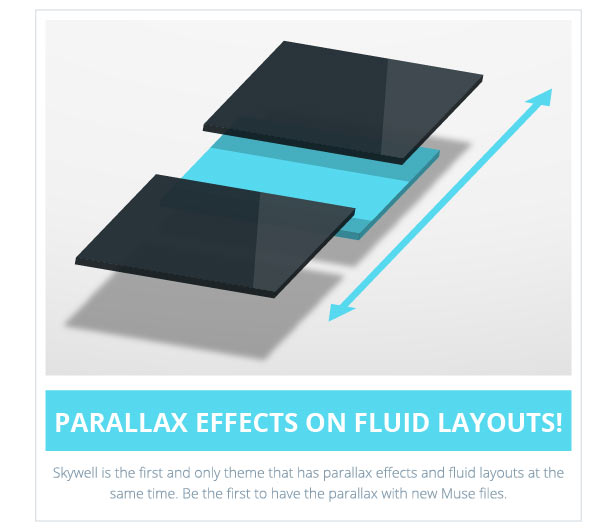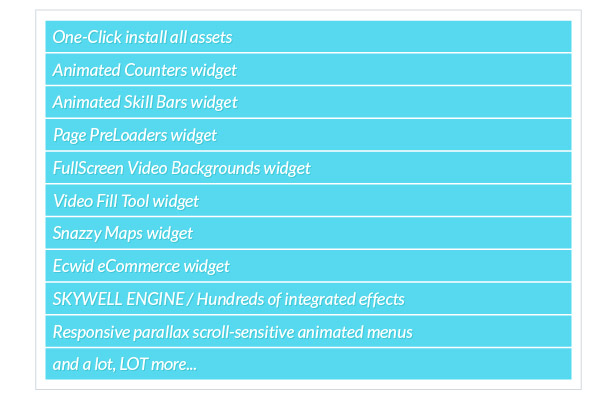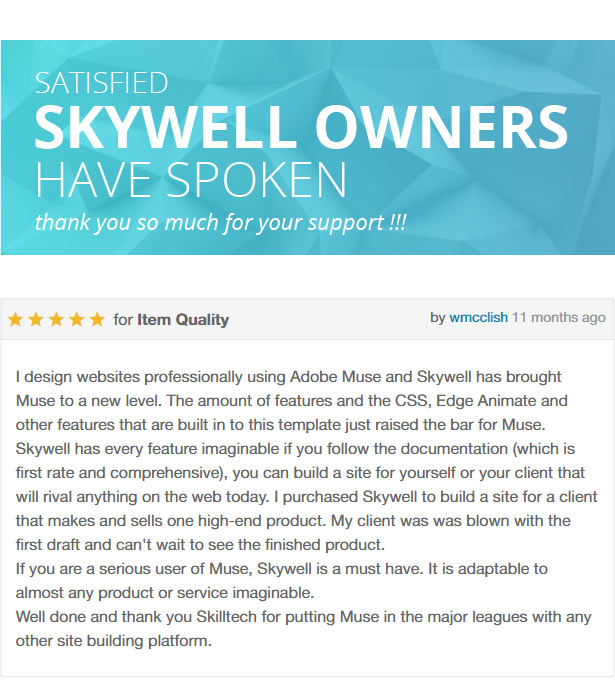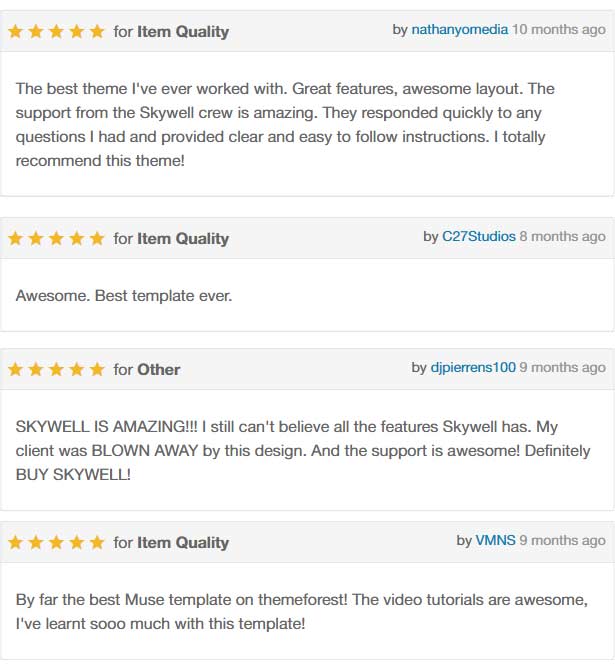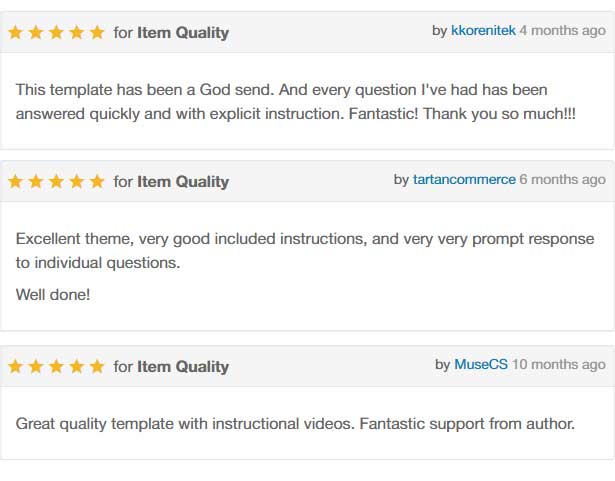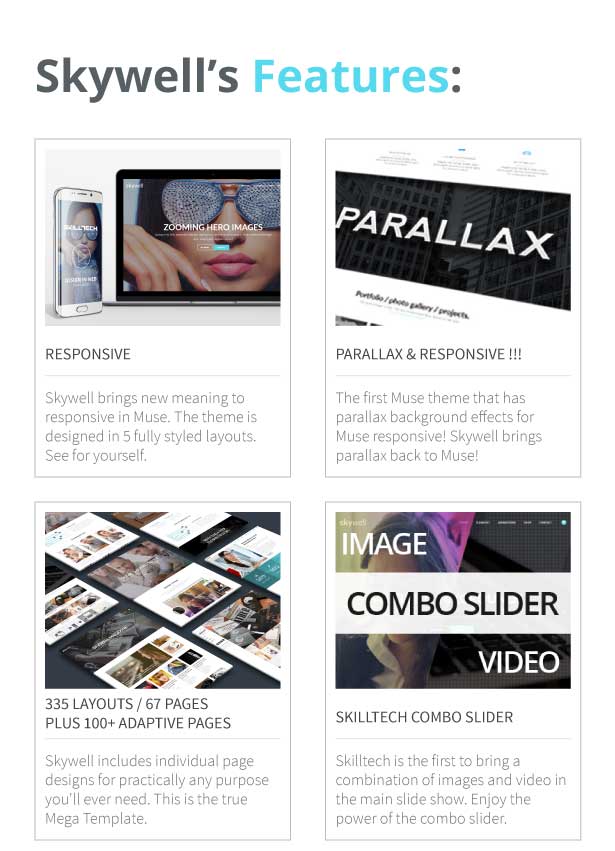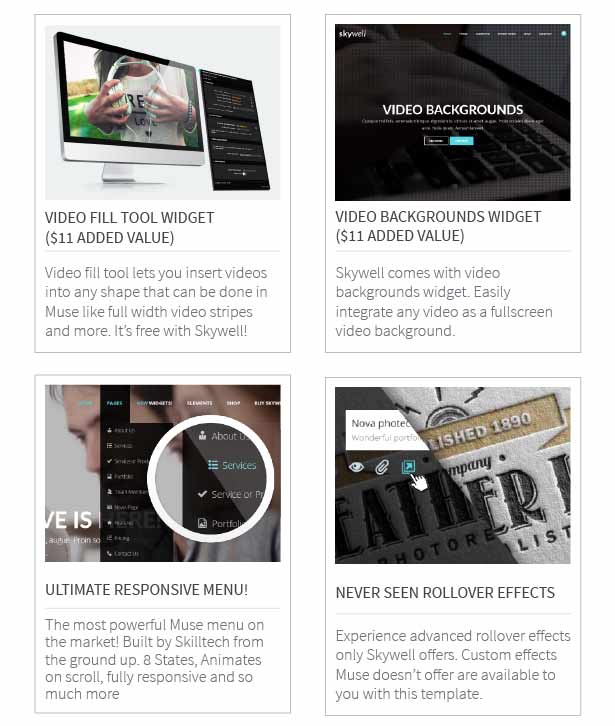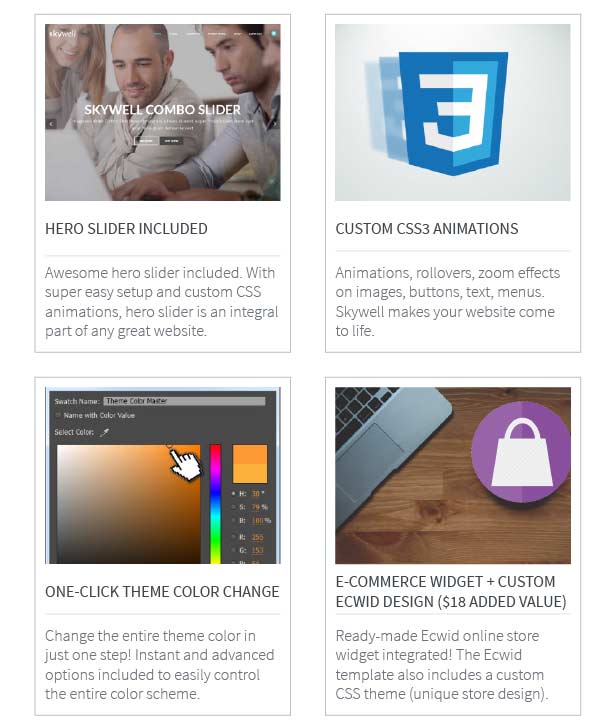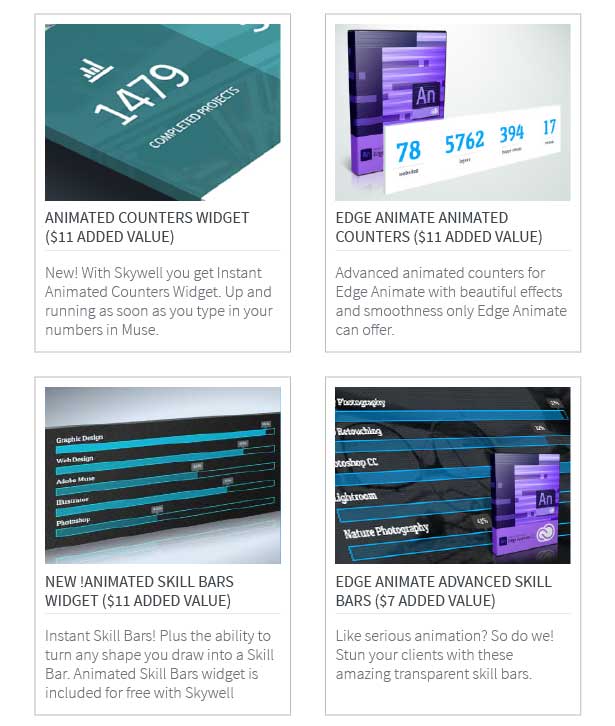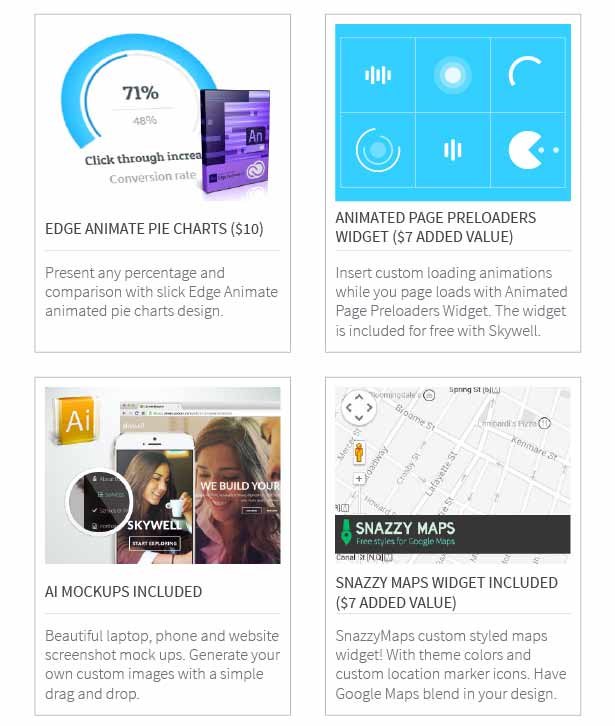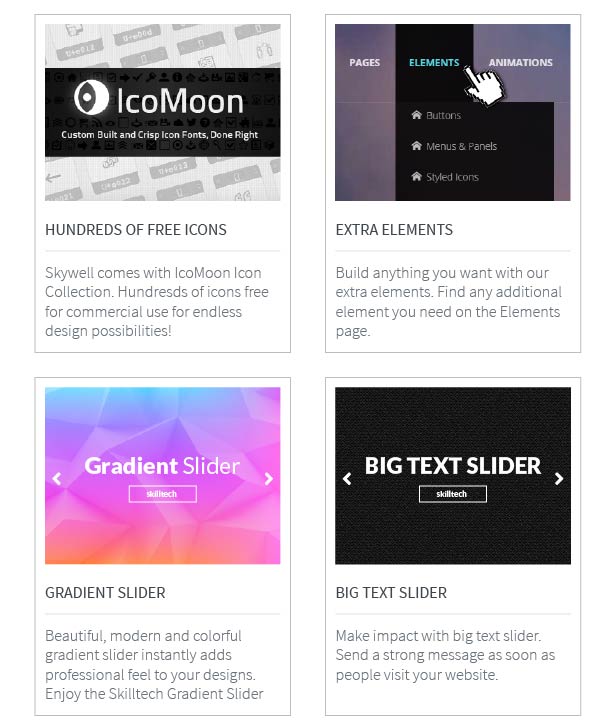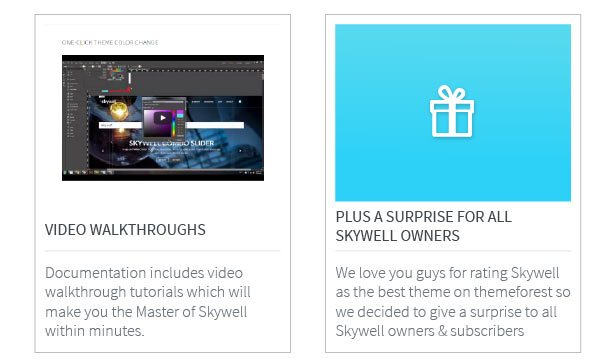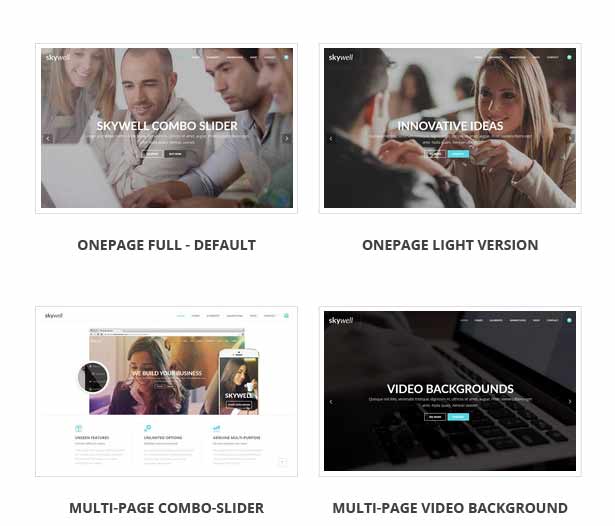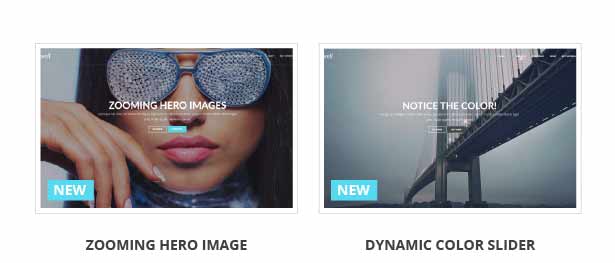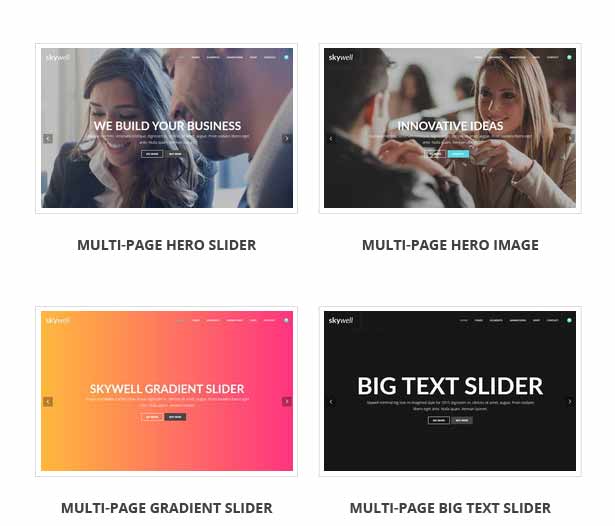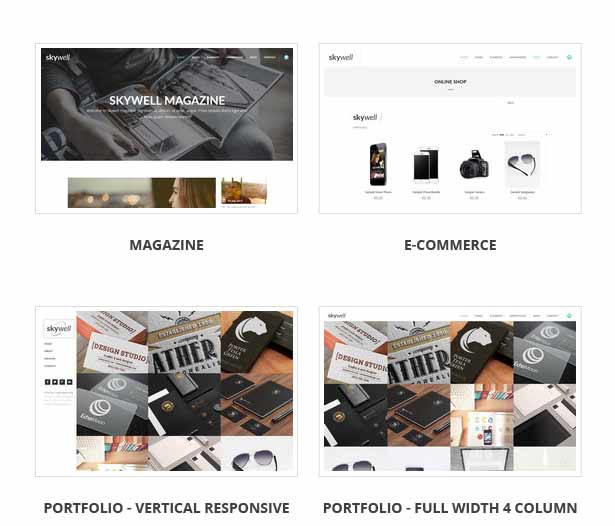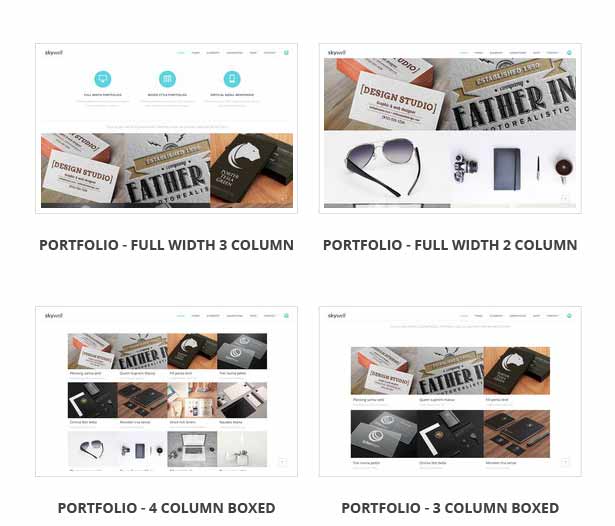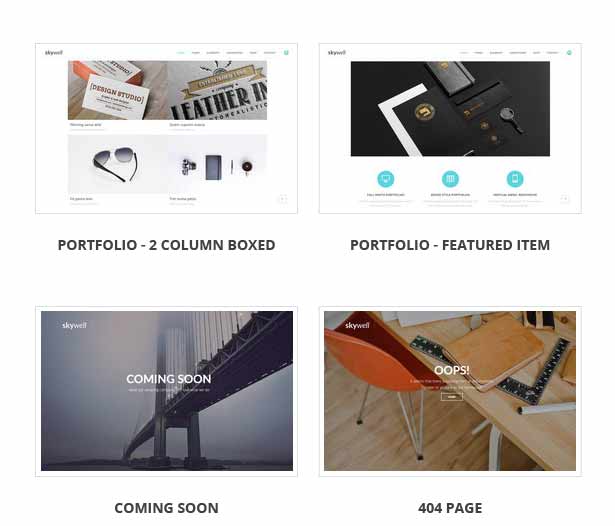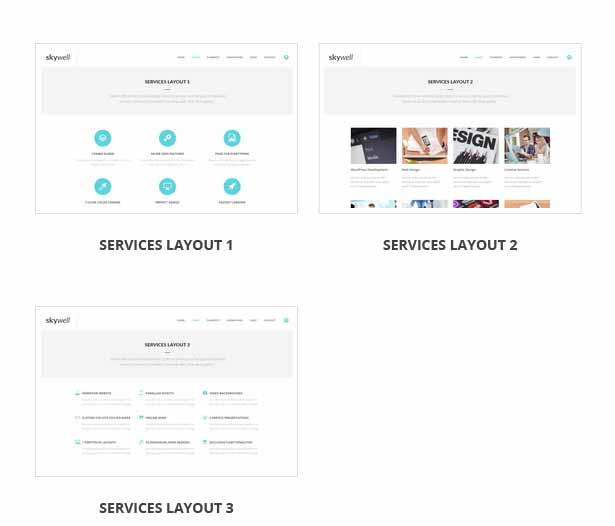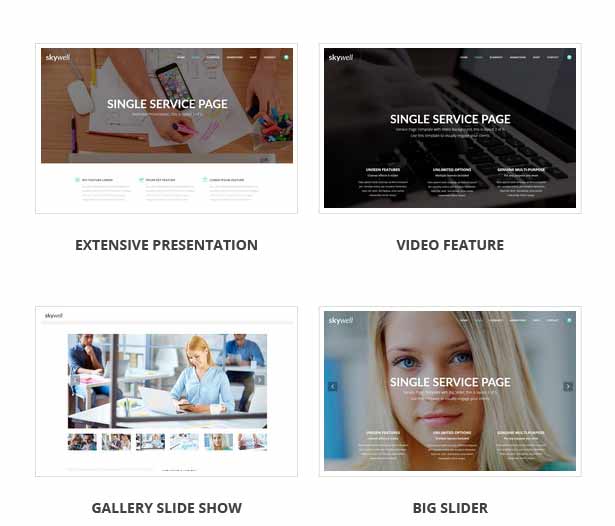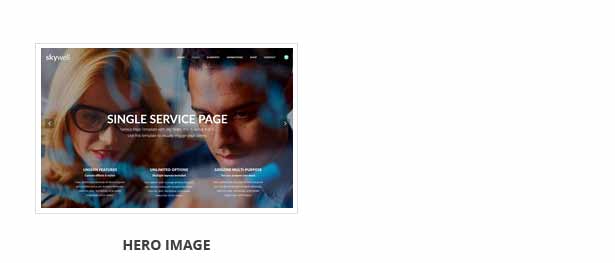 About Skywell
Skywell Multipurpose Muse template is your Ultimate Tool to create any website you can imagine and it's now Responsive! It includes all sections and pages which you can combine to build thousands of different websites. And if all included elements aren't enough, Skywell includes additional page with Extra Elements that contains loads of additional custom designed sections. Read on and see all amazing features this Muse Template offers.
Skywell came with a bang and took Muse to the next level when it was released, it changed the game. With the long awaited Skywell 2, we have continued to raise the bar. Skywell 2 comes with so much new features that are exclusively available with the theme and that can't be found anywhere on the market.
Skywell comes with 9 Premium Muse Widgets including Parallax Backgrounds for Muse Responsive, yes, Parallax and Responsive in Muse at the same time. It comes with Ultimate Muse Responsive Menu built in, menu so powerful you won't believe its capabilities. Skywell also includes Fullscreen Video Backgrounds Muse Widget, Video Fill Tool Muse Widget that lets you put video inside anything you want, Animated Counters Muse Widget, Animated Skill Bars Muse Widget, Snazzy Maps Widget, Page Preloaders widget and Ecwid eCommerce Muse widget.
Skywell is a professional Multipurpose Muse Template built in 335 Responsive Layouts and 160+ pages in total, with Clean and Modern design and hundreds of custom features and pages. It's easy to use and comes with all the latest features Muse can offer plus custom features some of which are unique to our theme like custom CSS Animations, IcoMoon icons, Edge Animate Animations, AI Mock UpsFull Screen Slide Show, Hero Slider with custom layouts, ONE-CLICK Theme Color Change and more.
This template is also the first to introduce the combo slider for Muse which means you can now insert videos in your slide shows and hero sliders.
This adobe muse template is great for business, creative, corporate websites, portfolio, professional design studio, photo studio, digital agency, freelancers, media production company, cause organisation, NGO website, lawfirm and more…
It includes a Revolutionary Skilltech Combo Slider, Hero Slide Show, Hero image, Adobe Muse Video Backgrounds, Gradient Slider, Big Text Slider and loads of predefined layouts and custom animations.
Template also includes Magazine Adobe Muse Template and E-Commerce Adobe Muse Template.
!!! Warning: THIS IS AN ADOBE MUSE THEME, NOT A REGULAR WEBSITE. TO PUT IN IN BEST USE YOU WILL NEED ADOBE MUSE. CREATE BEAUTIFUL WEBSITES FAST AND EASY WITHOUT WRITING A LINE OF CODE WITH ADOBE MUSE.
Features full list:
Best Rated Muse Theme on Envato
Most Valuable Muse Theme on Envato (*appraised by Envato staff to Maximum price)
Ultimate Responsive Muse Multipurpose Theme
20 Homepages Included
160+ Individual Page Designs
9 Premium Muse Widgets Included
Never Before Seen Rollover Effects – Advanced Animated Rollovers
Parallax and Responsive Website
Parallax Backgrounds for Muse Responsive Widget Inlcuded ($11 Added Value)
Ultimate Responsive Menu Widget Integrated with the theme
HTML Files Included
ALL elements have smooth state transitions
Revolutionary Combo Slider – Insert Videos into Slide Shows!!!
Skilltech Hero Slider included
Full Screen Video Background Widget ($11 Added Value)
Video Fill Tool Widget – Put Videos inside anything ($11 Added Value)
Full Screen Video Background Template
ONE-CLICK Theme Color Change!
Video Walkthroughs
One Page Designs
Multi-Page Designs
Inner Pages Included
Smooth Page Scrolling
335 Fully Responsive Layouts
Fully Responsive Website
Phone Version (Skywell 1)
Tablet Version (Skywell 1)
Beautiful Design
One Muse File for 1000 Websites
Custom CSS3 Effects and animations
Pricing-Shopping Page
E-commerce store Widget included (Ecwid)($18 Added Value)
Skywell Store – Custom Ecwid Template Included (unique online store design)
SnazzyMaps Widget (custom Google maps in theme colors)($7 Added Value)
News/Magazine Home Page Included
Full Width Design (100% Width)
Full Width Video Strips
IcoMoon Icon Collection – Hundreds of Free Icons
SEO Friendly
Animated Rollover Image Effects (CSS3)
Text, Image and Button CSS3 Animations
Advanced Animated Skill (Stat) Bars (Edge Animate – Valued at $7)
Animated Skill Bars Muse Widget (Valued at $11)
Animated Counters (Edge Animate – Valued at $11)
Animated Counters Muse Widget NEW ($7 Added Value)
Instant JavaScript Animated Counters
Animated Pie Charts (Edge Animate – Valued at $10)
3 AI MockUps Included
News Section
Beautiful, Multipurpose Portfolio/Projects/Photo Gallery Section
Parallax Backgrounds Muse Template
Predefined Paragraph Styles
Predefined Link Styles
Predefined Graphic Styles
Smart Composition Use
Multi-layered Compositions
User Activated Animations
5 Individual Service Page Layouts
3 Services Page Layouts
Contact Us Page
404 Page
2 Individual About Us Page Designs
Extra Elements (Build More With Our Additional Elements)
8 Portfolio Homepage Designs including Vertical menu Full Responsive
7 Portfolio Page Layouts
Animated Text
Animated Buttons
Animated Images
Content Sections
Icon Sections
CTA Sections
Build an eCommerce in Muse
Sell Products in Muse
Sell Services in Muse
Product listing
Priduct Galleries
Product Categories
Search Function – Products Search Bar
Mini Cart
Accept Payments
PayPal integration ready
News Page and News Single Story Page
Features Page and Single Feature Inner Page Included
Careers Page Included – Let people apply for jobs
Variety of blank pages included
Different Menu Types available
Menu Changes Styling on User Scroll
On-scroll top logo image change
Beautiful custom menu hover effects
Support Pages including FAQ, Terms and Conditions and Privacy Policy included
Coming Soon Page Included
Amazing button animations – Sweep Buttons, Fade Buttons and more…
Animated Icons
Tabbed Panels
Accordion Panels
Bulleted Lists
Numbered Lists
Additional Content Sections
Optimized For Fast Loading
24/7 Support
Extensive Documentation
Support & Copyright
Our template comes with full all day support. If you have any questions or problems regarding this Muse Template, our team will be at your disposal 24/7.
ALL delivered images used in the design are licensed under CC0 so you are free to do whatever you want with them (commercial use included).
Some of the images included in the preview will not be included in delivery files.
All company logos belong to their respective owners.
Latest Version
Skywell 2.1.0 (6.14.2018)
+ Updated SnazzyMaps Widget (Google Maps now requires creation of API key, described in the documentation)

Skywell 2.0.9 (1.12.2018)
+ Fixed HTTPS issue
+ Fixed Coming Soon and 404 Page background issue for Apple devices

Skywell 2.0.8 (11.7.2017)
+ Update for Adobe Muse CC2018
+ Alignment issue fix for all compositions
+ Skywell Engine widget updated
+ New widget added - Zoom Hero Slide widget
+ added SVG support for menu logo images
+ Option to choose menu logo alignment (left, right, center)
+ Animated Counters - Light widget updated
+ Skilltech Combo Slider updated
+ Hero Slider updated
+ Hero Image Updated
+ Fullscreen Video Background Hero updated
+ Gradient Slider updated
+ Big Text Slider updated
+ Dynamic Color Slider updated
+ Zoom Hero Image replaced with Zoom Hero Slider and Zoom Hero Slider widget
+ All testimonials sections updated
+ All partners sections updated
+ Mobile Menu Hamburger Icon updated
+ Mobile menu open issue (long hold) no longer present
+ If you purchased Skywell before version 2.0.8 check documentation
+ Side space on the right on mobile devices issue fixed

Skywell 2.0.7 (7.18.2017)
+ Photobucket Issue update
+ Updated Skywell Engine widget
+ Updated Animated Page Preloaders widget
+ Updated Animated Skill Bars widget
+ Updated Instant Animated Counters widget
+ Updated Snazzy Maps widget (important)
+ Updated Fullscreen Video backgrounds widget
+ If you purchased Skywell before v2.0.7 check the documentation for 'Photobucket Issue'

Skywell 2.0.6 (5.29.2017)
+ Major widget updates
+ Parallax Backgrounds for Muse Responsive Widget updated
+ Fullscreen Video Backgrounds Muse Widget updated
+ Video Fill Tool Muse Widget updated
+ Zoom Hero Image composition updated
+ Greater Mobile Support
+ Fixed several issues and bugs we received with feedback
+ Optimized widgets for faster page load

Skywell 2 (1.17.2017)
+ Full Responsive Redesign
+ 335 Responsive Layouts Added
+ Zoom Hero Image Demo
+ Dynamic Color Slider Demo
+ Ultimate Muse Responsive Menu Muse Widget Integrated
+ Parallax Backgrounds for Muse Responsive Muse Widget added
+ Fullscreen Video Backgrounds Muse Widget
+ Video Fill Tool Muse Widget Added
+ Ecwid eCommerce Muse Widget Added
+ SnazzyMaps Muse Widget Added
+ Animated Skill Bars Muse Widget Added
+ Animated Counters Muse Widget Added
+ Page Preloaders Widget Added
+ New Set of Video Walkthroughs

Skywell 1.0 (7.20.2015)
+ Initial Release