First of all thank you for choosing this project:
This project has been tested very strictly before the release, and the author is considering the user as much as possible in the design. It is not just a scene model, it incorporates a lot of camera motion lens, and reasonable and efficient news program editing mode, it is worth exploring.
Requires Plugins:
This is the 3D virtual studio running on After Effects, which requires the support of the plugin "Element 3D". If you do not have a plug-in "Element 3D", please do not purchase this item.
Description:
1920×1080 Full HD,(Resizable)
12 kinds of program,(including camera animations)
13 newscaster placeholders,(to which more numbers can be added)
4 virtual screens,(to which more numbers can be added)
11 large screens/2 table screens/1 rolling screen
Characteristics:
270°panoramic Virtual studio
High quality 3D models/2K resolution texture map
Real-time preview/faster render
3 different hosts can appear at the same time
5 different backgroud videos can be shown at the same time
Two anchor desks can be hidden and rotated
The control room can be hidden and shown
The camera animation can be customized in After Effects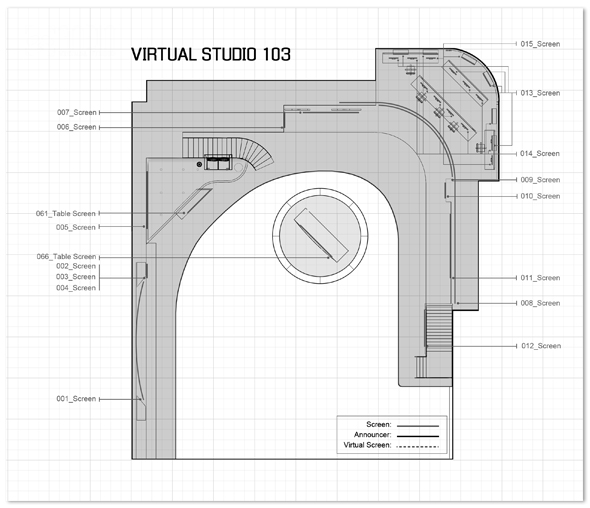 Video tutorials:
1.Copy the model and map to the specified folder.
2.Change of the resolution
3.Replacing and Adjusting your material
4.Adding the announcer,3D text and 3D model
5.Change of light-box colors and brightness
6.Adjusting the properties of light
7.Making animation of cameras
8.Createing a new program scene

Software And Plug-in:
After Effects: CS5/CS5.5/CS6/CC
Element 3D: v2.0.7/v2.2.0/v2.2.2

Screenshots:
Possible problems:
Each computer configuration is different, the settings are different, there may be the following problems, please refer to the corresponding method to solve.
1.After Effects warning:This project contains 26 references to missing effects.Please install the following effects to restore these references.("Element")(Scene is black)
-The plugin"Element"is not installed, please complete installation and registration.
2.After Effects warning:332 files are missing since you last saced this peoject.
-The plugin"Element"is not installed, please complete installation and registration.
3.After Effects warning:"Element.aex"could not be loaded(126)
-This bug could be fixed by updating the graphics card driver (from nvidia). Delete the old installation and make a clean, new installation of the plug-in.
4.After Effects warning:File"TV Studio 103"is locked.You can't save any changes to this file.
-The plugin"Element"is not registered, Please complete registration.
5.Without any warning, the scene is black.(Open Scene Setup:Missing Files:Element 3D detected missing files.would you like to relink them now?)
-The model and the texture path are incorrect,Close After Effects and please follow the video tutorial 1 copy model and map to the specified folder.
6.The scene map not display, showing the white models.
-Insufficient memory for video card,please reduce the texture resolution.Select layer"TV Studio 103"-Effect Controls:Element-Scene Setup-File-Preferences-Map Size Limit:2048(set to:1024)
7.The announcer has jagged edges:
-Select layer"TV Studio 103"-Effect Controls:Studio scene-Scene Setup-Scene-Group Folder-09_Announcer-114_Announcer-Advanced-Alpha Threshoid:0.4(set to:0.2-1.0)
8.The announcer video is not sharp, poor quality:
-Select layer"TV Studio 103"-Effect Controls:Studio scene-Output-Multisampling-8(set to:16)
Other Notes:
There are some other virtual studios without Element 3D: Virtual Studio
Material links:
The announcer, videos and music from the preview are not included,you can find them here: TV Studio 103_Collections
Reviews: